AgritourismSD is an intensive educational program designed to provide farmers and ranchers with the opportunity to create an enterprise that utilizes resources in different ways to generate new income streams.
What is Agritourism?
Simply stated, Agritourism is at the crossroads of tourism and agriculture. It links agricultural production and processing with tourism in order to attract visitors to a farm or ranch for the purpose of entertaining and educating the visitors and generating income. Some examples of agritourism include:
On-Farm Direct Sales: U-pick, farm stands, wine & beer, farm products
Accommodations/Lodging: Farm stays, guest ranches, B&B's, camping
Entertainment/Events: Corn mazes, farm dinners, weddings, camp fires, stargazing
Outdoor Recreation: Hunting, fishing, photography, horseback riding, hiking
Educational Activities: Farm/ranch work experiences, tours, demonstrations
Program Overview
Program is a two-year commitment starting May 2023 through March 2025. Plan to meet face-to-face a total of 11 times over that time period.
Up to 20 participants will be selected based on the application and an interview. Husbands and wives, siblings, or direct family members can apply together. Both individuals must participate in all meetings and activities. Children are not allowed at meetings.
Workshops and other activities will take place throughout the state. Participants will provide their own transportation to in-state events. Other expenses associated with the meeting (motels and meals) will be covered by AgritourismSD.
Participants will make a two-year commitment to the program and will take an active role in all program components.
The program is funded through grants, gifts, and organizations. A registration fee of $1,250 per individual is charged to cover costs of the program. The total investment per person is $8,000.  The registration fee is approximately 15% of the total cost.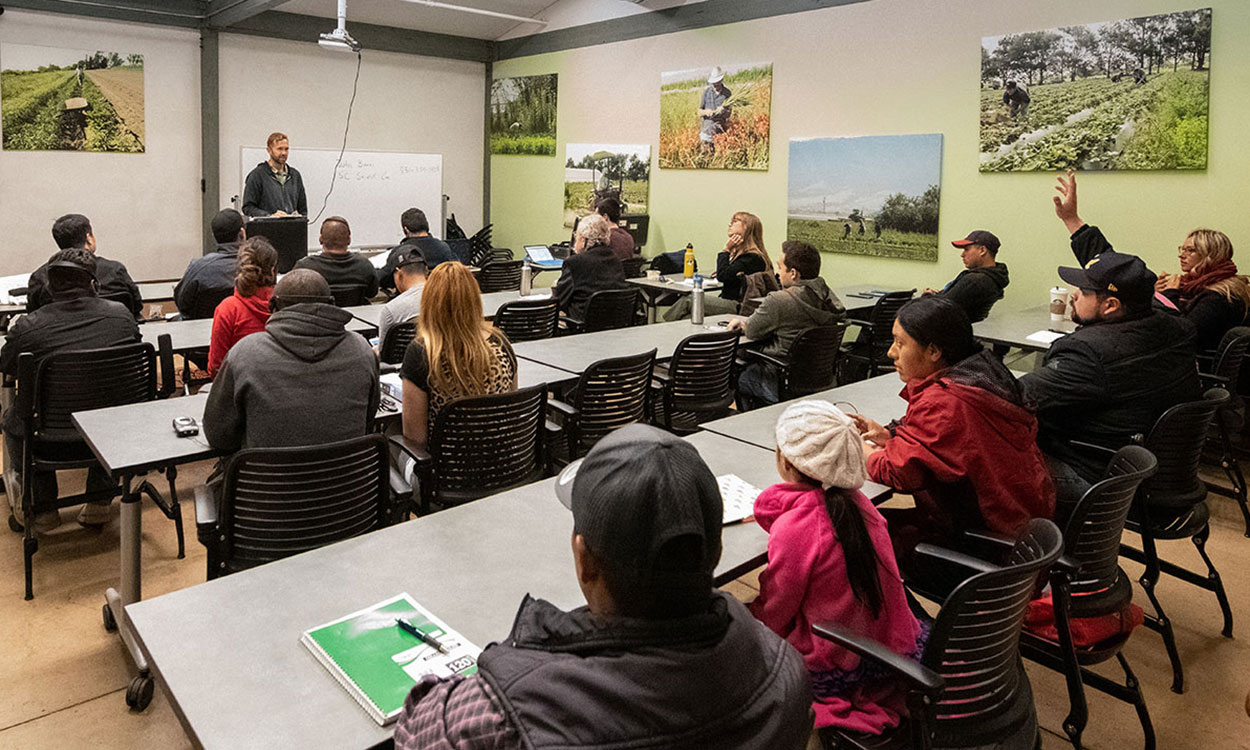 There are 6 major components of the AgritourismSD program:  
Interactive Workshops: During the two years, 6 workshops will be held over two-days. Meetings will generally start midmorning on the first day and include an overnight stay. The meeting will conclude by mid-afternoon on the second day. Classroom instruction will cover aspects of developing an agritourism enterprise including hospitality, financial, liability, marketing, business management and financial.
Case Studies of Successful Agritourism Enterprises: Agritourism businesses are unique to each operation and how they utilize their resources. The case studies represent larger aspects of agritourism concepts. Case studies will host tours of their operations and lead discussions about history, management philosophy, and decision-making criteria. Case studies from out of state with more established businesses will also be highlighted and when possible tours will be conducted. All Case Study experiences will serve as jumping off points for participants to use their creativity in taking ideas and making them their own. The four agritourism systems themes that will be observed throughout the project include: 1) entertainment, 2) farm and ranch stays, 3) hosting tours and 4) outdoor recreation.
Web-Based Interaction: Throughout this project, participants will be expected to interact on webinars and other web-based networking activities. They are required to have their own computer with high-speed internet access. Participants may be asked to bring a laptop to workshops. Google Classroom will be used to house the assignments and information relevant to the program. Each participant will be required to set up a google account and access it on a regular basis. A private Facebook group with access limited to participants, project team and mentors will allow a managed yet informal exchange of ideas among participants.
Travel Study Trips: Two trips will be conducted to expose participants to agritourism opportunities and operations outside of the state. The goal of the trips is to expose participants to well established businesses and different opportunities beyond what is currently developed in South Dakota. Lack of involvement in the face to face meetings, homework and overall participation may disqualify you for the out of state trips.
Networking: Networking opportunities are built throughout the program. In every aspect of the design, there will be interaction with experts that will help you develop all parts of your business. There will be opportunities to interact with other enterprises both in and out of state. Peer to peer networking is critical and will be encouraged both formally and informally.
Individualized Curriculum Components: We recognize that your agritourism business is going to be unique to your resources and interests. There is flexibility in the curriculum for you to choose components that fit your business development best. As your goals and business plan develops there will be opportunities to build specific knowledge by attending conferences and meetings that enhance your business.
Program Requirements
Who Should Apply?
Applicants must be involved in production agriculture and have less than 10 years of agritourism experience or possess a strong desire to start an agritourism business in the future. AgritourismSD is brought to you by beefSD. If you are an alumni of beefSD and interested in developing your agritourism enterprise we encourage you to apply.
The key to a successful agritourism business is you must be willing to share information about the farm/ranch and spend the time to make customers feel welcome. The ideal agritourism host requires many of the same personality traits that make a good host at any tourist attraction or kind of service industry.
Some important questions that you should evaluate:
Do you enjoy entertaining guests?
Do I have a passion for sharing agriculture with the public?
Will you enjoy having groups visit your farm/ranch?
Can you create a warm, safe, and inviting atmosphere for people visiting your operation?
Can you manage the additional business responsibilities associated with an agritourism operation (including marketing, employee management, and customer relations)?
Are you willing to create the ideal "experience" for your customers?
Are you willing to work and "entertain" visitors on weekends, evenings, and holidays, when they are most often available to come to your farm?
If you answered "no" to many of these questions, perhaps an agritourism enterprise does not fit your personality type. If you answered "yes" or "I think so" to many of them, agritourism may be a viable option for you. Remember, successful agritourism operations focus on creating an enjoyable experience for visitors. If your personality does not fit well, perhaps another family member or employee may be better suited for this role.
The program will help you address all of these questions and much more, you don't have to have these answers, just be willing to explore more!
Tentative Timeline
In between face-to-face events, there will be webinars and homework deadlines.
2023    
April - Kick-off Meeting @ TBD
May - Case Study @ Sioux Falls
September - Trip #1 @ Nebraska
November - Financial Workshop @Chamberlain
2024  
January - Marketing Workshop @ TBD
April - Case Study @North Dakota
June - Workshop @ TBD
October - Trip #2 @ TBD
November - Local Foods Workshop @ TBD
2025
January - Conference on Tourism @ Pierre
March - Final Workshop @ TBD
More Information
If you have questions about the AgritourismSD program, please contact one of the following: 
Stacy Hadrick, SDSU Extension beefSD/AgritourismSD Coordinator
Peggy Schlechter, SDSU Extension Community Vitality Field Specialist
Jacey Ellsworth, South Dakota Department of Tourism Industry Outreach & Development Representative
This program is brought to you by the following:

The NIFA Beginning Farmer and Rancher Development Program (BFRDP) supports this program (Grant #2020-70017-32421).
SDSU Extension is an equal opportunity provider and employer in accordance with the nondiscrimination policies of South Dakota State University, the South Dakota Board of Regents and the United States Department of Agriculture. © 2021, South Dakota Board of Regents.