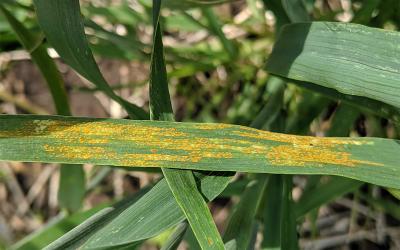 Written with contributions by Emmanuel Byamukama, former SDSU Extension Plant Pathologist, Sunish Sehgal, Shaukat Ali and Ruth Beck,  former SDSU Extension Agronomy Field Specialist.
Stripe rust was observed in the crop performance trials at the Dakota Lakes Research Farm in Hughes County and at Ideal in Tripp County. At both locations, stripe rust was at a low severity (Figure 1). Stripe rust or yellow rust, caused by a fungal pathogen Puccinia striiformis f. sp. Tritici, forms yellow-orange linear pustules (hence the name stripe) on the leaves. This disease is favored by cooler temperatures (<70° F) and wet conditions (at least 8 hours of leaf wetness). The cooler night temperature for the next few days for the several locations in the state may favor more stripe rust development. Warmer conditions (average temperature >75° F) limit the progress of this rust but infection can still take place under cool night temperatures.
Management
Stripe rust can develop quickly and cause significant yield losses when weather is favorable and where a susceptible variety was planted. Scouting should be done to determine if stripe rust is beginning to develop. For fields that are not past flowering and are found with stripe rust starting to develop, a fungicide that also has efficacy against Fusarium head blight (FHB) such as triazole fungicides should be applied. Although FHB risk currently is low across most of the state, fields observed with stripe rust should consider a fungicide for both FHB and stripe rust such as Prosaro, Caramba, and Miravis Ace.