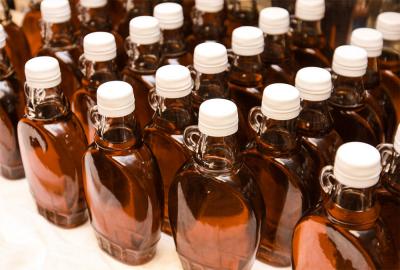 Maple syrup is a delicious food that goes well with many foods. There has been some increased interest in understanding how to process maple syrup safely in order to sell it at a farmer's market or at retail. This article was developed to address some of the questions around safely processing maple syrup as well as testing it to ensure that the product has been processed safely and can be sold at a farmer's market.
Overview
The process starts with tapping trees. Sap is usually collected from trees by using a tubing system or through the use of buckets. The University of Massachusetts has put together a Maple Syrup Best Management Practices Guidance that you can use to understand the best method to safely harvest and handle the sap. Once the sap has been collected, maple syrup production should start as quickly as possible to minimize microbial growth as the sap at this point has a high-water activity that supports the growth of microorganisms. It's also important to note that higher temperatures can lead to more rapid growth so the sap should not be stored more than a few hours.
Next, there is a process called evaporation where the sap is boiled to remove water and concentrate the syrup. During this process, sap is concentrated to the desired density and flavor, and color develops as a result of chemical reactions that occur during heating. This process drives out excess water and increases the sugar content or brix. The extent and character of the color and flavor are determined, in part, by the length of time the sap is boiled. The longer the sap is boiled, the darker it becomes and the stronger the flavor. Making light-colored syrup requires a short evaporation time. Anything that slows the evaporation process (uneven fire, weak fire, excessive sap depth in evaporator, etc.) will produce darker, usually stronger-flavored syrup. It is known that it may take 43 or more gallons of sap to produce one gallon of syrup.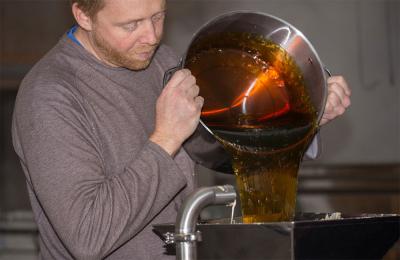 Next, once the maple syrup has reached the desired brix, color, and flavor, it is ready to be filtered and bottled. Once maple sap has been processed into maple syrup and the correct density is obtained, the syrup is ready for filtering and packing. Syrup is best filtered while it is still hot (185° to 190°F) for rapid removal of sediment. Trying to filter at a lower temperature can impact the flow characteristics of the syrup and a higher temperature may potentially concentrate the syrup even further and change the profile. To prevent contamination of finished syrup by yeast or mold growth, finished syrup should be hot packed. Syrup can be hot-packed into large drums or cans, or into retail/ home-sized containers. Syrup should be packed into cleaned and sanitized containers. Small containers can be sanitized by boiling for 10 minutes in water. Because filling into any kind of container, sterilized or not, may cause contamination, containers hot-filled with syrup should be inverted immediately for 1-2 minutes after being hot-filled and sealed. Turn filled containers right-side-up to cool.
Next, the maple syrup will be stored. Pure maple syrup should be kept in a cool, dark place; for a quality product, be sure to use within 2 years. Refrigerate after opening. If excess water is present or if containers are not clean when filled, there may be the growth of bacteria, yeast or mold during storage. If spoilage develops, discard the product. For maximum flavor, bring maple syrup to room temperature or warm it before serving.
Regulatory Requirements
The FDA does have a standard of identity for maple syrup. The FDA has dictated that maple syrup made from sap must contain not less than 66 percent by weight of soluble solids derived solely from the sap. Each processor should be aware of this requirement and ensure that they are able to meet this FDA requirement.
South Dakota Guidance
The process of evaporation and boiling syrup to concentrate the sap into syrup along with the high concentration of syrup makes it an inherently safe product. However, it is possible that the syrup may not be concentrated enough to lower the water activity and increase the concentration of the product. Therefore, to sell maple syrup at a Farmer's Market, the maple syrup must be tested for water activity and the water activity of the finished product must be <0.85. Table 1. shows how the water activity can impact the growth of a given pathogen.
Table 1. Water Activity and Pathogen Growth

Organism

Temperature °F
(°C)

pH

Water Activity (aw)

Max. %
water phase salt

 

Min.

Optim.

Max.

Min.

Optim.

Max.

Min.

Optim.

Max.

 
Bacillus cereus

39
(4)

86-104
(30-40)

131
(55)

4.3

6.0-7.0

9.3

0.92

-

-

10

Campylobacter

86
(32)

108-109
(42-43)

113
(45)

4.9

6.5-7.5

9.5

>0.987

0.997

-

1.7

Clostridium botulinum
Proteolytic ABF

50
(10)

95-104
(35-40)

-118
(48)

4.6

-

9

0.935

-

-

10

Clostridium botulinum
Non-proteolytic BEF

38
(3.3)

82-86
(28-30)

113
(45)

5.0

-

9

0.970

-

-

5

Clostridium perfringens

50
(10)

109-117
(43-47)

126
(50)

5

7.2

9

0.93

0.95-0.96

>0.99

7

Enterohemorrhagic
Escherichia coli (EHEC)

44
(6.5)

95-104
(35-40)

121
(49.4)

4

6-7

10

0.95

0.995

-

6.5

L. monocytogenes

31
(-0.4)

99
(37)

113
(45)

4.4

7.0

9.4

0.92

-

-

10

Salmonella

41
(5.2)

95-109
(35-43)

115
(46.2)

3.7

7-7.5

9.5

0.94

0.99

>0.99

8

Shigella

43
(6.1)

-

117
(47.1)

4.8

-

9.3

0.96

-

-

5.2

Staph. Aureus
growth (aerobic)

45
(7)

99
(37)

122
(50)

4

6-7

10

0.83
(0.90)

0.98

>0.99

20

Staph. Aureus
toxin (aerobic)

50
(10)

104-113
(40-45)

118
(48)

4

7-8

9.8

0.85

0.98

>0.99

10

Streptococcus group A

50
(10)

99
(37)

<113
(<45)

4.8-5.3

7

>9.3

-

-

-

6.5

Vibrio spp.

41
(5)

99
(37)

114
(45.3)

4.8

7.6-8.6

11

0.94

0.91-0.99

0.998

10

Yersiniz enterocolitica

30
(-1.3)

77-99
(25-37)

108
(42)

4.2

7.2

10

0.945

-

-

7
From FDA 2011. Fish and Fishery Products Hazards and Controls Guidance. 4th Edition and International Commission on Microbiological Specifications for Foods. 1996. Microorganisms in Foods 5: Microbiological Specifications of Food Pathogens. Blackie Academic and Professional, New York.
Conclusion
Maple syrup is a delicious product that goes well with several foods. If you choose to enter into the sale of maple syrup at your local Farmer's Market, make sure to educate yourself on the safe production of maple syrup. Lastly, it is your responsibility to ensure that the maple syrup will meet FDA standard of identity for solids and ensuring that the product is tested for water activity prior to selling to the Farmer's Market.
Document Sources