Written collaboratively by Curtis Braun, Joan Hegerfeld-Baker (former SDSU Extension Food Safety Specialist), Gene Stegeman (Director of State Dairy Lab, South Dakota Department of Agriculture).
Licensing
If planning to sell eggs in the state of South Dakota, an egg dealer license must be obtained annually. The application for this license can be found and printed from the South Dakota Department of Agriculture's Form Finder website. The cost for a license is $100 for a Class B License, or $10 for a Class A License.
A new license application can also be obtained by calling the South Dakota Department of Agriculture at 605-773-4294. The Department will send out a licensing packet with all the material you need to start the licensing process. The licensing packet will contain additional items such as a partial listing of suppliers of egg cartons, candling equipment, and other items used in packing eggs. This partial listing is meant to help the licensee in search of these items and is not an endorsement of these businesses.
The process to obtain a new license includes completing an open book examination, an inspection of the egg candling/packing area, and demonstrating the proper egg candling technique. After successfully completing these steps, the Department will issue the Class A or B Dealers License and the Candler/Grader License.
License Classes
Class B License
Required for the following businesses:
A wholesale dealer.
Buying eggs from Class A dealers exclusively.
Class A Dealer License and a Candler/Grader License
Required for selling eggs at the farmer's market, foodservice establishment, or retail outlet – examples specific to the following individuals or businesses:
Purchasing eggs from producers.
Operating a set-in station (a place of business where eggs are collected to be transported to a Class B licensee).
Selling eggs produced from his/her own flock.
Licensing Exceptions
According to Chapter 39-11 of the South Dakota Codified Laws, no person can "engage in the business of buying, selling, processing, candling, grading, packing, or distributing eggs in South Dakota" without having first obtained an Egg Dealer License.
Exception – An egg dealer license is not required in the following situations:
Retailers buying eggs from licensed dealers.
Producers selling and delivering their eggs exclusively to customers, such as selling eggs to a neighbor or co-worker.
Grocery wholesalers are exempt from obtaining a dealer's license since they are purchasing eggs from a licensed dealer.
Posting of License
Egg Dealer Licenses are required to be posted in a visible location in the place of business. If selling eggs at the farmers market, the license is posted at the farm/business (not at the market stall). However, some markets may have a rule requiring a posting or a copy of the license provided to the market manager.
Candling License
In addition to the Egg Dealer License, a $10, yearly Egg Candling/ Grader License is required in South Dakota and appears on the bottom half of the Egg Dealer License application, available on the South Dakota Department of Agriculture Eggs website. Both licenses expire on February 28th of the following year. The Department will mail an application form for renewal prior to the expiration of the current license
Renewing Licenses
Licenses may be renewed without re-inspection, unless the expiration has been more than one year. If the expiration date is more than a year, an inspection of the egg candling/packing area and open book examination are required for renewal. Keep expired licenses from the previous year for documentation.
Candler/Grader Licenses cannot be transferred from one person to another. However, if the business of the licensee moves from one location to another in the same municipality, the license will remain current so long as the Secretary is made aware of the change.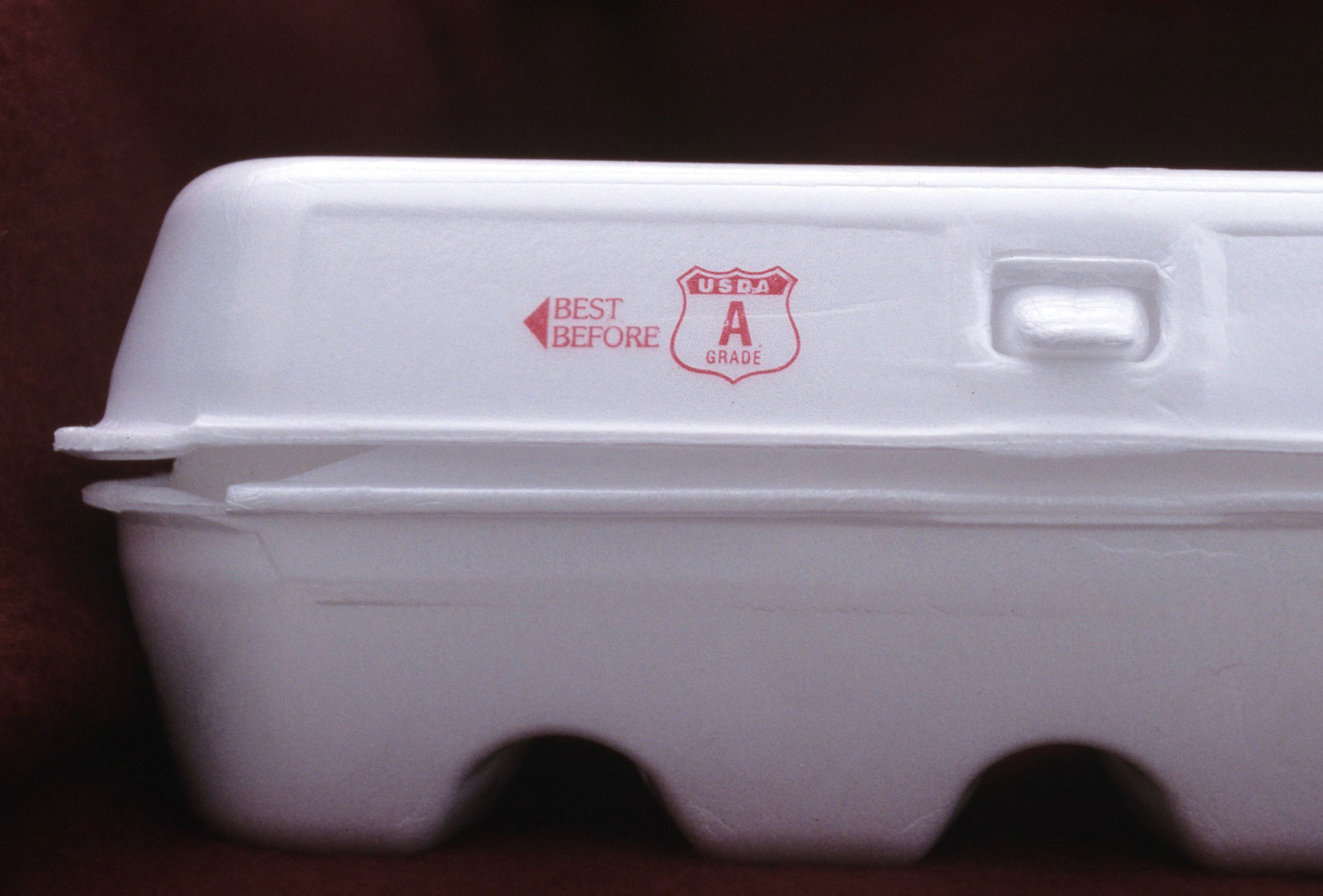 Packaging Eggs
Eggs are to be packed in new cartons. Reusing old egg cartons is not allowed. The egg carton must be labeled with the following:
Identification of the producer, grade and weight of the egg.
Expiration date (which is 30 days from the date of packing).
Safe handling/preparation instructions: "To prevent illness from bacteria: keep refrigerated, cook eggs until firm, and cook foods containing eggs thoroughly."
Additional Information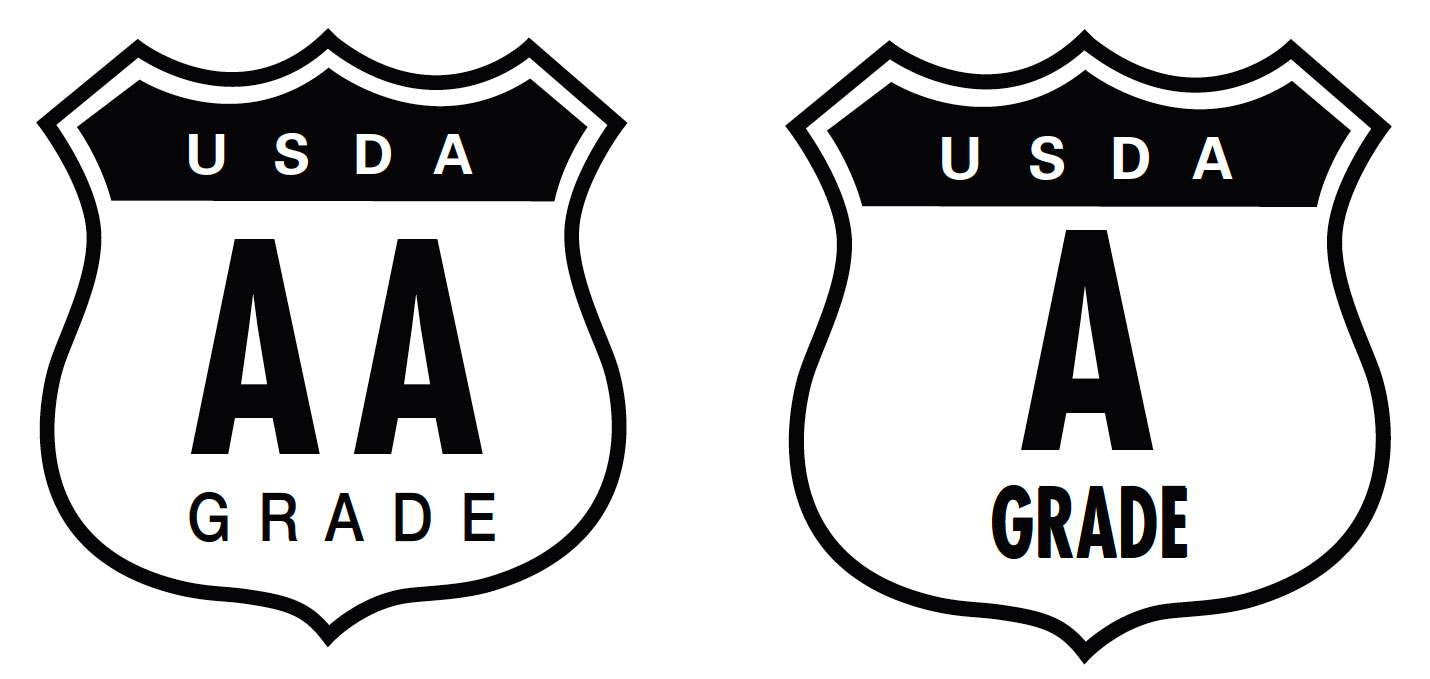 Egg Grading: Why is it  Important?
The U.S. Department of Agriculture grades eggs by the interior quality of the egg and the appearance and condition of the egg shell. Eggs of any quality grade may differ in weight. South Dakota follows Federal standards established by the United States Department of Agriculture for grading eggs.
U.S. Grade AA
Eggs have whites that are thick and firm; yolks that are high, round, and practically free from defects; and clean, unbroken shells.
Grade AA and Grade A eggs are best for frying and poaching, where appearance is important.
Air cell = 1/ 8" or less.
U.S. Grade A
Eggs have characteristics of Grade AA eggs except the whites are "reasonably" firm.
This is the quality most often sold in stores.
Air cell = 3/16" or less.
U.S. Grade B
Eggs have whites that may be thinner and yolks that may be wider and flatter than eggs of higher grades. The shells must be unbroken but may show slight stains.
This quality is seldom found in retail stores because they are usually used to make liquid, frozen, and dried egg products, as well as other egg-containing products.
Sizing Eggs
South Dakota follows Federal standards established by the United States Department of Agriculture for sizing eggs. Size tells you the minimum required net weight per dozen eggs. It does not refer to the dimensions of an egg or how big it looks. While some eggs in the carton may look slightly larger or smaller than the rest, it is the total weight of the dozen eggs that puts them in one of the following classes (see chart):
Size or
Weight Class

Minimum net
weight per dozen

Jumbo

30 ounces

Extra Large

27 ounces

Large

24 ounces

Medium

21 ounces

Small

18 ounces

Peewee

15 ounces
What is Egg Candling?
Candling is the process of using light to help determine the quality of an egg by illuminating the interior so that you are able to see what is inside the shell. Manual scanning techniques involve conveying the eggs over a light source where the imperfections become visible and the defective eggs are separated. Hand candling is holding a shell egg directly in front of a light source to spot check and determine accuracy in grading.
Cleaning Eggs
The SDDA will provide information for cleaning eggs. If eggs are excessively dirty, they should be discarded.
Storing Eggs
Due to the concern of Salmonella bacteria that may cause severe food poisoning, the USDA requires that eggs are washed and then stored in the refrigerator at 32 to 45 degrees F (air temperature). The SDDA will review storage conditions during the licensing process.
More detailed guidelines related to egg production and selling is sent with the application for a dealer's license.
Additional Resources
Sources: