Research Overview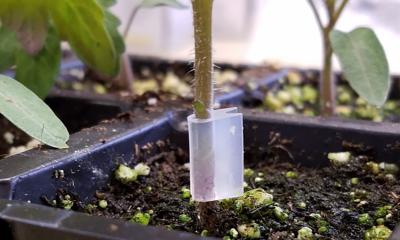 Research located at the Specialty Crop Research Field on the Brookings, South Dakota campus is in the second-year trial of three indeterminate, beefsteak, open-pollinated tomatoes grafted to three unique rootstocks to assess production and marketability for South Dakota farms. Tomato scions and rootstocks were seeded in the greenhouse on April 26 and 28, 2022, respectively. The plants were grafted on May 12, 2022, then placed under humidity domes in ambient temperatures with natural, indirect light for eight days. Grafted transplants were then grown in a greenhouse for two weeks prior to being moved outdoors to harden.
The tomatoes were planted into tilled soil, covered with three-foot-wide black woven-landscape fabric on June 6, 2022. In-row spacing is two feet and between row spacing is six feet. The only pruning was the removal of suckers below the first fruit cluster; plants have been trellised using a stake and a weave system with metal t-posts. Fertilizer and irrigation are delivered using drip tape with eight-inch emitter spacing.
Harvest of the tomatoes began on August 17, 2022, and will continue through the end of September. Fruit is harvested from each plot on a weekly basis, and research assistants grade, count, and weigh all produce. Grading is the process of sorting produce into marketable and non-marketable categories. Examples of non-marketable fruit categories include fruit with excessive cracking, or cat facing, blossom end rot, yellow shoulder, and insect damage.
Scions
Cherokee Purple
Dusky pink with dark shoulders, medium-large, famously rich flavor.
German Johnson
Pink flesh, more vigorous, higher-yielding Brandywine type, early.
Yellow Brandywine
Potato-leaf variety, rich-flavored orange version of Brandywine.
Rootstocks
DRO141TX
DRO141TX puts a higher proportion of energy into the fruit than other vegetative rootstocks, without compromising on vigor. DRO141TX has shown to carry a crop through high temperatures and a long season just, as well as Maxifort.
Estamino
Estamino is a strong, generative rootstock that puts a high proportion of energy into fruit. Especially useful for tomatoes in cultivation for less than six months, in unheated hoophouses, or with small-fruited varieties.
Maxifort
Maxifort is a vigorous, vegetative rootstock for large fruits and long-season cropping.
Descriptions of scion and rootstock traits adapted from Johnny's Selected Seeds.
More Information on Grafting
Vegetable grafting of scions to vigorous rootstocks can be a tool for improving high tunnel and open field production by conferring resistance to soil-borne diseases, withstanding elevated soil salinity, and improving water use efficiency.Two families of vegetables are being grafted on a commercial scale, Solanaceae and Cucurbitaceae. A scion is the top-portion of the graft, which is selected for its horticultural properties, while the rootstock is selected for desirable soil-interaction properties. The union of the scion and the rootstock takes place while the plants are in a young, vegetative growth-stage, typically between two and three weeks after seeding. Several methods exist for vegetable grafting, with splice grafting being the most widely used. Splice grafting, also called "tube grafting," requires an angled cut of the rootstock below the cotyledons with the same angle being used on the scion.
After grafting, a healing chamber is used for up to one week while the severed stems form callus tissue and grow together. A healing chamber increases humidity around the newly grafted tomato plants, reducing stress and water-loss. Reducing light levels to prevent heat stress can also be important.
Vegetable grafting first emerged in Japan and Korea as a means to overcome soil-borne diseases, and the practice has gained interest on a larger scale in the United States within the last twenty years. The phase-out of methyl bromide as a soil-management tool is one of the factors driving implementation of vegetable grafting globally and in the United States. Grafting research within the United States began in southern states, later spreading to the Pacific Northwest and Central regions.
Prior work in Iowa (Lang et al., 2020) demonstrated yield benefits of grafting a hybrid slicing tomato to DRO141TX, Estamino, and Maxifort rootstocks. However, ongoing research on unique scion x rootstock combinations is needed to understand interactions with specific locations.
Additional Resource
Acknoledgements
This trial would not be possible without the Lang Lab research team: Alexis Barnes, Graduate Research Assistant; Jacob Koch, Ellie Fitzpatrick, Serena White, and Anne Knofczynski, Undergraduate Research Assistants.