There are many good reasons why we should eat root vegetables. For starters, they pack a nutritious punch, are low in calories, and full of fiber. Stock up on root vegetables in the fall when they are first harvested; they're inexpensive and provide variety to meals when other fresh vegetables are out of season.
Root vegetables are defined as those that have an edible root as an extension of the vegetable which grows underground. Common root vegetables include carrots, potatoes, sweet potatoes, onions, and beets.
Preparing Root Vegetables
Various methods are used to prepare root vegetables such as steaming, boiling, and grilling. Another method, also known as roasting, cooks vegetables on a sheet pan in the oven. In recent years, it has been a popular trend in restaurants and at home.
Roasting vegetables in the oven caramelizes the outside of the vegetable, giving it a sweet, crispy flavor. A sheet pan is a helpful kitchen tool used in roasting vegetables. The shallow sides of a sheet pan allow your oven's dry, even heat to surround the root vegetables, producing a crisp, brown exterior. Generally, you'll want to cut root vegetables into a uniform shape and size, toss with vegetable oil, and bake uncovered for 30-45 minutes at 425°F (depending on how small you cut them). You can also reduce roasting time by parboiling the vegetables first.
How Much is Needed?
The USDA's MyPlate provides the following recommendations for vegetable consumption:
Adults need at least 2-1/2 cup a day (based on a 2,000 calorie daily intake).
School-age children need 2 to 2-1/2 cups daily.
Teens need 2-1/2 to 3 cups daily.
In general, 1 cup of raw or cooked vegetables or vegetable juice, or 2 cups of raw leafy greens can be considered as 1 cup from the vegetable group.
Best Nutritional Value
Try to vary your cooking methods when preparing vegetables and eat raw vegetables as well, to provide the broadest nutritional benefits. Purchase fresh vegetables in season, and frozen or canned vegetables when they are not, to stretch food dollars. When choosing canned vegetables, select those labeled as "reduced sodium," "low sodium," or "no salt added."
Try the following healthy, root vegetable recipes; they are easy to serve anytime.
Easy Roasted Veggies
Courtesy: Purdue University Extension
Ingredients:
5 cups assorted vegetables cut into chunks (potatoes, winter squash, turnips, carrots, onions, or mushrooms)
1 tablespoon oil (canola or vegetable)
2 teaspoons dried Italian seasoning
1/8 ground black pepper
1/8 teaspoon salt
Directions:
Heat oven to 425°F.
Line a 9 x 13 inch baking pan with aluminum foil.
Spread vegetables in sheet pan, sprinkle oil over the vegetables, and stir.
Sprinkle with Italian seasoning, pepper, and salt. Stir again until vegetables are evenly coated.
Bake uncovered for 45 minutes. Turn vegetables every 15 minutes.
Serve while hot.
Nutrition Facts: Calories: 90, Fat: 6g, Carbohydrates: 16g, Dietary Fiber: 3g, Protein: 2g, Sodium: 95mg. Serves 5 (1 cup) servings.
Roasted Sweet Potatoes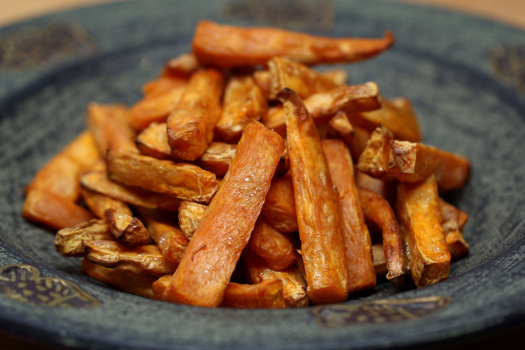 Courtesy: University of Missouri Extension
Ingredients:
4 small sweet potatoes, peeled and cut into wedges or slices

2 tablespoons olive oil

Optional seasonings: dried basil, oregano, garlic, ginger, cinnamon
Instructions:
Preheat oven to

450

°F.

On a baking sheet, arrange sweet potato wedges in a single layer. Drizzle with oil and seasonings (optional). Toss to cover.

Roast about 40 minutes, turning potatoes until they are cooked and crisp.
Nutrition Facts: Calories: 117, Fat: 9g, Carbohydrates: 8g, Dietary Fiber: 2g, Protein: 1g, Sodium: 4mg. Serves 3 (3/4 cup) servings.
More Ideas
Ready to add some cruciferous vegetables into your diet? See the Academy of Nutrition and Dietetics' The Beginner's Guide to Cruciferous Vegetables article.
References: