Originally written by Kimberly Cripps, former SDSU Extension Family & Community Health Field Specialist.
We all experience a variety of stress in everyday life. One way to reduce unnecessary stress is the plan meals in advance. There are many also other benefits to planning meals, including controlling what your family eats, and it allows the whole family to help learn decision-making skills. 
Choose low-cost foods and recipes for all meals that you know your family will eat and include snacks. Start with planning one week at a time. Meal planning one week at a time will allow you to be able to reuse that menu for another month. Check weekly advertisements to help find the best buys and make changes to your recipes and your menu plan that includes items that are on sale at the store. Ground beef or turkey, chicken, and beef chuck steak are usually good meat buys.
Remember that for most recipes, you can use smaller amounts of meat, poultry, and fish. There are other options, such as dry beans or lentils can be used to increase the number of servings and stretch food dollars a little further. Whole-grain pasta can help add variety to the meals you plan over the week. 
Meal Planning Tips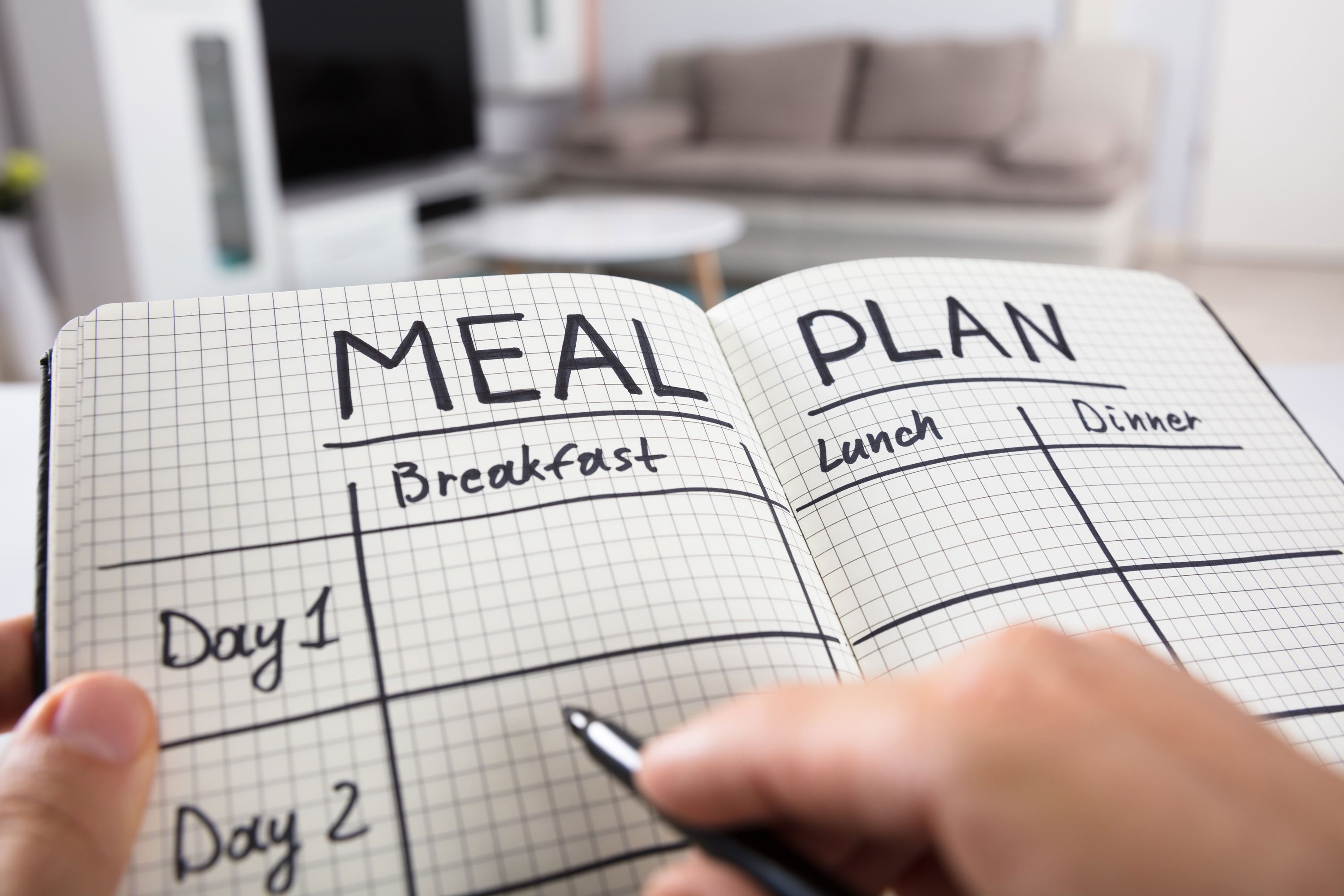 Here are some tips to make meal planning easier and ways to include the whole family:
Set aside 30 minutes to plan a week of meals.
Make a list of all meals, including main dishes, sides, drinks, and snacks.
Let everyone choose one meal and help with making the shopping list.
Check the fridge, freezer, and cupboards for items you already have.
Put the menu on your fridge.
When you are shopping, remember to make some comparisons at the store. Store brand items are name brand items that are often very similar in taste. Compare the unit price to make sure that you purchase the item that will help your budget go further. If you buy canned or frozen fruits, make sure you get the one that is packed in 100% fruit juice or water to keep your family healthier.
Make the food preparation a family project. Assign simple tasks such as washing vegetables, setting the table, making a salad to younger children. Older children can help chop and stir items in pots on the stove. Everyone should help with cleaning up the meal preparation mess also. Allowing others to help in the planning, shopping, and preparation of family meals can reduce unneeded stress and encourage healthier eating.