Written collaboratively by Patrick Wagner, Adam Varenhorst, Philip Rozeboom, and Bradley McManus.
Originally Submitted: June 2, 2023
Potato leafhoppers are already impacting alfalfa in South Dakota. This is due to some prevalent south winds and above-average spring temperatures. Each year, potato leafhoppers travel up from the southern United States since they cannot tolerate the cold winters in South Dakota. Their annual migration typically prevents them from becoming an issue until the later alfalfa cuttings. However, that is not the case this year, as they have arrived a month earlier than usual. Their feeding damage is called "hopper burn," and it resembles drought stress (Figure 1). If left untreated, potato leafhoppers can reduce yield as well as forage quality.
Profile
Adult potato leafhoppers are approximately one-eighth of an inch long and pale green in color. They have translucent wings that cover their bodies like a tent when at rest (Figure 2). The nymphs (immatures) vary in size and resemble adults, but they do not have fully developed wings (Figure 3). Both the nymphs and adults have specialized hind legs that allow them to jump long distances. They also have piercing-sucking mouthparts that they use to feed on plant sap.
Potato leafhoppers should not be confused with aster leafhoppers, which can be identified by dark markings on their heads.
Adult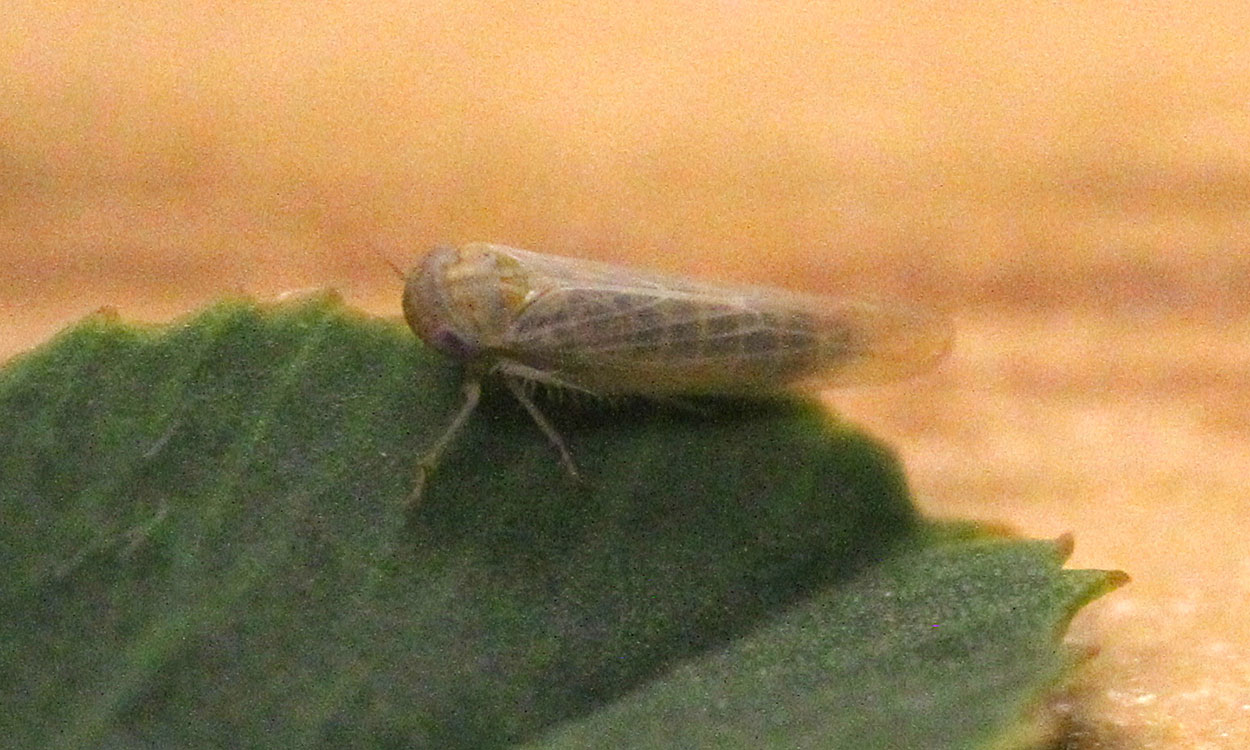 Nymph
Scouting
It is important to routinely scout alfalfa fields for potato leafhoppers to ensure that serious damage does not occur. Large populations of potato leafhoppers will cause stunted plants and may lead to significant losses to the tonnage and quality of the alfalfa crop. As mentioned previously, one of the first signs of a potato leafhopper infestation is the appearance of "hopper burn" in the field. This occurs when potato leafhoppers use their mouthparts to probe the plants, which disrupts the cells within the leaves and turns them yellow.
Aside from checking fields for feeding injury, potato leafhopper populations should be scouted for by using a sweep net. It is best to sample the field edges, because this is where potato leafhoppers tend to be more of an issue. While walking in a "W" or "Z" pattern, swing the net in a 180-degree pendulum swing 25 times. Each of the pendulums (left to right) counts as a single sweep. Count the total number of nymph and adult potato leafhoppers present in the net. Next, measure the height of the alfalfa plants. Economic thresholds for alfalfa are based on plant height: 0 to 12 inches, 12 to 18 inches, 18 to 24 inches, and 24 to 30 inches tall (See Tables 1 through 3 under the Management section for detailed economic thresholds by height).
Management
If management of potato leafhoppers is necessary, there are a few recommendations to consider:
Plant resistant alfalfa varieties (alfalfa that has glandular hairs or trichomes). The hairs present on the stems and leaves of these varieties prevent the adults from successfully feeding, and the nymphs may become caught and will eventually starve.
Cut alfalfa when a potato leafhopper infestation is detected. This method is capable of disrupting potato leafhoppers and forcing them to migrate out of the field. However, there is a chance that populations will re-infest the alfalfa regrowth.
Use insecticides to reduce potato leafhopper populations and minimize the chances of injury to the developing alfalfa. The economic thresholds for potato leafhoppers are dependent on the value of hay, cost of insecticide application, and the size of the plant. For a list of insecticides that are currently labeled for potato leafhopper management, refer to the latest South Dakota Pest Management Guide: Alfalfa and Oilseeds.
Economic Thresholds
Table 1. Alfalfa 0 to 4 inches tall. Economic thresholds for potato leafhoppers based on number of leafhoppers (nymphs and adults) calculated from the total of a 25-sweep sample.

 

Insecticide application cost per acre

 

$8

$12

$16

$20

Value of hay per ton

Total potato leafhoppers per 25 sweeps

$90

13

20

27

33

$110

10

15

20

25

$130

8

12

16

20

$150

7

10

13

17

$170

6

9

11

14

$190

5

8

10

13

$210

4

7

9

11

$230

4

6

8

10

$250

4

5

7

9
Table 2. Alfalfa 4 to 8 inches tall. Economic thresholds for potato leafhoppers based on number of leafhoppers (nymphs and adults) calculated from the total of a 25-sweep sample.

 

Insecticide application cost per acre

 

$8

$12

$16

$20

Value of hay per ton

Total potato leafhoppers per 25 sweeps

$90

19

29

38

48

$110

14

21

29

36

$130

11

17

23

29

$150

10

14

19

24

$170

8

12

16

20

$190

7

11

14

18

$210

6

10

13

16

$230

6

9

11

14

$250

5

8

10

13
Table 3. Alfalfa 8 to 12 inches tall. Economic thresholds for potato leafhoppers based on number of leafhoppers (nymphs and adults) calculated from the total of a 25-sweep sample.

 

Insecticide application cost per acre

 

$8

$12

$16

$20

Value of hay per ton

Total leafhoppers per 25 sweeps

$90

67

100

133

167

$110

50

75

100

125

$130

40

60

80

100

$150

33

50

67

83

$170

29

43

57

71

$190

25

38

50

63

$210

22

33

44

56

$230

20

30

40

50

$250

18

27

36

45