Written with contributions from Jarrad Prasifka, Research Entomologist, USDA-ARS, Fargo, ND and Sam Ireland, Dakota Lakes Research Farm Manager.
Originally Submitted: November 10, 2022
In the last few years, red sunflower seed weevils have been the most economically damaging insect pest in South Dakota. Our observations from 2022 indicate that red sunflower seed weevils are still present in South Dakota and in very large populations. Since 2018, researchers in South Dakota and North Dakota have been evaluating the efficacy of insecticides that are commonly used for red sunflower seed weevil management. The results from the last few years and the preliminary results from 2022 indicate that there is a continued trend of decreased insecticide effectiveness for weevil management in sunflower. 
To identify alternative management options, researchers at SDSU and the USDA-ARS lab in Fargo, ND conducted a study evaluating early planting dates as a potential strategy to reduce red sunflower seed weevil infestations. Although the results are not finalized at this time, the preliminary results from the field site at the Dakota Lakes Research Farm are very promising. 
Planting Dates
During 2022, sunflower plots were planted at the Dakota Lakes Research Farm on May 16, May 27, June 3, and June 17. The sunflower variety differed between the May 16th planting date and the dates. The sunflowers were not sprayed with any insecticides, and large weevil populations (i.e., more than 500 red sunflower seed weevils per head) were observed visiting the sunflowers from all of the planting dates. At the end of the season, sunflower heads were sampled and sent to the USDA-ARS Sunflower and Plant Biology Research Unit in Fargo, ND where they were analyzed. The seeds were x-rayed, and red sunflower seed weevil damage is noted for any seeds that have removed tissue (dark areas on the otherwise light seed). 
Preliminary Results
Although additional samples still need to be evaluated, the initial results indicate that earlier planting dates have reduced red sunflower seed weevil damage. The May 16th planting date had 1% damage (Figure 1), the May 27th planting date had 23% damage (Figure 2), the June 3rd planting date had 51% damage (Figure 3), and the June 17th planting date had 96% damage (Figure 4).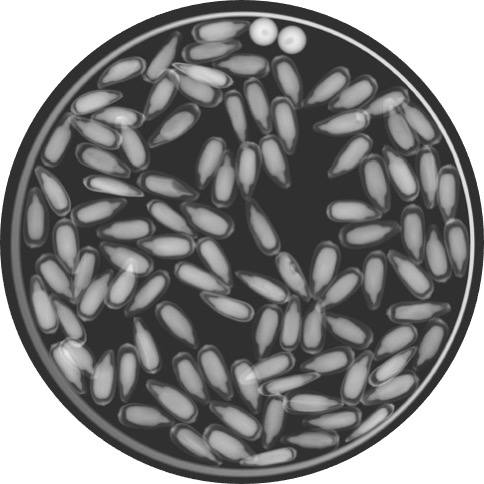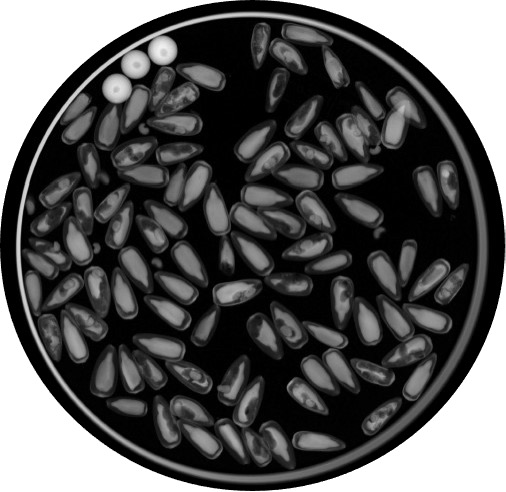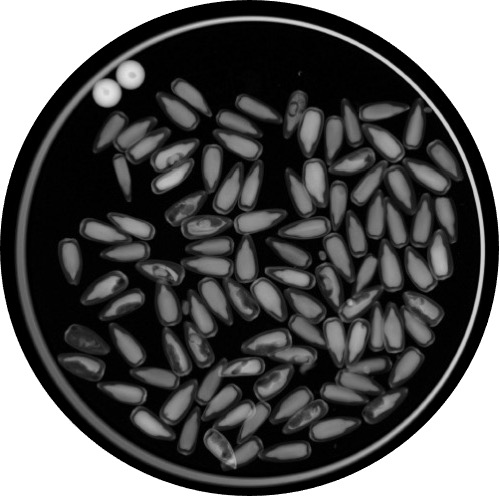 Conclusions from Preliminary Results
The initial results from the planting date study suggest that sunflower should be planted as early as possible to reduce red sunflower seed weevil infestations and associated damage. It is important to remember that no insecticides were applied to these plots, and that a May 16th planting had only 1% of damage to the seeds. These results agree with a study that was published in 1987 by Oseto et al. in North Dakota. 
Very large populations of red sunflower seed weevils are present in South Dakota, and they have reduced susceptibility to pyrethroid class insecticides. An earlier planting date could reduce the impact that red sunflower seed weevils have on sunflowers and could reduce the need for multiple insecticide applications within a season due to either insecticide failures or red sunflower seed weevil immigration into the field after application. Although red sunflower seed weevils will still be active in early planted sunflowers, it is thought that the damage caused by red sunflower seed weevils is reduced because flowering was completed before the female weevils began to lay eggs. 
Reference
Oseto, C. Y., J. D. Busacca, and L. D. Charlet. 1987. Relationship of sunflower planting dates to damage by Smicronyx fulvus (Coleoptera: Curculionidae) in North Dakota. J. Econ. Entomol. 80: 190-192.