This time of the year, nothing is more tempting than comfort food after a long day. Soups, stews, and casserole dishes warm us up and bring a smile. Comfort foods can also provide sentimental connections with memories from days gone by. But who has time to prepare a home-cooked meal after a long day?
One pot meals are a simplified method for preparing comfort foods. They are dishes that are easy to make and easy to clean up. Preparing everything in one dish makes it easier to ensure that several food groups are included. They can be steamed, baked, sautéed or stewed. I'm crazy about the idea of having fewer dishes and less time spent cooking, so I'm including one pot meals in my weekly menu plan.
Tips & Techniques
The following tips will help you simplify your time preparing food in the kitchen.
Make a double recipe to feed your family now and freeze the leftovers for later.
Wash and cut up fruits and veggies to be placed in freezer bags for use later in soups, casseroles, smoothies and omelets.
Freeze grated fruits or veggies to use in bread, muffins, pancakes and meatloaf.
One pot meals have less mess and hassle. Why not give these two healthy, easy and delicious one pot meal recipes a try to simplify life on those extra busy days?
One Pan Spaghetti
Ingredients:
1 lb. ground beef (lean)
1 onion (medium, chopped)
3-1/2 cups water
1 can tomato sauce (15 oz.)
2 tsp. dried oregano
1/2 tsp. sugar
1/2 tsp. garlic powder
1/2 tsp. rosemary
1/4 tsp. pepper
2 cups spaghetti noodles (broken)
1 cup Parmesan cheese (shredded)
Instructions:
Brown meat and onions in a large skillet over medium-high heat (300 degrees in an electric skillet). Drain fat.
Stir in water, tomato sauce, and spices; bring to a boil.
Add spaghetti, cover pan, and simmer 10-15 minutes, stirring often to prevent sticking.
When spaghetti is tender, top with grated cheese.
Refrigerate leftovers within 2-3 hours.
Notes:
For 2 cups of broken spaghetti noodles, use approximately 1/3 of a one pound box.
Try whole-wheat pasta to increase fiber.
May use Italian mixed herbs/seasonings, basil, or thyme in place of dried oregano.
Nutrition Facts (per 1 cup serving): Calories: 220, Fat: 5g, Carbohydrates: 29g, Fiber: 2g, Protein: 13g, Sodium: 360mg. Serves 10.
Easy One-Pot Red Beans & Rice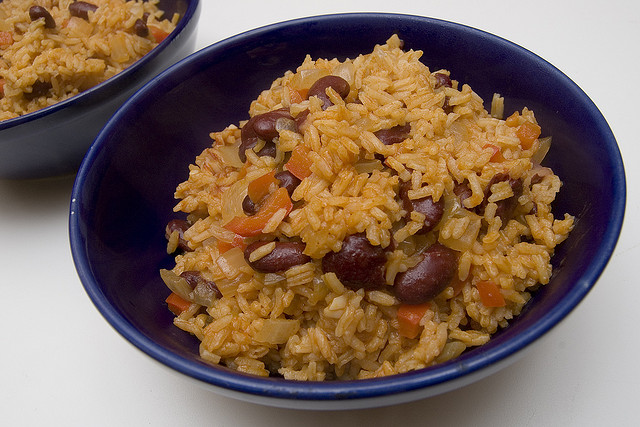 Ingredients:
1/2 lb. andouille sausage
1 large onion, chopped
3 cloves garlic, chopped
2 ribs celery, chopped
1 can diced tomatoes with liquid (14.5 oz.)
1 can kidney beans, drained and rinsed (15 oz.)
1/2 tsp. salt
1/4 to 1 tsp. black pepper
2 tsp. ground thyme
2 tsp. dried sweet basil
1 tsp. cayenne
1 Tbsp. paprika
2 to 5 drops hot pepper sauce
1 bay leaf
1 cup uncooked brown rice
1 green bell pepper, chopped
Instructions:
Brown the sausage with the onion, garlic and celery for about 4 to 6 minutes in a skillet.
Add the tomatoes, kidney beans, 2 cups water, salt, pepper, thyme, basil, cayenne, paprika, hot sauce, bay leaf, and rice.
Add the rice, decrease heat, cover and simmer 45 minutes.
Remove from heat. Add the green pepper, stir well, cover and let stand 10 minutes. Stir before serving.
Nutrition Facts (per 2 cups): Calories: 515, Fat: 20g, Carbohydrates: 65g, Fiber: 13g, Protein: 21g, Sodium: 720mg. Cholesterol: 0mg. Serves 4.
More Ideas
For additional healthy, quick recipes check out Meeting Your MyPlate Goals on a Budget for a comprehensive guide of recipes and budgeting food tips. You also might want to refer to the USDA's A Harvest of Recipes with USDA Foods. It's a collection of tasty, easy recipes that meet the latest recommendations from the 2010 Dietary Guidelines for Americans.
References: