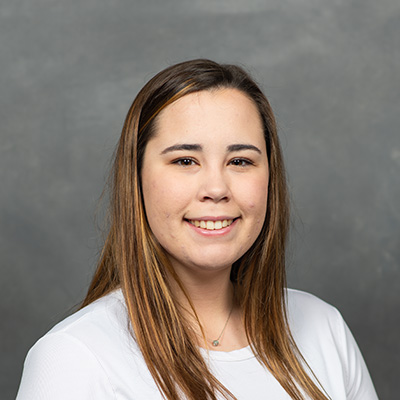 BROOKINGS, S.D. – SDSU Extension is pleased to announce Sydney Trio as a new Horticulture Assistant based at McCrory Gardens in Brookings.
Trio will continue her role as education coordinator at McCrory Gardens, while integrating her work into SDSU Extension programs like Garden Hour, Master Gardener Lunch and Learn and answering questions submitted to the Garden Hotline. 
As education coordinator, Trio plans educational events at McCrory Gardens like the Garden Discovery Festival, guides tours, arranges school visits and helps to plant and maintain the garden grounds. She describes both roles as "connecting people to plants," and said they go hand-in-hand.
"McCrory Gardens and SDSU Extension both have the common mission of educating, and I am very excited to provide a bridge of McCrory being a place where people can come visit, learn and ask questions," Trio said. "Now we will be able to reach even more people in the community, throughout South Dakota, and beyond."
Originally from Mapleton, Minnesota, Trio graduated from SDSU with a bachelor's in horticulture and a minor in sustainable local foods. She worked at the Mary Jo Wegner Arboretum in Sioux Falls, South Dakota, before joining the team at McCrory Gardens. 
"SDSU Extension is extremely excited about Sydney Trio's appointment as a Horticulture Assistant and the expertise she will bring to the position," said Karla Trautman, SDSU Extension Director. "Integrating this appointment with her role as education coordinator at McCrory Gardens will provide an exciting opportunity for SDSU Extension to expand our collaborations with education and outreach at McCrory Gardens."
 
To contact Sydney Trio at the SDSU Extension Garden Hotline, call 605-690-9447 or email her at sdsu.gardenseast@sdstate.edu.