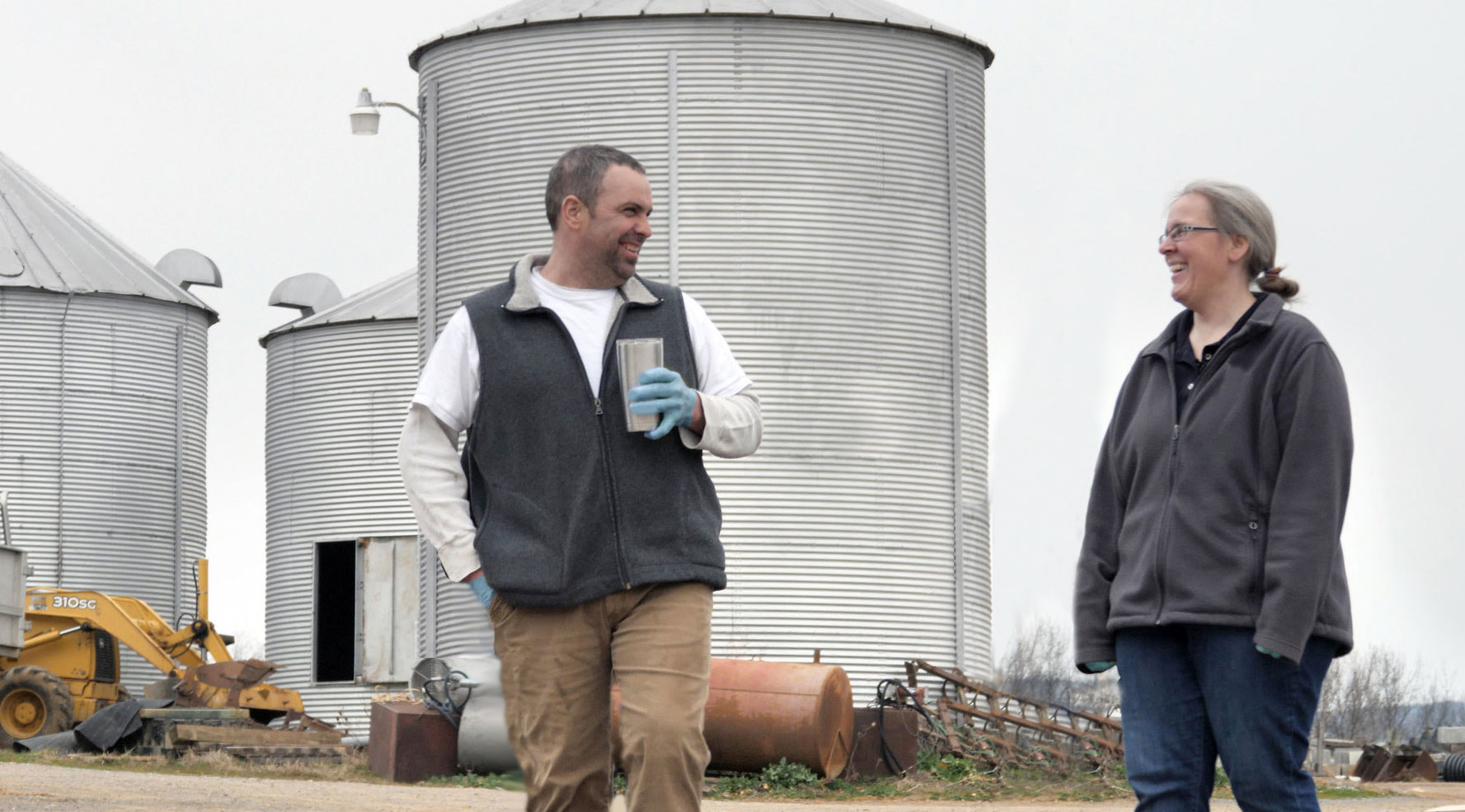 Written collaboratively by Tracey Erickson, former SDSU Extension Dairy Field Specialist and Heidi Carroll, SDSU Extension Livestock Stewardship Field Specialist & Beef Quality Assurance Coordinator.
Producers can be quick to adapt and utilize technology, but sometimes need a little nudge in other areas. COVID-19 sometimes feels like one of the areas that agriculture needs a nudge in.
Leadership comes in many forms and in order to get through this pandemic we are going to need true leaders in our agricultural operations. In hearing a presentation given by Keni Thomas, a Staff Sergeant with the Army 3rd Ranger Battalion recount his leadership guidelines given the life-threatening situation faced by him and his fellow Rangers, referenced in the book and movie Blackhawk Down. I would like to share a few takeaways that we can benefit from and need to start applying to agriculture given this present situation, COVID-19.
Part of the Ranger Moto he shared, lead the way…lead by example, set examples for others to follow.
You are no better than the weakest person on your team and you must build your weakest team member up to the level you want to be at. If your weakest link believes in them self, they will succeed.
When things hit the fan, who do you want to be in that moment? Instead of saying "somebody should do something about that", "be the somebody, take action". "It won't be easy or fair, own it and take care of one another".
Leadership is a choice, how are you enabling it? Use your gifts and personal skill sets to step up on a daily basis.
Give people the 5 W's if you want them to succeed: Tell them What, Who, Why, Where and How.
When stressing, keep the bigger picture in mind.
Lastly, a house divided will not stand.
Enabling Leadership and Communication
My reason for referring to Mr. Thomas's speech is to hone in on a couple of his points: enablement of leadership and communication. Too often, we fail to communicate and adequately train others when we attempt to empower people. What often results is frustration of both parties, along with a potential malfunction within either a business, an organization or even a family.
Communication to your employees on a daily basis is critical not only in the area of tasks to be accomplished, but now you will also need to make sure you as owners and operators are communicating regarding the health and well-being of employees, given the COVID-19 pandemic. For example, consider how you and your employees are going to communicate while still practicing social distancing. Will you continue to have a daily check-in with employees utilizing technology such as cell phones or radios, or will you gather and stay six to ten feet apart? Remind people to avoid handshaking and encourage utilizing other forms of greetings such as elbow taps, waves, toe taps and smiles. Communicate non-verbally by utilizing appropriate signage and training videos to help convey the message to help understand COVID-19. If language may be a barrier, English and Spanish resources are available through the UMASH website or the National Milk Producers Federation website. Make sure to take time to communicate with your employees regarding your sick leave policy. Consider the federal labor legislation and relief aid being passed and determine how it may apply to you and your employees. Direct questions to the US Department of Labor (1-866-487-9243 or 1-877-889-5627. Employees are wanting reassurance and guidance from you also. Let them know they are encouraged to speak up, sooner rather than later. Especially if they are ill or showing symptoms and why this is important for them and everyone around them. Remind them if they are sick they need to stay home and that they will not lose their job. Communicate with your employees and family members about the protocols you have developed for your farm or ranch, evaluate protocol feasibility with team members and make sure they are following them through your leadership.
Developing COVID-19 Protocols
Consider the following things when developing your COVID-19 protocols for your farm or ranch which will help to ensure that people can continue to work.
Stay aware of state or federal mandates regarding providing proof of being an essential worker. Determine whether you will need to prepare an "Essential Food and Agricultural Employee Work Permit" or "Travel Permit" for your employees to keep on them at all times.
Outline the basic hygiene practices that should be practiced at work, home, and before travelling between work and home. Remind them of hand-washing protocols using soap and water. Make sure soap and water is available. This may be something as simple as a watercooler filled up daily with a bottle of soap and paper towels accessible, if no running water is available or no hand-sanitizer is available.
Decide how you will handle tasks that require close interactions, such as milking, maternity pens, veterinary pens, working chutes, or load-out chutes. If you are a grain farmer, how will you handle seed, fertilizer or chemical deliveries? Many businesses are putting in protocols and it is recommended to call ahead to be aware of how they will handle the day-to-day business in the months ahead.
Designate a single entry/exit point to the farm to control all non-essential or visitors potentially gaining access to the farm. Do not allow outside visitors for the time being. Additionally, this will help with supply drop designation. Utilize a log of people coming and going from the farm or better yet, use technology and a camera to log all people coming and going.
Consider posting additional signage with clear directions for each type of delivery you may be receiving including: who to call, phone number, location to place packages, or other appropriate steps like signing a log. If possible, encourage staggered delivery times.
It is recommended to limit carpooling to essential use. What if employees also carpool with other individuals that do not work on your farm or ranch, or with non-family members?
Disinfect common areas regularly and stagger breaks and arrival times, if possible, to help with social distancing. Remind workers to disinfect common areas after each break including: counters, tables, microwave handles, microwave control panels, coffee pots, beverage dispensers, refrigerator door handles, cupboard door handles, etc. Keep disinfectant, clean cloths and extra garbage bags available at all times. Additionally, you will want to have someone designated to disinfect other common areas twice-daily including time clocks, bathrooms, two-way radios, computer keyboards, and common in-out doors, using approved EPA products against COVID-19. It will be important to LEAD by example if you want these done adequately and for everyone to feel ALL members of the farm or ranch are truly part of the team effort.
Do not share used materials (e.g. towels, kitchen utensils, pens), and wash and dry them between uses.
Workers should wear the appropriate Personal Protective Equipment given the job they are performing including: gloves, footwear, safety glasses or goggles, aprons, masks and replace them as necessary.
Launder all clothing or uniforms daily. Encourage workers not to enter their personal home with potentially contaminated clothing. They should both wash-up or shower and wear clean clothing home or remove clothing before entering the home and place in a bag to be laundered and wash-up or shower immediately. This will help minimize bringing the virus home to family members.
When handling clothing and towels, wear gloves, do not shake the clothes so it minimizes particle dispersion and disinfect clothing hampers.
Cross train employees ahead of time, so they have an understanding of other jobs on the farm if the need would arise for them to help in other areas on the farm.
Develop a contingency plan for labor if you are short staffed. Identify people that may be able to help you temporarily during this time.
Plan ahead for supply chain disruptions such as cleaning or disinfectant supplies utilized on dairies or swine operations or medications. Contact suppliers of fertilizer, feed, chemical, parts, etc. to see if there is additional wait times. 
Have critical parts on hand and determine what each service provider / company is implementing with their staff that may impact the on-farm service you receive (e.g. tractor repairs or parlor servicing). Determine which few employees will be directly interacting with anyone that comes to do equipment maintenance in order to limit the potential exposure to outside individuals that could be carrying the virus. Preparation prior to the visit will save time for all parties involved.
Plan for interruptions in daily workflow out of the norm that are taking extra time.
Monitor travel in the present day and upcoming.
Be aware of employees with families experiencing childcare closures. Consider that many families may have situations where one parent is deemed "essential" and the other is working remotely and there is stress around the essential worker bringing home the virus. Post local resources for mental health hotlines, telemedicine and as many other community service programs as possible, so everyone can remain connected within the community and get their needs met. Consider adjusted store hours as employees need to access personal supplies.
Provide employees with a clear timeline of these increased biosecurity tasks as much as possible. No, we do not know exactly how long this situation will last, but give assurance to employees that you will meet at a certain interval to reevaluate the practices and determine next steps or changes. After all, nothing is more tiring on people than adding more cleaning tasks to their daily duties!
Additional Resources
Additional resources can be found at the following sites regarding COVID-19.
Again, we cannot stress enough protect yourself and others – wash, disinfect accordingly, practice good social distancing, and stay home if you are sick. Lead by example. You will be amazed how well people can perform, either as employees or leaders when you take the time to enable them with desired expectations for the job and then empower them to accomplish it.