I thought I would change things up a bit and talk about a tree for this week, Gymnocladus dioicus, Kentucky Coffeetree. This is a medium sized tree that will fit into many landscapes and provide interest all year with its bark, leaves, flowers, fruit and even great fall color, if weather conditions are right. The tree develops a rather open crown with rather coarse branches and can live to about 100+ years old. But the tree looks great when it is small too and just keeps getting better as it ages. It will grow best in moist, well-drained soils so is a great choice for the eastern areas of South Dakota and southeastern North Dakota but will not do well out in a hot, dry site out west, unless it has supplemental irrigation.
Trees are either male or female but all produce interesting greenish flower clusters that can be 12" long and have a nice fragrance. Later, the female trees produce large pods that are 5" to 10" long and about 1.5" wide. They contain large dark brown seeds, when mature. While many people will shy away from a tree that produces fruit, the large pods of this tree are actually quite ornamental while on the tree and are not produced in large numbers that they make a big mess in your yard when they fall.
The common name of coffeetree comes from the practice of early settlers roasting them and using them as a (poor) coffee substitute. The seeds can also be harvested in the fall of the year and planted to start new trees. The seed coat is very hard though so you will need to scarify the seed by rubbing the seed with sand paper to make an opening for the seed to take on moisture and germinate. Occasionally seed will germinate on its own to produce a small colony of trees. They look great as a small group of trees, but if you just want the single trees, just mow off the young seedlings that might appear. Young trees have a moderate growth rate, putting on about a foot of top growth in a good year.
If the weather conditions are good in that we don't have a real hard freeze right away, coffeetrees can have a great yellow fall color but in most years, the leaves will fall before they have a chance to color up.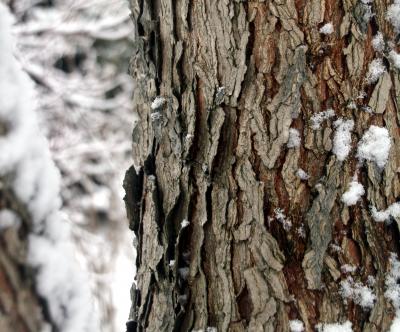 Last year the small grove of trees by the Sensory Garden, here at McCrory Gardens were gorgeous, the best I had ever seen them. Then, when the leaves fall it reveals the trees with their coarse twigs and interesting bark to decorate your yard for the winter.
Kentucky coffeetrees have no serious pest problems but can suffer some winter twig dieback when young. Coffeetrees would be an excellent substitute for green ash and other trees that are so frequently planted.