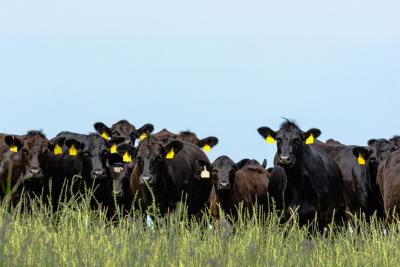 Written by Taylor Grussing, former SDSU Extension Cow-Calf Field Specialist. Reviewed and updated by Olivia Amundson.
Breeding season will soon be around the corner for cow-calf operations. Many folks have considered moving the calving season in order to avoid the annual April blizzards in the Upper Midwest. While moving the calving season will not eliminate the unpredictability of weather, we can utilize a defined breeding season to plan when cows will calve and be better-able to manage cattle in the harsh winter and spring calving conditions.
In 2016, the Iowa Beef Center collected data with the U.S. Department of Agriculture National Agricultural Statistics Service (USDA NASS) to quantify the factors that producers note regarding timing and intensity of calving seasons. Thirty one percent of respondents stated tradition dictated the timing of calving. Unfortunately, economic drivers of market timing and feed availability were only considered 16% and eight percent of the time, respectively. A majority of operations calving seasons were also influenced by weather (66%) and labor availability (34%). Calving season affects all other down-chain events on the operation, such as weaning and marketing, which can be difficult to change if facilities and repeat buyers are something you count on each year. So instead of changing the start of the calving season, perhaps it would be better to change the length of the calving season and managing time and labor more efficiently so there is an end in sight next calving season.
Managing the length of calving season can have a large impact on the economic success of a cow-calf operation. A short calving season allows more-intense monitoring during calving, as well as produces a more-uniform, heavier calf to market. According to National Animal Health Monitoring System (NAHMS) data (2017), 31.7% of operations which manage 43.6% of the beef cows reported, had one defined breeding season, while 58.7 % of operations (41.6% of cows) have no set season. Only 32.8% of operations had a breeding season less than 64 days.
After calving, cows resume estrus cycles within 40 to 60 days postpartum. In order to maintain a yearly calving interval, we want cows to be bred within 80 days post calving. Therefore, during a 64-day breeding season, cattle have three opportunities to become bred (once every 21 days). With the use of estrous synchronization, producers can add an extra opportunity for cattle to be bred within the same 64 days. After 105 days, cattle would have five opportunities to be bred.
A long calving season may get more cows bred, but those cows are also going to be long-term problem cows that will have a short postpartum period going into the next breeding season. The likelihood of becoming rebred will decrease. However, shortening the breeding season will help select cows with the best fertility and longevity that return the most value to the operation. Benchmark goals for breeding season pregnancy rates are to achieve 65% bred in the first 21 days of the season, with 90% and 95% of cows bred by days 42 and 64, respectively. Data from here in South Dakota shows cows that breed early in the season remain in the herd longer, as they continue to re-breed early each year (Kill et al., 2012). In addition, the South Dakota and U.S. Meat Animal Research Center (US MARC) data shows these early calving heifers return one extra calf in their lifetime compared to late-calving heifers due to added weaning weight.
Not only does the length of the calving season affect marketing time and calf size, but it also affects cow and calf health protocols. At pasture turn out, young calves can't receive the shots they need to increase immunity from disease in the summer and late-bred cows can't be processed for pre-breeding shots if they have not calved yet.
Dedicating yourself to a short breeding season will not only increase the fertility level of the herd, it can also eliminate extra labor during the calving season. So, mark the date on the calendar and tell your family and friends so they can help remind you to pull the bulls from the pasture this year.