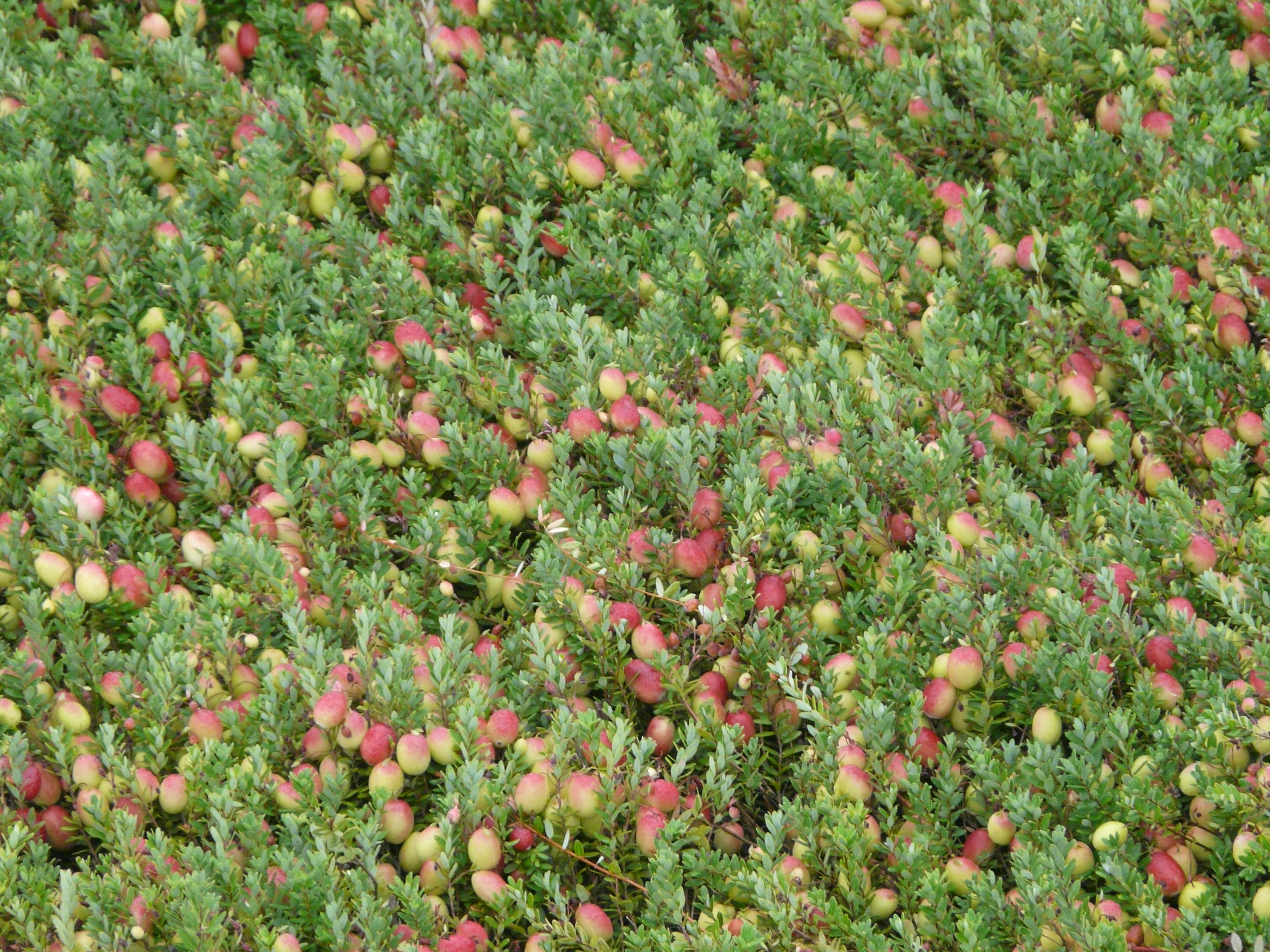 Fall is a busy time for farmers in the northern Great Plains, harvesting thousands of acres of corn and soybeans. Not too far away, in central and northern Wisconsin the harvest was in full swing too, but the crop they are harvesting is a small fruit called the cranberry. Wisconsin is the leading state in cranberry production, growing 60% of all of the cranberries consumed in the United States. Cranberry is even the state fruit of Wisconsin! And why not - with about 5 million barrels produced each year from about 250 growers on about 21,000 acres of land. Cranberries are considered to be one of the foods with the highest levels of antioxidants, are cholesterol- and fat-free and part of a healthy diet.
Historical Origins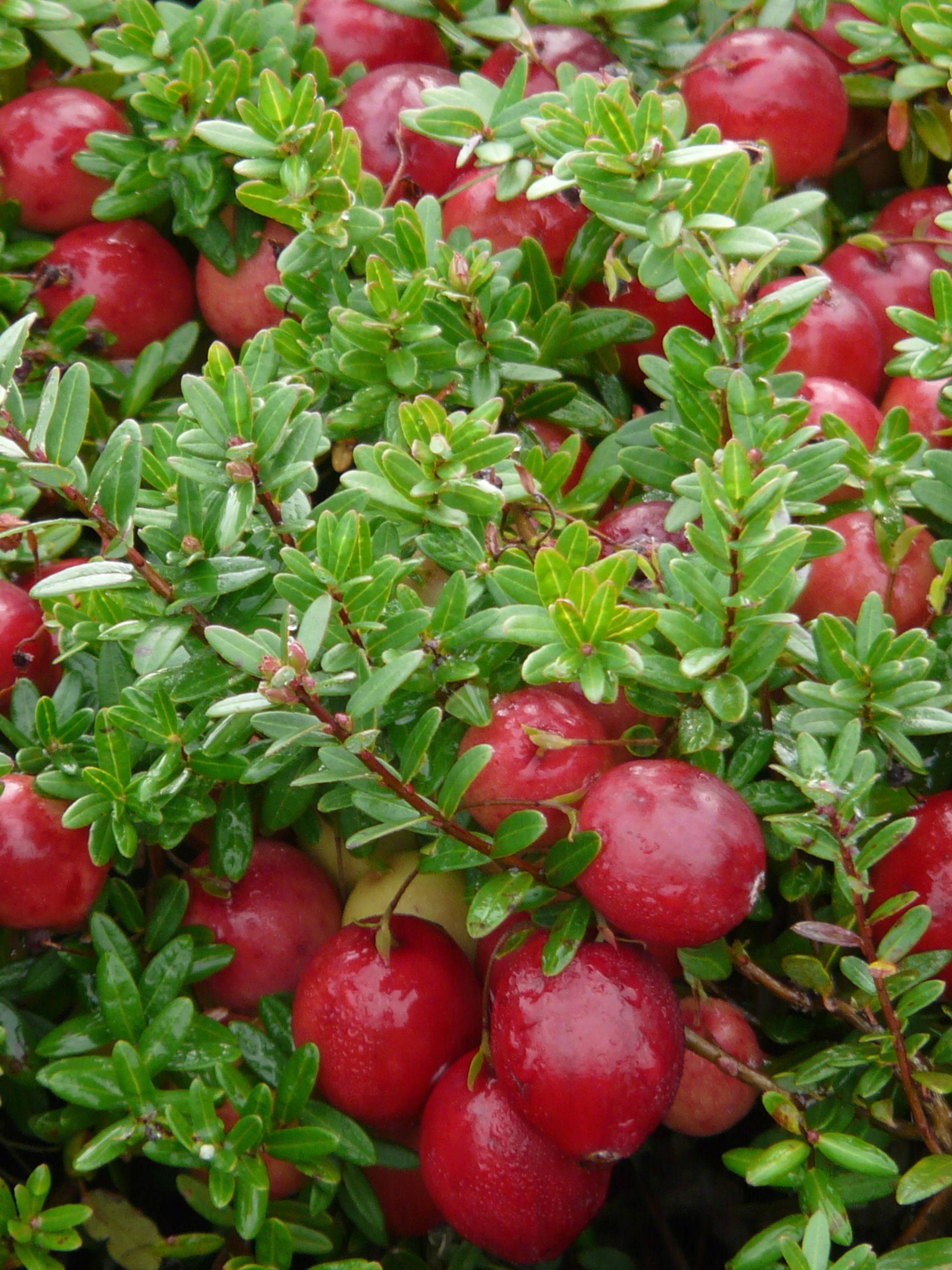 Cranberries (Vaccinium macrocarpon) are small semi-evergreen vines that prefer to grow in sandy bogs. Cranberries were first harvested and used by Native Americans where they were harvested in the wild. Early settlers started growing them as early as the 1820's. [Not WI history but American Revolutionary War veteran Henry Hall is credited as first to farm cranberries in the Cape Cod town of Dennis around 1816.] They originally called them craneberries because the reflexed petals of the cranberry flower made it look very much like the head of a sandhill crane, a common bird that can be seen feeding in cranberry bogs. Later the name was changed to cranberry. Bees are essential for a crop of cranberries since they are needed to pollinate the small flowers. Contrary to popular belief, cranberries do not grow in water year around. The bogs are only flooded in the fall to facilitate harvest or sometimes to protect the plants from extreme cold during the winter.
Since cranberries are a woody perennial plant, a planted bog can remain in production for decades if it is properly managed. This means paying special attention to weed and other pest control and proper clipping, flooding, harvesting and other management techniques. There are currently over a hundred different varieties with newer varieties emerging from grower selection and breeding programs like the one at Rutgers University in New Jersey.
Production & Management
Cranberries are planted by spreading cuttings, clipped from established plants, onto a prepared sand bed in a new or rejuvenated bog. A special disk is used to press the cuttings into the sand. The beds are then frequently irrigated until new roots form and the plants begin to grow. Some growers are using greenhouse grown transplants or "plugs" when planting newer hybrids.
Irrigation is important to supply the moisture needs of the plants as well as protect from late spring frosts that could damage tender new growth or flowers. It takes several years for a newly planted bog to come into full production. Oftentimes a layer of fresh sand is spread over the newly planted bog to help encourage new rooting and better growth of the young plants.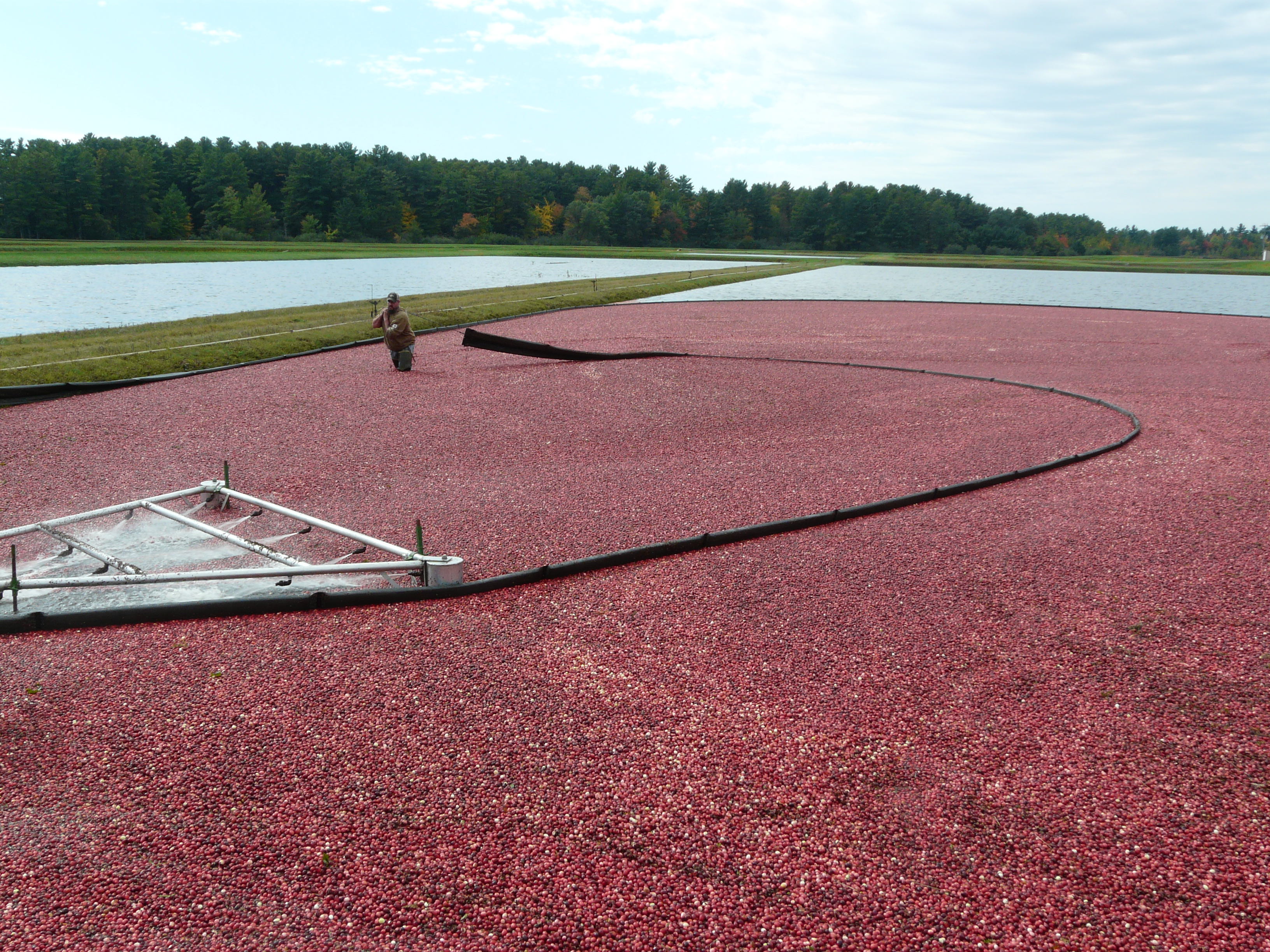 Historically cranberry bogs were fairly small, often only an acre or so in size, with raised dikes between each of the bogs. That way they were small enough for equipment to drive on the dikes to do work on the bog by "reaching" in from the side. Now bogs are typically in the 2-5 acre size but some producers are moving toward larger bogs of 10 acres or more. They use special tractors with tracks to work the bogs and avoid damaging the plants.
Harvesting Cranberries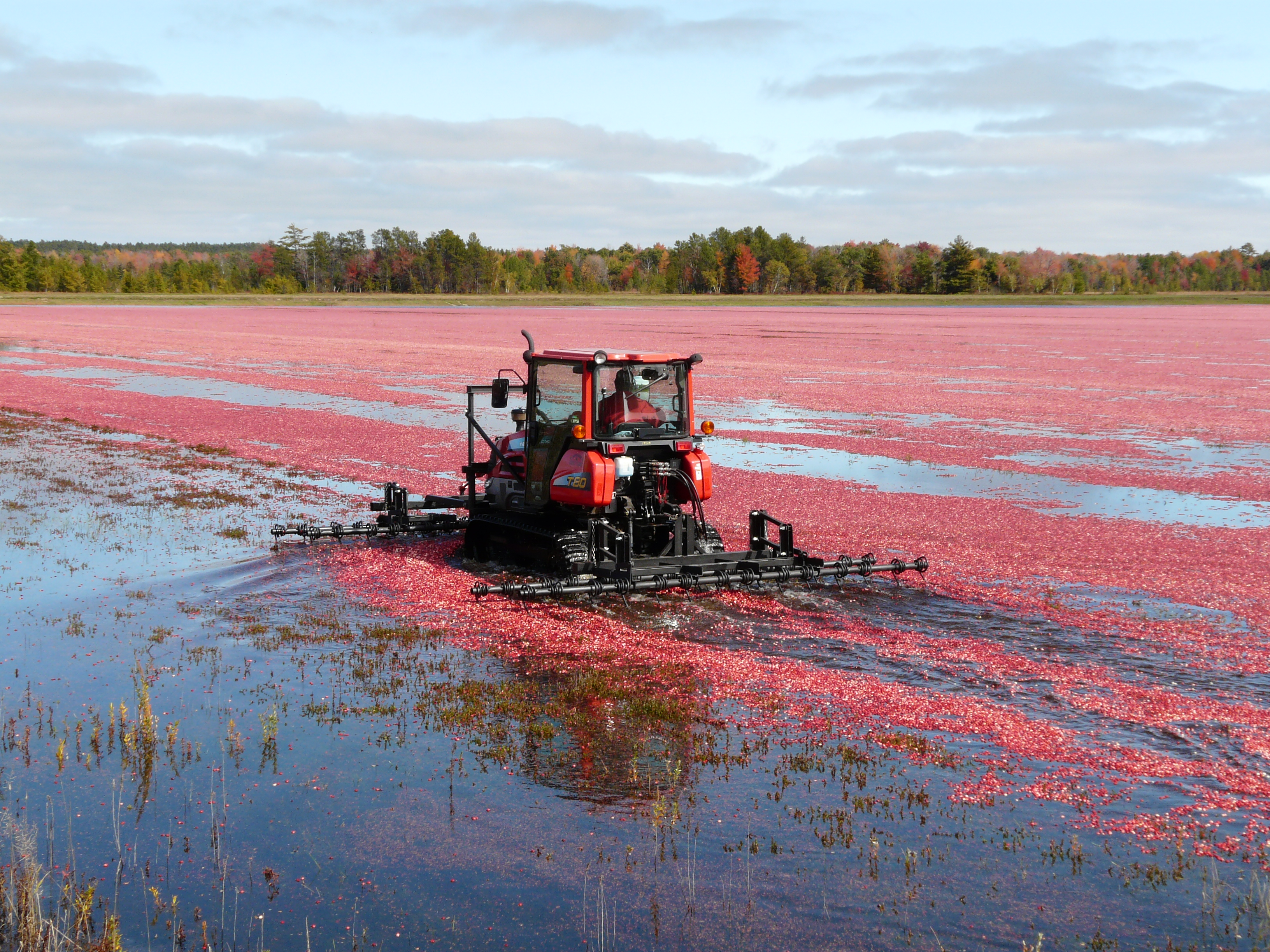 When the cranberries are ripe and ready for harvest the bogs are flooded. The fruit is stripped or beaten from the plants with a waterwheel type harvester or more commonly now a harrow. In Wisconsin, growers have been switching over from using the older water-reel harvester to using harrows. A tractor with tracks is used to pull harrows that are usually built by the growers so the actual design can vary. The harrow has rows of teeth or tines mounted in front and behind the tractor that combs or strips the cranberries off the vines. Previously the growers would say they were beating berries. Now they're stripping berries. This type of harvesting is most commonly used for berries that are to be used for processed cranberry foods like juice, sauce or sweetened dried cranberries such as Craisins.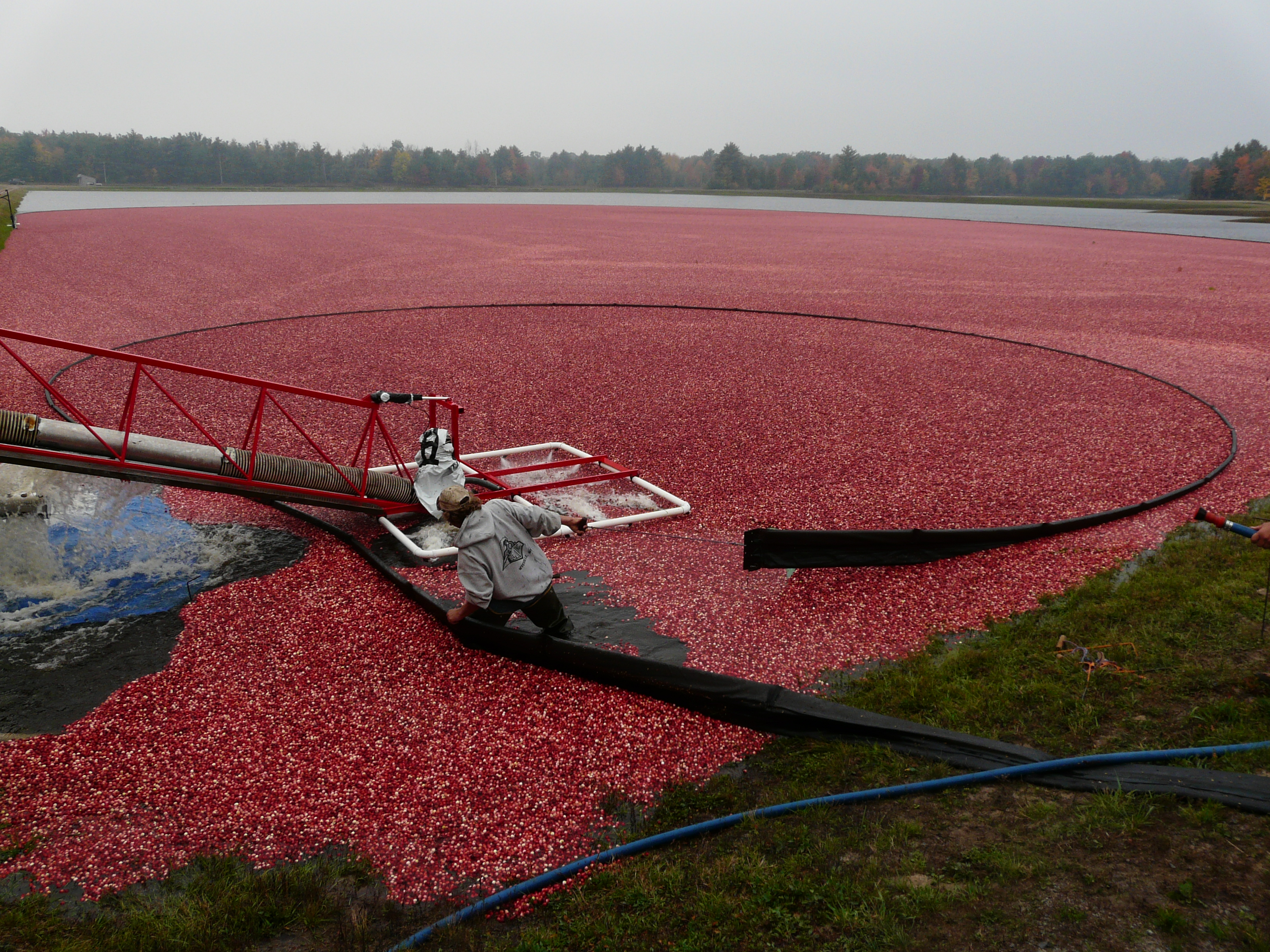 Cranberries have four air pockets in them so that they will float once they are removed from the plants. Once they are floating, wind will push them down to one area of the bog where they can then be corralled and loaded up into trucks using special augers or pumps.
Processing & Packing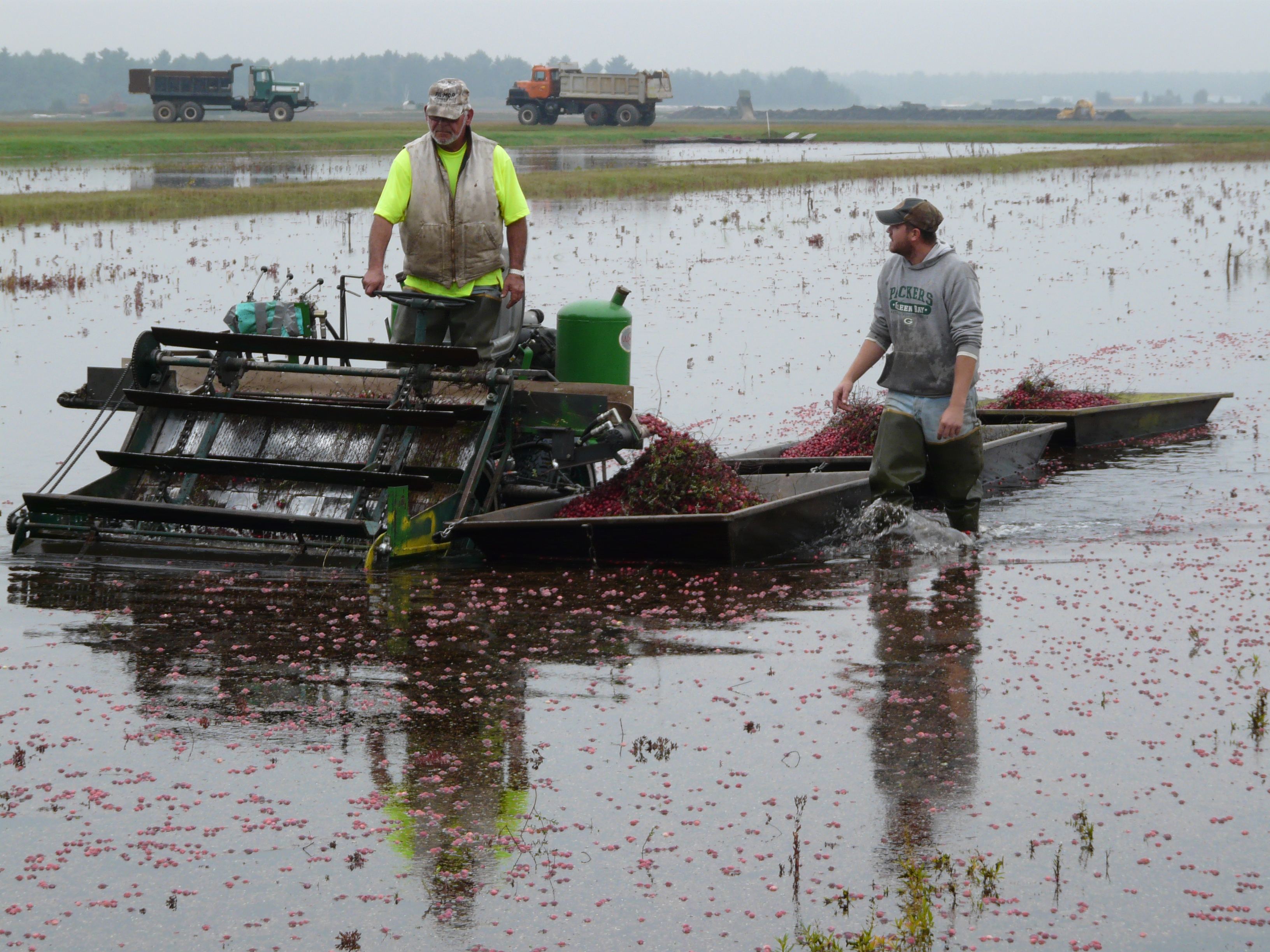 Fresh fruit is usually harvested with a raking machine and the berries are deposited into a berry boat that travels alongside. They aren't left to float and be corralled like fruit going for processed use. Fresh fruit berries are usually sorted and packaged on the marsh where they are grown. 
Cranberries for fresh fruit used to be sorted by hand and even used a bouncing test to determine good fruit from soft fruit that would not bounce out of the machine. Since it is getting harder and harder to find people willing to do the sorting, some growers are moving toward computerized sorters that use a camera and computer programs to sort out soft berries from the good quality fruit. They still get a last hand sort or two to help assure quality.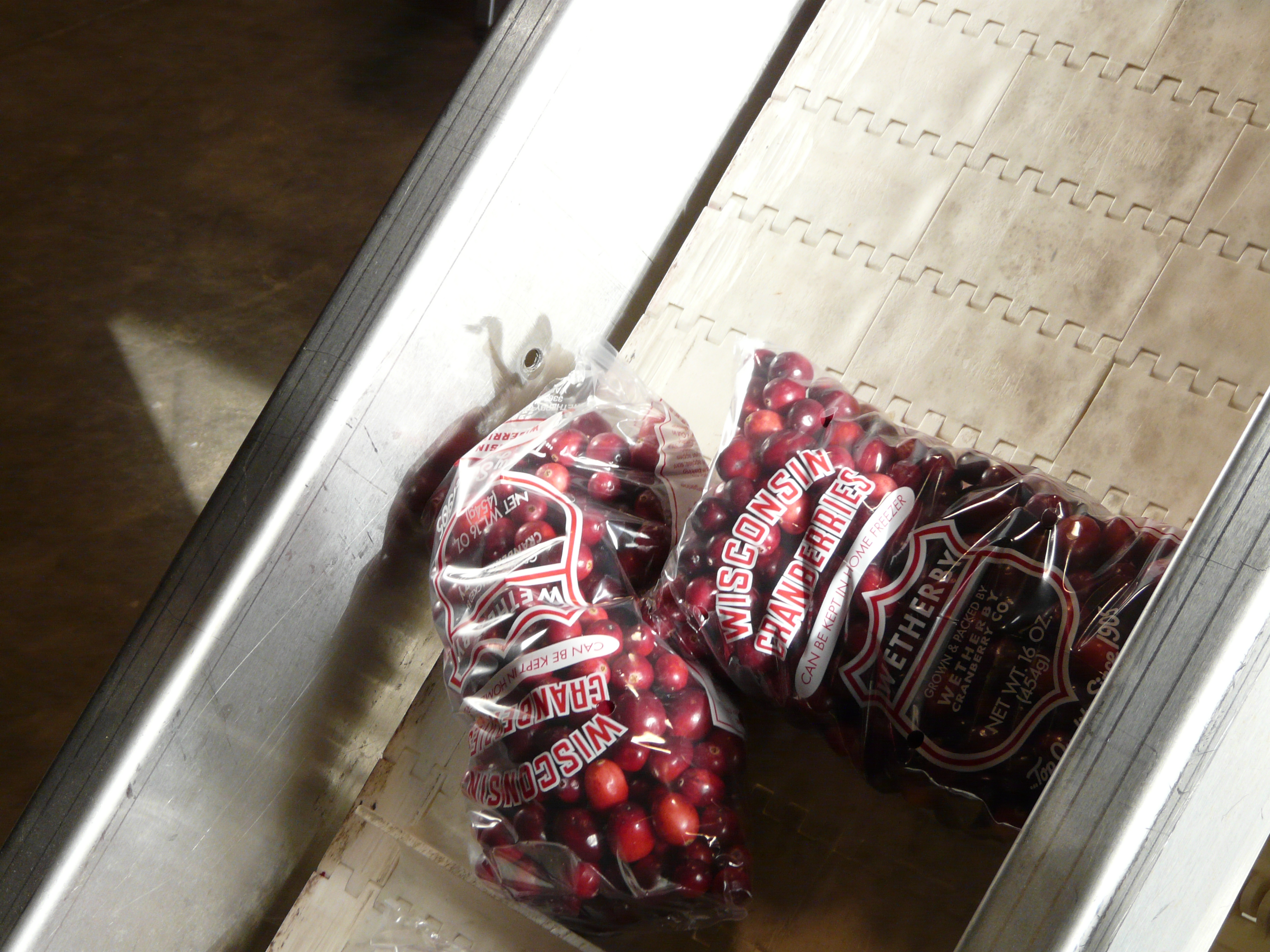 Fresh fruit is now mostly packaged in 12 ounce bags, a smaller size compared to the 16 ounce bags that were more common years ago. Some producers also pack fresh fruit into larger bulk boxes that may contain 5, 15 or 30 pounds of fruit. Other growers use a degrassing machine to remove leaves and other debris before the fruit is transported for processing into juice, sauce or other products, therefore requiring much less hand labor.
Nutritional Benefits
Cranberries are a historically important food crop cultivated for hundreds of years. It is highly nutritious with many health benefits including antioxidants to fight cancer, assist the immune system, prevent urinary tract problems and provide a good source of vitamin C, dietary fiber as well as many other nutrients and minerals. While it is not a crop you will see growing as you drive down the highways or gravel roads near your home, if you should ever happen to get the chance to be in central Wisconsin in the fall, you might want to check out the cranberry harvest!
Acknowledgements
Thank you to Lorry Erickson, Potter Cranberry Company and former director of the Wisconsin Cranberry Discovery Center, for providing the images used in this article.