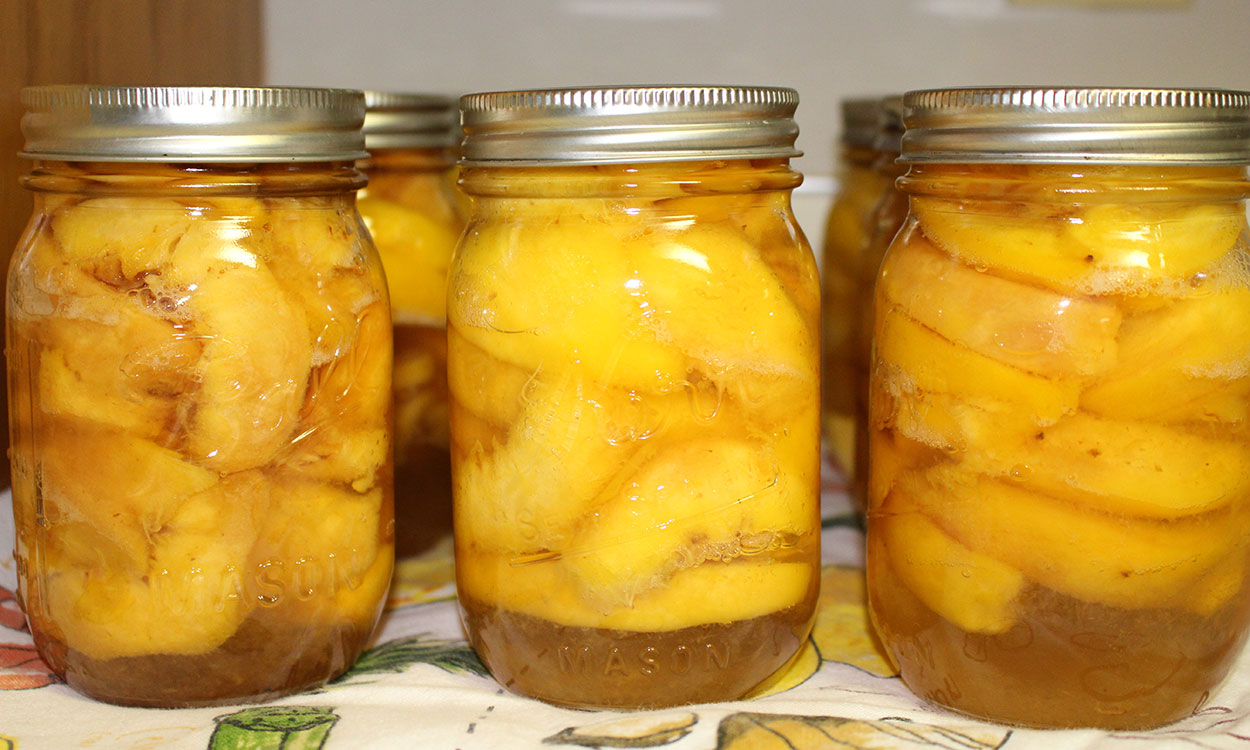 Liquid Selection
There are three liquid options to choose from when canning fruit, including: water, juice or syrup. As you select a liquid, here are some considerations to keep in mind:
What is the intended use of the preserved fruit?
Will it be eaten on its own, used in baking, or served to a person with special dietary needs?
Will it have a broad range of uses?
Each liquid has different characteristics, so it is important to consider the fruits future intended use.
Liquid Options
Water
Plain water is good choice for fruit that will be consumed regularly. When home-canning fruit, using water can reduce sugar consumption, provide safety for those who must follow sugar-restricted diets for medical reasons and provide fresh fruit year-round for cooking. If using water, use fully ripe, but firm fruits for the best quality. Fruit is more susceptible to color change when canned with water. To reduce color change, store jars in a cool and dark place and use within a year (this is recommended for all canning practices).
Juice
Unsweetened apple, pineapple or white grape juice are good packing liquids, as they are compatible with many fruits. Some believe that white grape juice is the most-neutral choice and has less of an effect on the taste of fruit canned in it. Juices can be used as-is or diluted with water. Diluting them with water helps reduce the added sugar content and increases the amount of juice. To create some added flavor, try using a juice that is different than the fruit you are canning.
Syrups
Adding syrup to your canned fruits helps maintain the shape, color, and it enhances the flavor. However, it does not contribute to preserving the fruit. There are several syrup types that have different sugar concentrations. Table 1 below shows recipes for the different syrup types in quantities for a canner load of quart and pint jars.
Table 1. Preparing and using syrups.

 
 
 

Sugar and Water Quantities

Syrup Type
Selection

Sugar Content

For 9 Pints

For 7 Quarts

 
 
 

Water

Sugar

Water

Sugar

Very Light
Very close to natural sugar levels in most fruits

10%

6 ½ cups

¾ cup

10 ½ cups

1 ¼ cups

Light
Use with very sweet fruit

20%

5 ¾ cups

1 ½ cups

9 cups

2 ¼ cups

Medium
Use with sweet apples, dark, sweet cherries, berries and grapes

30%

5 ¼ cups

2 ¼ cups

8 ¼ cups

3 ¾ cups

Heavy
Use with tart apples, apricots, trat, red cherries, gooseberries, nectarines, peaches, pears and plums

40%

5 cups

3 ¼ cups

7 ¾ cups

5 ¼ cups

Very Heavy
Use with very sour fruits

50%

4 ¼ cups

4 ¼ cups

6 ½ cups

6 ¾ cups
Directions
Raw Pack: Heat water and sugar together in a saucepan and bring to a boil. Pour over raw fruit in hot jars.
Hot Pack: Heat water and sugar together in saucepan and bring to a boil. Add fruit, reheat to boil, and fill hot jars with fruit and syrup.
When home-canning fruits, always make sure to use a tested recipe. Check out SDSU Extension's Pick It! Try It! Like It! Preserve It! page more food preservation recipes.
References
This article was adapted from the "Complete Guide to Home Canning." Agriculture Information Bulletin No. 539, USDA, revised 2015.
Lauritsen, Georgia C. "Reduced Sugar and Sugar-free Food Preservation." Utah State University Cooperative Extension. FN209. 1992. Revised March 2015.
Garden-Robinson, Julie. "Home Canning Fruit and Fruit Products." North Dakota State University Extension. FN174. Revised October 2022.