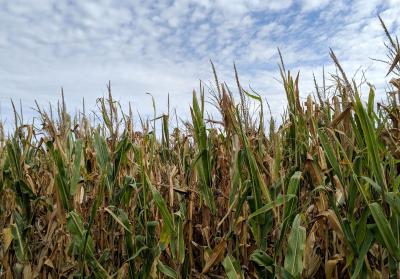 Several corn fields are beginning to show stalk rot and top dieback symptoms. Stalk rots cause the entire plant to die prematurely, which can lead to plants lodging under windy conditions making harvesting problematic.
Top dieback is when two or more topmost corn leaves die prematurely while the lower leaves are still green. Top dieback may be a result of fungal infections, hybrid type, or insect damage, but usually fungal infection is the main culprit.
Stalk Rots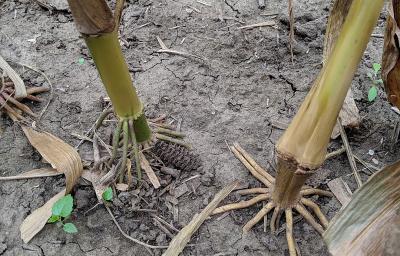 Corn stalk rots are mainly caused by fungal pathogens, though bacterial infections and insect injury can also lead to stalk rot development.
Several fungal pathogens cause stalk rots but this season, the stalk rots being observed in corn fields are those caused mainly by Fusarium spp. (Figures 2 and 3).
Fusarium stalk rot is not easy to diagnose but usually the stalk dies prematurely and the stems have disintegrated piths (Figure 3).
Unlike other fungal stalk rots such as Anthracnose, Diplodia or Gibberrella, all which have black spots on the rind, Fusarium infected stems may not have black spots on the rind (Figure 2).
Top Dieback
Top dieback can be confused with the normal dry-down of top leaves due to the natural senescence occurring around this time of the season; especially, for certain hybrids which tend to start senescing from the top.
Top leaves killed by Anthracnose stalk rot have a discolored stem rind. Plants infected with the Anthracnose top dieback also have black spots on the stalk which can be seen when the leaf sheath is peeled away (Figure 4-A).
A closer look at the black spots with a hand lens may reveal the survival structures of the causal fungus, Colletotricum graminicola (Figure 4-B).
Yield loss caused by top dieback depends on when the disease develops and the number of leaves killed. Higher yield loss will occur if the top dieback is associated with stalk rot that results into corn lodging.
To assess for corn stalk rots, gently push at least 10 corn stalks to an angle of 45° at a minimum of five random stops within a field. Stalks with rots will crumple at the first or second node above the soil line and may fail to regain an upright position. Fields with 10% or more incidence of stalk rot should be harvested early.
Stalk Rot Management
Select corn hybrids with a high rating of stalk strength and stalk rot resistance to manage stalk rots. Cultural practices like a good fertility program, proper plant populations, and other practices which reduce plant stress can lessen the chances of stalk rot development.
Fungicides do not directly control stalk rots but may help in keeping the plant healthy (control of fungal leaf diseases) and hence fending off stalk rots. However, the decision to apply a fungicide in corn should be driven by the potential for fungal leaf diseases to cause yield loss and not solely by plant health benefits.