Weather and flooding concerns can develop and change rapidly. There are some excellent resources for real-time information for weather forecasts and river flooding that can be accessed online.
Weather Forecasts
For weather forecasts, the NOAA National Weather Service (NWS) has three offices that cover South Dakota. Aberdeen, Rapid City, and Sioux Falls. Weather Forecast Offices are staffed 24 hours a day, seven days a week by professionally trained meteorologists and hydrologists. They are responsible for issuing all watches and warnings for flooding as well as severe weather and other high-impact events such as frosts/freezes.
Their typical schedule of forecast updates occur around 3 am and 3 pm, but they are monitored continuously by staff for changes or new developments throughout the day and night. The NWS offices are also in close communication with city, county and state emergency managers and many other groups, especially as flooding or other significant weather is expected. NWS staff use social media extensively, such as Twitter and Facebook, to help in communication with the public.
River Observations
River stage or elevation levels and forecasts can also be found through the National Weather Service. You can view South Dakota's real-time river observations online. These are updated in near real-time by stream gauges deployed by US Geological Survey and other partners. Purple colors indicate major flooding, red for moderate flooding, orange for minor flooding. Locations with circles also have forecast river levels for the next several days, which includes forecast precipitation, snowmelt and other known runoff into the rivers. When you select a location for more details, impacts are also listed for each river stage level which may include certain roads or areas that may be inundated.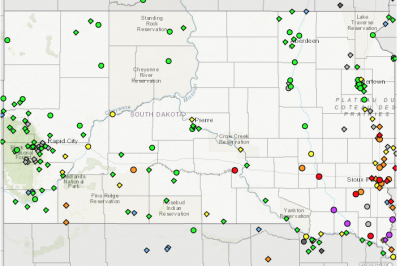 Long-Term Outlooks
For those who are interested in longer-term outlooks beyond a week or so, the NOAA Climate Prediction Center also issues outlooks for 6-10 day and 8-14 day periods. These maps for temperature and precipitation can assist in determining which areas are more likely to be warmer or cooler than average, or wetter or drier than average during those periods. These are published every day around 3 pm Central. During the week, these are created by forecasters, but on the weekends they are solely computer-generated.
These are some of our most commonly used resources for current weather and river information. Through using these online resources, you can help monitor flood and weather updates for your own area.