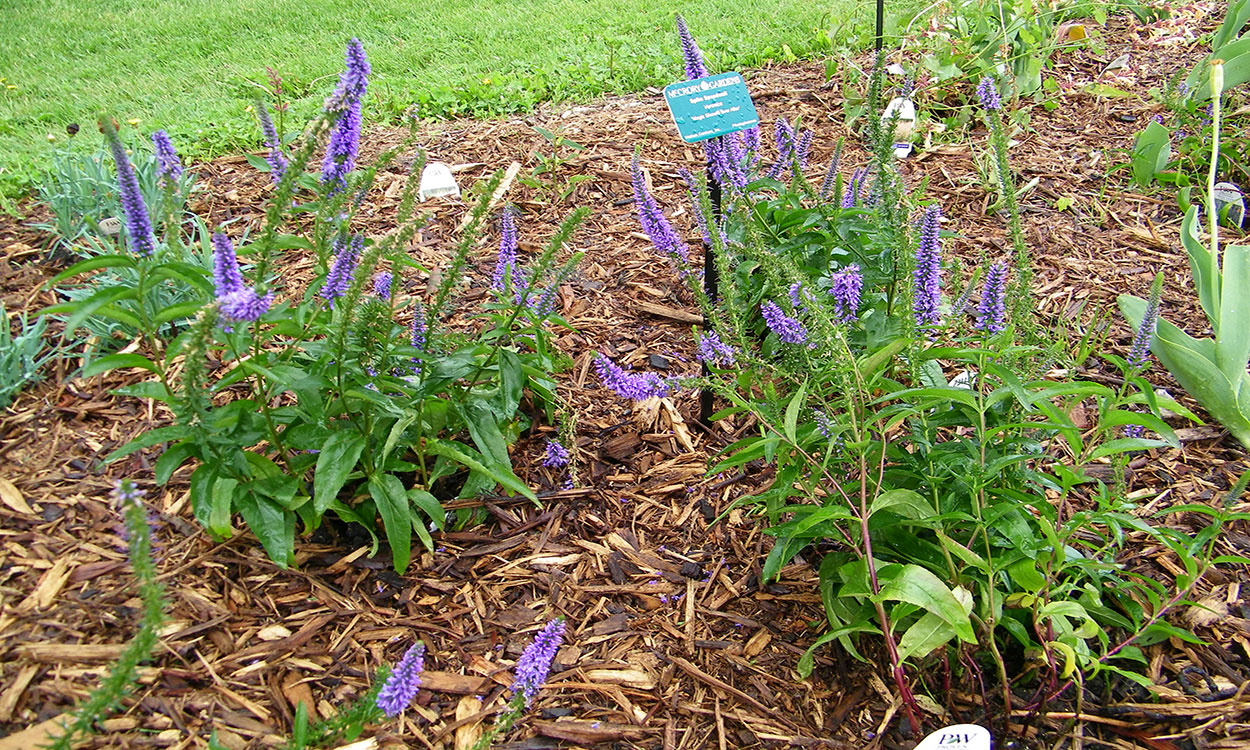 Original article by David Graper, former SDSU Extension Horticulture Specialist and Master Gardener Program Coordinator. Updated by Kristine Lang, Assistant Professor and SDSU Extension Consumer Horticulture Specialist.
Gardeners are often looking for good, solid perennials that will have nice flowers, be easy to take care of, grow nicely but not take over the garden. One group of plants that should be considered are the Veronicas.
Known by both the genus name Veronica and the common name Speedwell, there are several species of this durable perennial to choose from. Many Veronicas are hardy in South Dakota, withstanding our cold winters, yet they can also take the heat and drought of our summer.
About Veronicas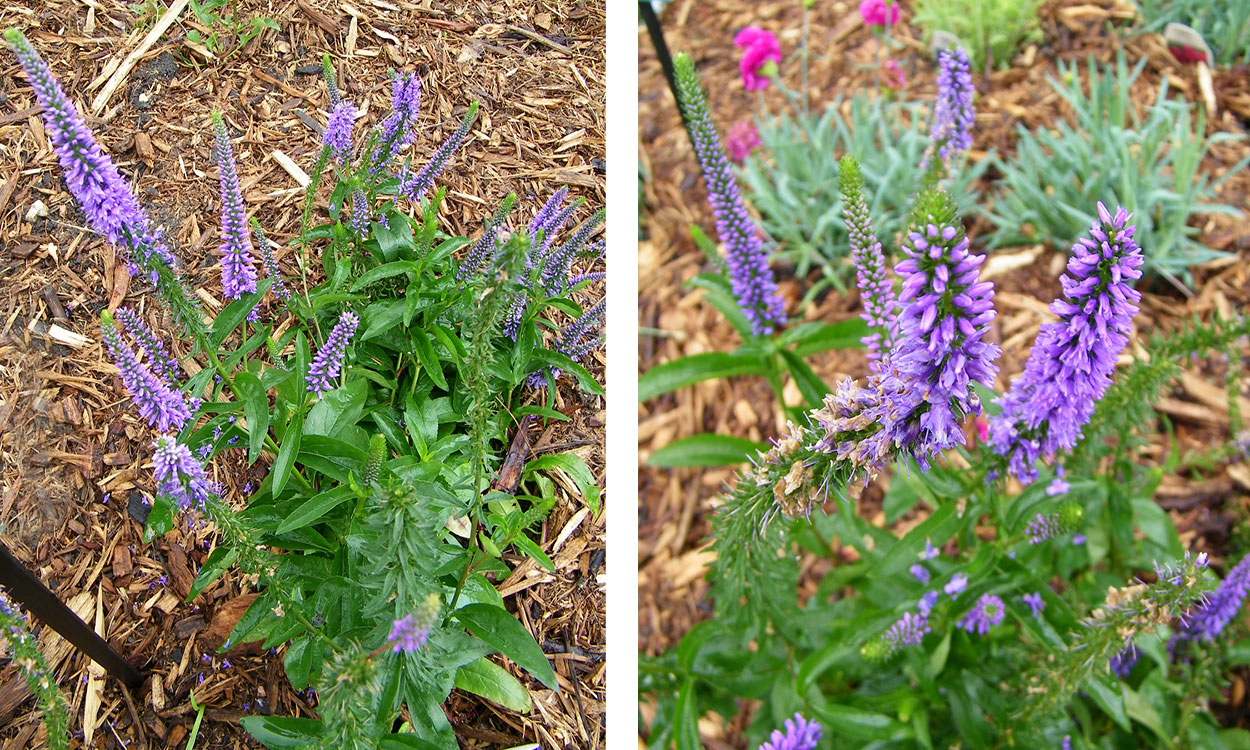 Veronicas offer the gardener a wide array of plants to work into many different landscaping niches in the garden. Some are prostrate, only raising their flowers a few inches above the ground, while others can reach three feet in height and make excellent cut flowers. Many work well in the rock garden, while others are better suited to a moister location in the mixed border. The low-growing types will readily increase in size as the creeping stems grow over the ground, and they look good draping over rocks or walls.
Some Veronicas bloom in late spring, while others display their flowers for the rest of the summer and even up until frost. Deadheading will usually encourage additional flowers to develop during the season, extending their period of bloom. Long slender blooms called "racemes" come in colors from white to pink to deep indigo for multiple options to add color to the perennial garden.
Most Veronicas can be easily propagated by spring or fall division, stem cuttings during the summer, or by seed, but remember that hybrid plants will not grow true to the type from saved seed. Even though they are easy to propagate from seed, they seldom self-seed and do not spread widely in the garden, keeping a nice, tidy appearance.
Recommended Veronica Species for South Dakota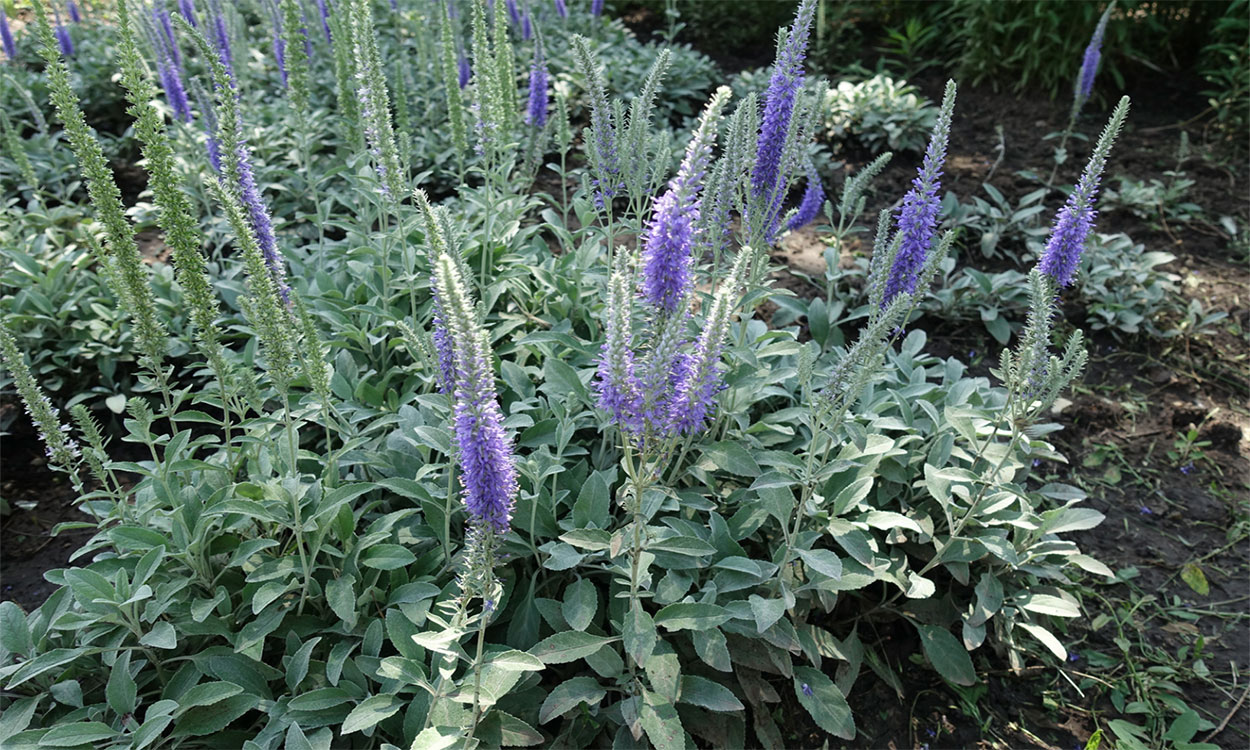 Woolly Speedwell
(VERONICA INCANA)
Woolly Speedwell (Veronica incana) has three to six-inch-long racemes of blue flowers over a plant comprised of silvery-white leaves and stems. Plants grow about 18 inches tall and prefer a full sun location with very well drained soils. Like other hairy-leaved plants, excess moisture will cause leaf loss, and wet winter weather may kill the plant. This species works well as an edging plant and is very attractive in bloom, but looks great with its silver foliage all season long. There are several cultivars available including: 'Glauca' – more silvery foliage and deeper blue flowers; 'Silver Carpet' – purple flowers with silvery leaves; and 'Wendy' – lavender-blue flowers. This plant is hardy to Zone 3.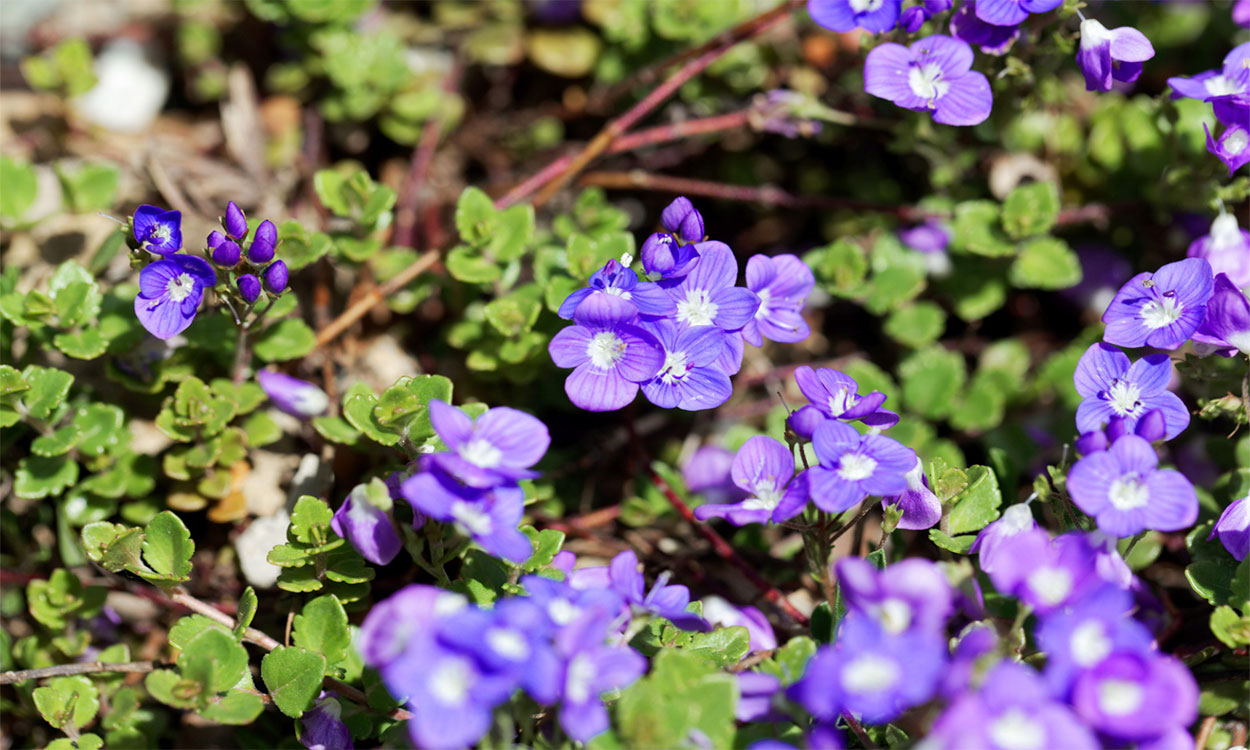 Turkish (Creeping) Speedwell
(VERONICA LIWANENSIS)
Veronica liwanensis is an excellent ground cover plant that only reaches two to four inches in height and can be covered with lovely blue flowers from mid-spring to early summer with scattered blooms the rest of the season. The flowers are borne in short axillary racemes along the stems. The foliage is oval with a scalloped margin and tolerates a bit of traffic, making this plant an optional "lawn" plant or for use along a pathway, but it does best in the rock garden. Turkish or Creeping Speedwell offers excellent drought tolerance and low maintenance. It is also a good plant to grow over spring flowering bulbs, as it does not seem to impede their growth and acts as a ground cover after their leaves have died down. The creeping stems root down as they grow, making it easy to propagate this plant by simply digging up some clumps and transplanting them to a new area. 'Waterperry Blue' has lovely little blue 3/8-inch-wide flowers for several weeks in late spring. This Veronica is hardy to Zone 3.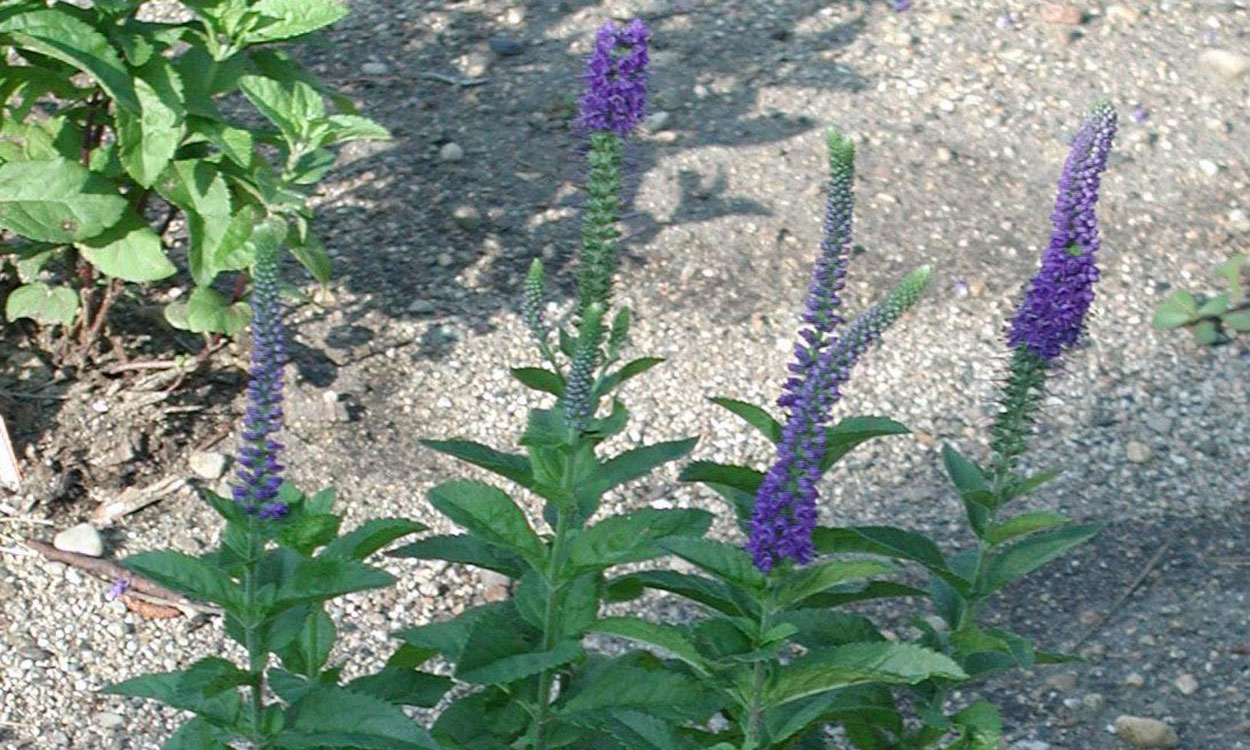 Long-leaf Veronica
(VERONICA LONGIFOLIA)
Veronica longifolia is one of the taller growing species, often reaching three feet in height when in bloom. It offers plants with blue, pink, or white flower spikes that may be twelve inches long. The somewhat lanky growth habit makes this Veronica best to grow in small groups, near the back of the border where surrounding plants can offer some support. Staking will likely be needed in sites where wind is an issue. Long-leaf Veronica is often grown for the cut flower market due to the stem and bloom length. Native to moist areas, this species needs more water than other Veronicas, making it less suitable for rocky or sandy soils. It is rated for Zone 4 hardiness but may sustain some winterkill in extremely harsh seasons.
Thyme-Leaf Speedwell
(VERONICA OLTENSIS)
Veronica oltensis is a low-growing creeping plant that looks very much like a species of Thymus, until it comes into bloom with its masses of azure-blue flowers. This drought-tolerant species works well in a rock garden, along a path, or as a xeric ground cover. Its leaves are quite small and pinnately divided, and the plant stays approximately one inch tall. Flowering is during late spring to early summer. Plants are relatively slow growing but are long lived. This Veronica is hardy to Zone 4.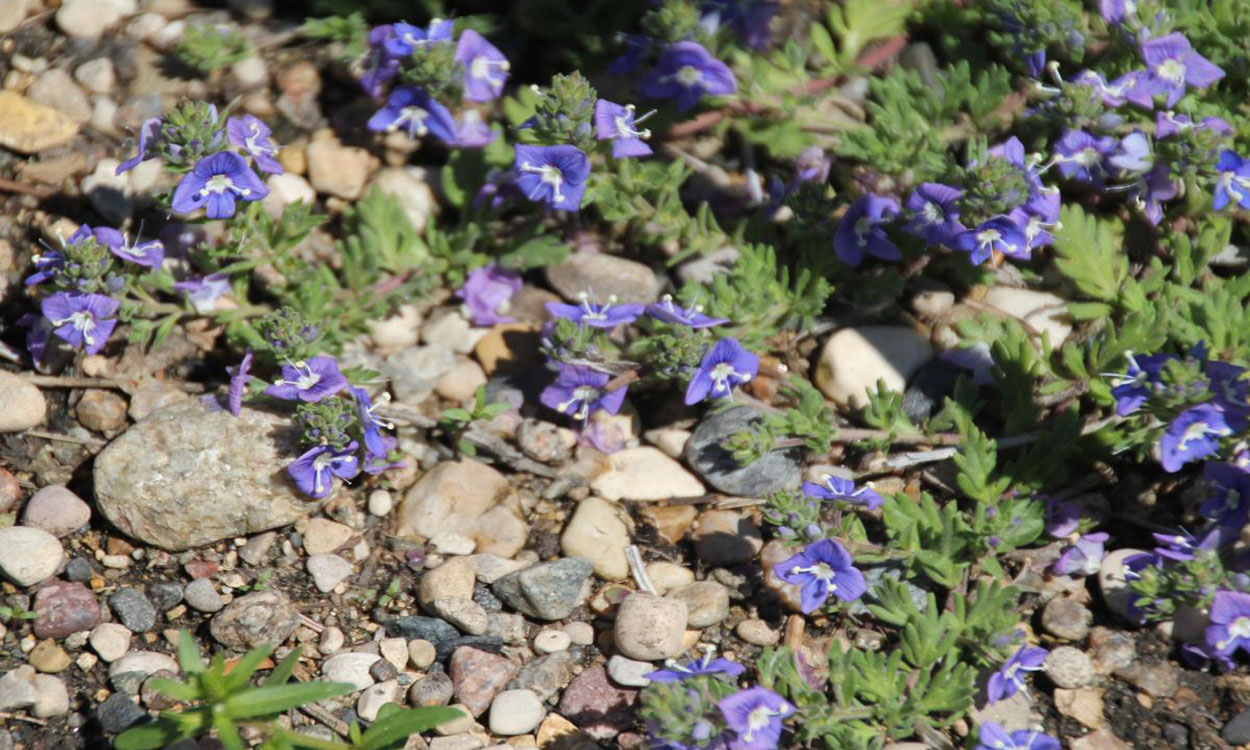 Comb Speedwell
(Veronica pectinata)
Veronica pectinata is another low-growing species, usually only growing three-to-six inches tall. Its leaves are pinnately divided and covered with fine hairs, giving them a silvery-green, wooly appearance. The plant becomes covered in true-blue flowers with a white eye in the spring. Like the previous species, this plant works great as a xeric ground cover plant, in the rock garden, or as a "step-able" plant along a path or in between steppingstones. 'Rubra' has lavender-pink flowers and silvery-wooly leaves on a two- to three-inch-tall plant. This plant needs excellent drainage and will not tolerate excess moisture. This is the most cold-hardy of the Veronica, tolerant to Zone 2.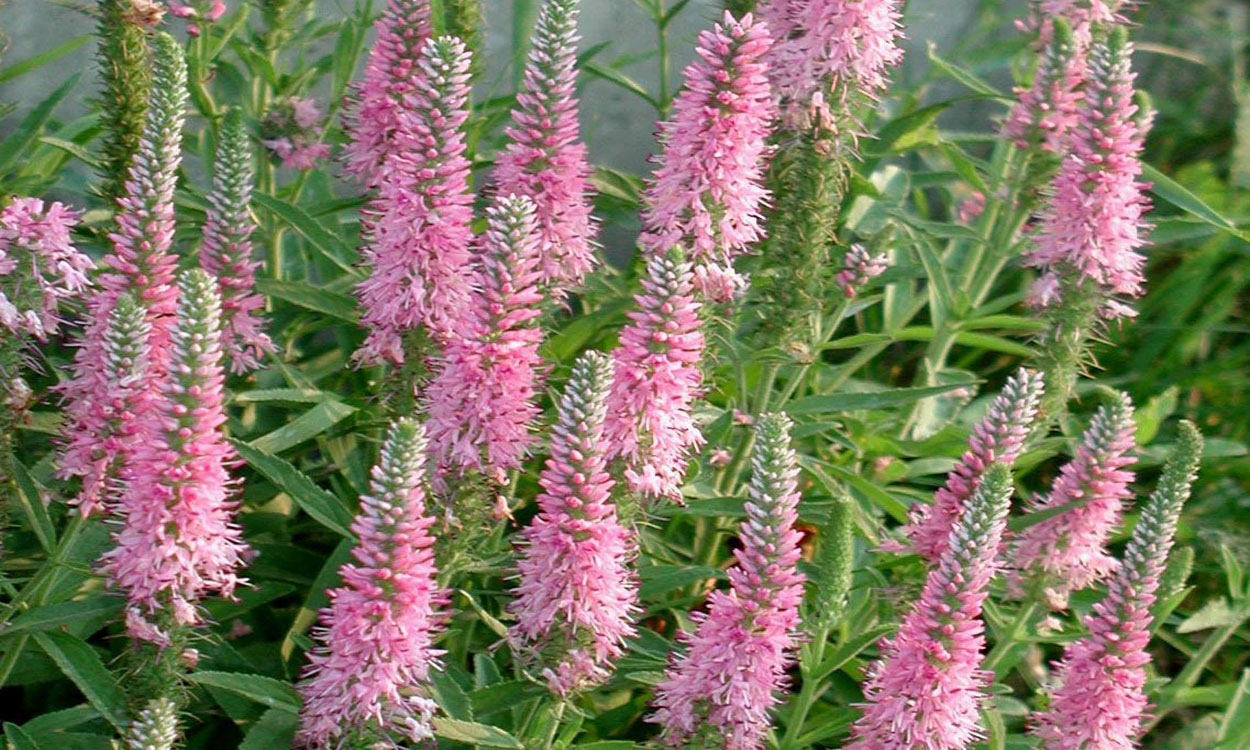 Spiked Speedwell
(VERONICA SPICATA)
Veronica spicata is by far the most-grown garden species, with many different cultivars and hybrids available, offering flowers in whites, pink, and blues on plants that may range in height from 10 to 36 inches tall. The flowers are quite small, about ¼" wide, but they are borne in closely packed racemes that may grow two feet or more in length. These plants work well as cut flowers; cutting the flowers or deadheading after bloom will often encourage a new crop of flowers to be developed. They grow best in full sun and in a well-drained soil that does not get too wet during the winter months. They are rated as being hardy to Zone 4.
References and Resources
Armitage, A. 2020. Herbaceous Perennial Plants: A Treatise on their Identification, Culture, and Garden Attributes. (4th Ed.) Stipes Publishing. Champaign, IL, USA.
Edwards, L. and K. Lang. 2021. Plant Hardiness Zones.