A new project being developed by faculty and staff from the SDSU Department of Agricultural & Biosystems Engineering (ABE) was recently unveiled during the 2019 Dakotafest Farm Show in Mitchell, South Dakota on August 20-22. Aaron Franzen, SDSU Assistant Professor, and Rachel McDaniel, SDSU Assistant Professor & Water Resource Engineer, are spearheading an effort to radically change the way water quality monitoring may be done in the future through the use of an underwater drone.
Traditionally, lake monitoring programs use watercraft to take water quality samples at different points within a lake. Samples get collected, stored, shipped to a lab for analysis, with results sent at a later date. This can be both time-consuming and expensive with only a few points used to determine a lake's water quality status. The underwater drone, which is currently in the process of being designed to sample water, may completely revolutionize that process. The drone will soon be fitted with a multiparameter sonde, which is an electronic sensor that has up to seven probes used to test water in real time. These sensors will be able to measure a number of different water quality parameters such as nitrate, ammonia, dissolved oxygen, pH, temperature, salinity, and chlorophyll-a. The drone is also fitted with a GPS tracking device so it knows where it is at all times.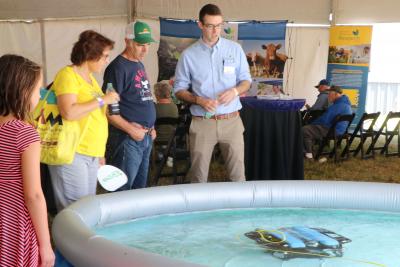 The development of this underwater drone may be considered revolutionary because information from the drone and sonde will be compiled together in real time, which will give researchers a whole new way to process water quality data. By using the sonde alone, we would only have data from various points in a lake. By marrying the sonde with the underwater drone, it will allow researchers to potentially sample and map an entire lake, giving them a much clearer picture of the lake ecosystem and water quality conditions. Testing can also be done at different depths, which will help determine if water quality is being impacted by a spring, inflowing ground water, or other source.
Judging by the interest at this year's Dakotafest, the continued development of this project will be followed by many as we discover the potential applications the drone may provide as we move forward. For more information about the underwater drone project, contact the SDSU Department of Agricultural & Biosystems Engineering.