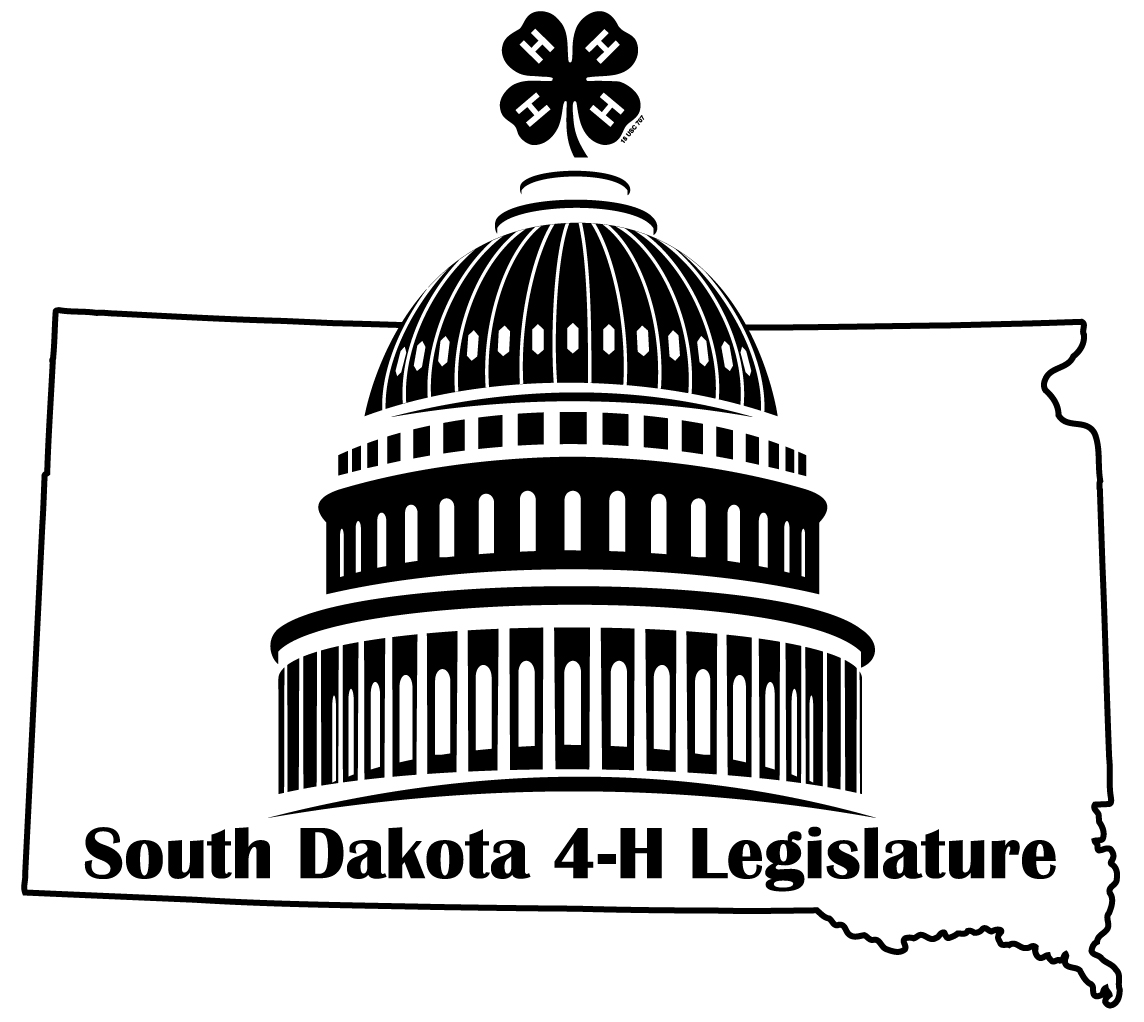 Introduction
The South Dakota 4-H Legislature Program is a state level civic and governmental education program allowing participants an opportunity to gain a better understanding of how our state government operates while strengthening youth voice opportunities for the SDSU Extension 4-H Youth Development Program. This is accomplished through a series of hands-on workshops and a mock legislative session. Teen participants have an opportunity to run a campaign, serve as a 4-H Legislator, draft bills, debate bills at the South Dakota Capitol building, and more!
This program will accomplish the following objectives:
Prepare young people for roles as leaders, mentors, and problem solvers.
Enhance young people's communications, public speaking, and critical thinking skills.
Create a stronger youth voice.
Create more opportunities for younger and older age youth.
Focus on foundational life skills for employability.
More details about the program are detailed in the guidebook located at the end of the page.
Getting Involved
Becoming a 4-H Legislator is the most impactful method of getting involved with the program. However, there are many other ways that South Dakota 4-H youth can engage with the program, while learning about the legislative process. Those roles are addressed below:
Participant Roles and Responsibilities
Candidates/Legislators
Enrolled senior age division 4-H members
Interested in Civic Engagement and Leadership project areas
Description
4-H members age 14-18 interested in representing their county 4-H members during the South Dakota 4-H (SD 4-H) Legislature will have the opportunity to run for office and write legislation regarding SD 4-H policies, procedures, programs and initiatives. These individuals will debate policy and cast a vote on the floor of the SD House or Senate, sitting in the same seats that our state lawmakers sit in. Additionally, they will dedicate time to learning and understanding the process of how a bill becomes law in SD.
Duties
Collect petition signatures
Conduct a campaign
Write bills
Represent county 4-H members perspectives and views
Advocate for and debate bills
Offer amendments to proposed bills and vote on potential policy changes/adoptions
A maximum of 70 legislators will be elected to represent their communities throughout the mock legislative experience. Each county will elect one representative. Other members will be elected as at large representatives. 4-H members who run for office, but do not win the first election will transition to becoming a constituent. Similar to the experience of our state legislative candidates, sometimes it takes multiple tries before winning an election.
Constituents
All enrolled South Dakota 4-H members
Description
Just like real life civics, South Dakota 4-H members will be involved in the process from state to finish. As an enrolled member, you get a say in how your 4-H program is run and who best represents the interests from your county.
Duties
Sign nominating petitions
Vote for candidate of choice
Encourage others to vote for candidate of choice by assisting candidate with campaign
Lobby Legislators
Attend and observe the mock legislative session
Get out the Vote!
Have you voted yet? If not, this is one of the most important roles that a 4-H constituent can play in the 4-H Legislature. It is crucial that you elect the candidate that you think will represent you and your fellow 4-H peers in your county the best during the 4-H Legislative session in October. After all, they are writing and debating legislation that could ultimately impact the 4-H program. Visit the ballot to vote between August 1-20, 2023: https://sdstate.questionpro.com/2023sd4-hlegballot