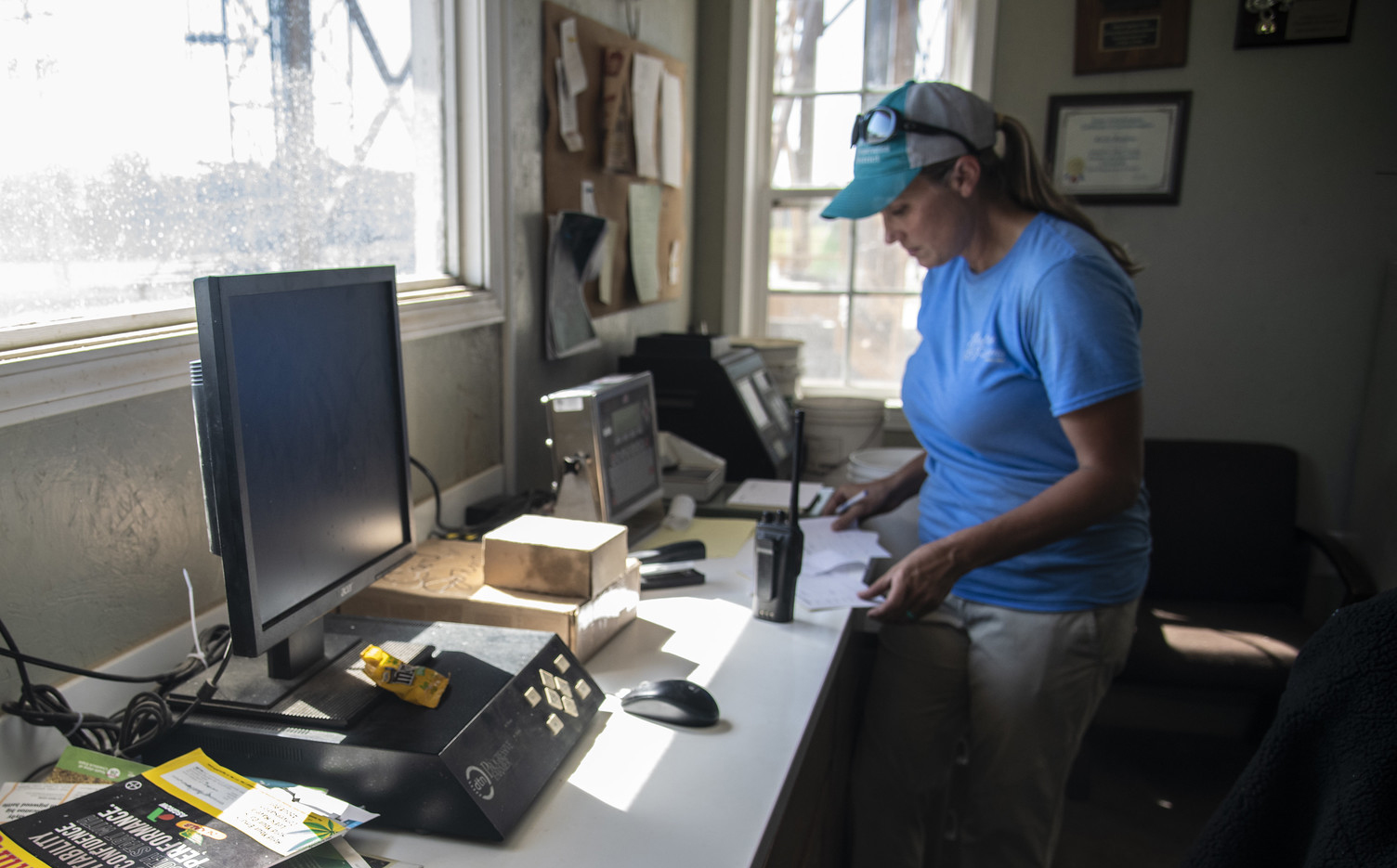 Written collaboratively by Tracey Erickson, former SDSU Extension Dairy Field Specialist, Adele Harty, former SDSU Extension Cow/Calf Field Specialist and Robin Salverson, SDSU Extension Cow/Calf Field Specialist.
Living in rural South Dakota, we have an advantage of social distancing ourselves from others. However, there are normal activities we are used to doing that will need to be adjusted for everyone's safety this year. As you plan your spring livestock work, here are some things to keep in mind and practice for your own safety and the safety of your community members. Agriculture businesses have been deemed essential, meaning they are open for commerce, but everyone needs to do their part to minimize the spread of COVID-19. Several businesses have notified customers of the safety protocols they have implemented to keep their employees, families and customers safe. A simple screening questionnaire maybe required before entering a business and limiting the number of customers and amount of time in the office may all be part of the "new norm". If you have not received a notice from agricultural businesses you work with, call before you leave home. 
Social Distancing Suggestions
Below is a list of common activities in livestock agriculture with some suggestions for social distancing.
Livestock feed: Call in to order feed and have them charge it to your account and mail payment in. If you order bulk feed, have it delivered and provide specific directions on where it needs to be unloaded to maintain safe separation. This includes a neighbor hauling hay for you. If a smaller quantity of feed is needed, have them set it outside, as long as the weather is conducive.
Veterinary services and supplies: In working with your veterinarian or animal health supply store, call ahead with your order and ask if they can bring it out to your vehicle or mail it. If there are medications that need refrigerated, ensure that appropriate measures are taken to maintain viability of the vaccines or medications. If calving or lambing assistance is needed, check with your veterinarian to determine their preference for a clinic or on-farm visit. Some may request that animals are dropped off for procedures and you do not enter their facility. Eliminate any unnecessary contact with people to minimize risk.
Bull sales: Many have been postponed or moved to a different format. This is an effort Seedstock producers are taking to protect themselves and their customers. If you have a specific person you buy bulls from, have a conversation with them. See if there is an opportunity to buy direct or maybe an internet auction is possible. For some sales that are continuing, utilizing call in bids, DVAuction or other internet services will allow you to bid from the comfort of your home while still having the auction experience.
Salebarns: To be proactive and minimize exposure, plan on dropping livestock off, but not staying to watch the sale. In some instances, only buyers are allowed into the barns and will not be able to sit in their "normal" seats to make sure that social distancing happens. Additionally, all checks will be mailed in an effort to reduce contact.
Shearing: This is another opportunity for several people to come together; the shearing crew, family, friends, and day labor. It is difficult to maintain the 6 foot recommendation between individuals, but intentionally space yourself while working. Consider everything you touch; sorting sticks, canes, panels, gates, cups, bottles, handle of the paint can, food etc. while in the shearing barn. Wear gloves while working and separate yourselves during breaks, throw your cups and bottles away, or write you name on them to avoid others touching or drinking from them.
Branding: For many in western South Dakota, brandings are a social gathering, but this needs to be re-evaluated for 2020. Oftentimes there will be large groups of people who gather together to accomplish the work of the branding and then share a meal together. Some options for 2020 may be to divide the herd into smaller groups, so that fewer people can accomplish the branding, maybe only family members. If you typically rope and drag with a large crew, sorting the herd into smaller groups that can be done with a smaller crew or consider using a calf cradle to limit the number of people needed. If you do not own a calf cradle, consider leasing/borrowing a neighbors. However, biosecurity measures need to be taken. Disinfect the calf cradle to avoid bringing unwanted disease to your operation (i.e. scours). Another way to help maintain social distancing is to have the meal outside so people can spread out. Beyond reducing close contact with other people, it is important to think about how to handle clothing that you have worn. All clothing worn in these small working groups should not be comingled with your other laundry and washed thoroughly with soap and water as not to contaminate other clothing. This includes gloves, coats, and caps. Consideration should also be given how to disinfect all footwear.
Labor: During calving and lambing, extra labor may be required. Ag labor will be in high demand this year more than ever, but it is extremely important that if someone is sick and experiencing the symptoms COVID-19 that they stay home, instead of feeling pressured to help and potentially transmit it to others. Extra help means additional opportunities to introduce the coronavirus, so remember to wear gloves when handling syringes, docking equipment, ear taggers, etc. to help prevent the spread and to follow the hand washing protocols once the gloves are removed. Operators will want to supply adequate ways in which people are able to wash-up. This could be something as simple as a water cooler with hot water and a bottle of soap with some paper towels available. Hand washing helps reduce the spread of disease.
The key during this time is to maintain biosecurity between people, similar to maintaining biosecurity for livestock. Work to protect yourself and others by taking the appropriate measures. When working with various ag supply stores, call ahead to determine the best the way to work with them. If you have been away from home, launder clothes and wash hands, arms, and face as soon as you return home to avoid spreading anything to your family members.