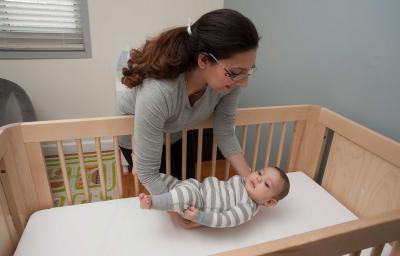 Safe sleeping positions and methods have come to light in the local news after an infant death in a daycare setting that could have been avoided.
Various studies have been conducted in the past few years that show that infants should not be sleeping in car seats, swings, slings, or other sitting devices such as rock n plays etc. It is easy for infants to slouch into positions that will cause them to suffocate, asphyxia, and entrapment. Sleeping in a sitting position can limit their oxygen intake compared to lying flat.
Car seats are safe and effective for travel but always remove an infant from the seat after traveling. It is OK if an infant falls asleep in a car seat while traveling as they are at a correct angle to get air flow and strapped in properly. Transfer them from the car seat to a safe sleep environment, such as a crib. If an infant is in a sitting device such as a swing or rocker and falls asleep, move the child to a crib.
Always put infants alone on their back for every nap or sleep time in an individual, safe crib.
Infants need to be free to develop physical skills, explore the environment and interact with peers and adults. Find a safe space for them to roll and play on the floor.