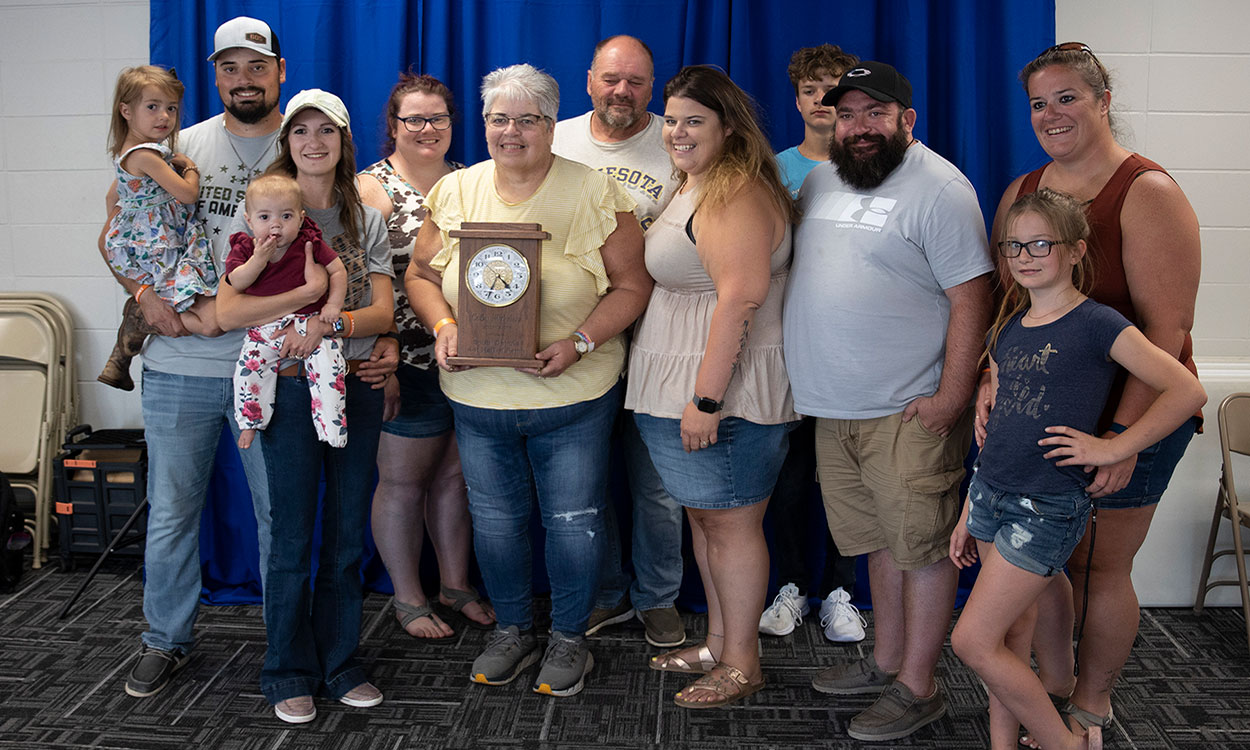 BROOKINGS, S.D. - South Dakota 4-H inducted nine individuals into to the 4-H Volunteer Hall of Fame and 4-H Shooting Sports Volunteer Hall of Fame on Sunday, Sept. 4, at the 2022 South Dakota State Fair in Huron, South Dakota.
"Our incredible volunteers make the South Dakota 4-H vision a reality," said Tim Tanner, SDSU Extension State 4-H Program Director. "They help youth lead lives of possibility by supporting them as coaches and mentors. We are grateful for their selfless dedication to building strong youth and communities across the state."
The 4-H Volunteer Hall of Fame commemorates the 4-H Centennial, which occurred in 2002. Each summer, individuals who have made significant contributions to county or state 4-H programming are honored through the 4-H Volunteer Hall of Fame.
4-H Volunteer Hall of Fame Inductees
The 2022 Volunteer Hall of Fame inductees include:
Jeff and Beth Vander Wal, Spink County
Jeff and Beth Vander Wal have aided in the growth, expansion and improvement of 4-H programs in both Spink County and across the state, particularly in the livestock project areas. Under their leadership, the Spink County livestock project has grown significantly across all species. Beth often taught project days and gave of her time and assistance wherever needed. Jeff was helpful in teaching livestock judging and teaching members how to evaluate their own livestock, pick out livestock and how to feed livestock in preparation for achievement days. While livestock was their focus, they promoted all aspects of the program, making sure that youth had time to participate in the events they were interested in. The Vander Wals wanted to see their local 4-H program grow and evolve. They have impacted many lives of Spink County 4-H youth and families by helping those who are new to 4-H get started. Their advocacy and commitment to 4-H programs carried through in state leadership and volunteer roles, where they advocated for change and for all youth to be able to reach their potential.

Cathy Mickelson, Campbell County
Cathy Mickelson is a selfless volunteer who is always ready to offer her services to help 4-H members. Whether it is teaching a workshop or bringing her own sewing equipment for 4-H members to use at a workshop, Mickelson's devotion and passion for the South Dakota 4-H program comes from her own experience when she was growing up. Mickelson was a long-time president of the Campbell County 4-H Leaders Association and currently serves as their vice president. In 2003, Mickelson started volunteering with the South Dakota 4-H Performing Arts Camp in Aberdeen, South Dakota. She has devoted countless hours to helping make costumes and served as the camp nurse for many years until 2018. Mickelson is always willing to lend a hand to 4-H and donate her knowledge, time and her own equipment to help youth learn important life skills. Mickelson has carried out her dedication to the 4-H program through her four children and now her grandchildren.

Mary Pochop, Lawrence County
Mary Pochop is a leader who was born into 4-H. In her younger 4-H years, she participated in a variety of project areas but seemed to be most known for her involvement in Special Foods, making breads, jellies and jams, musical composition and was the ultimate swine princess. She was a club leader for Lawrence County's largest 4-H club, the Crow Peak Valley Rangers, for over 13 years, in which she assisted in producing the highest number of 4-H youth ever in her county to achieve and receive their 4-H Key Award. Pochop has also led the static and awards committees for many years and recently worked to raise up new leaders to serve on those committees.

Bill Poppen, State 4-H and Kingsbury County
Bill Poppen loved everything about 4-H and fairs, but especially loved encouraging young people. Poppen could be found every day of the local achievement days, sitting on a very particular bleacher with a great view of the show ring, but more importantly, close to the door where he could jump up and speak with fellow fair goers or congratulate members who had just left the show ring. He served locally as a 4-H leader and a Kingsbury County fair board member until his passing in 2021. Poppen is remembered for thoroughly enjoying his agricultural life, which included raising and showing sheep for 60 years, visiting with farmers and ranchers, gardening and attending fairs and rodeos.
4-H Shooting Sports Volunteer Hall of Fame Inductees
The 2022 inductees into the 4-H Shooting Sports Volunteer Hall of Fame include:
Dawn Foiles, Clark and Brookings Counties
Dawn Foiles has held many roles throughout her years of service as a shooting sports volunteer in Brookings County, Clark County and on the state level. Her service started in Brookings County when her children got involved in the shooting sports program. Foiles volunteered to do her part as a parent and was given the job of coordinating the state shoot entries for the county. Many may know Dawn as a leader at the local level, the person who organizes the coaches clinics or the one who checks, rechecks and checks scores a third time to make sure there are no mistakes.

Angie Kinsley, Jones County
For the past 50 years, Angie Kinsley has had some part in 4-H from being a member, to serving as a volunteer, leader, shooting sports instructor, Extension secretary and national team coach. In 1997, Kinsley was instrumental in starting the Jones County Shooting Sports program through a relationship with the local sportsman's club. She has served as an instructor in four disciplines and has always provided leadership to youth shooters, instructors and families. Her knowledge, intense passion and loyalty have been appreciated by many youth and elders involved in 4-H.

Rose Kraft, Marshall County
Rose Kraft has worn many hats throughout her 25 years of service to the South Dakota 4-H program. She has helped with various project areas and served as a club leader and volunteer judge. In those roles, she has made a tremendous impact on the South Dakota 4-H Shooting Sports program. Mike and Rose Kraft are synonymous with the Marshall County program, which has a very successful Daisy BB Gun program that is very competitive at Daisy Nationals every year. Kraft has been in charge of the BB gun tabulations at the state shoot for many years and keeps the tabulations room functioning effectively. In an unofficial capacity, she has helped train hundreds of rifle coaches at statewide trainings with her husband, Mike, and developed a portion of the training that teaches the basic concepts of the shooting sports program at the county level.

Keith Hespe, Jones County
Keith Hespe has been instrumental in the success of Jones County archery shooters for over 18 years. He has taken youth to nationals and is well regarded as an archery expert by many members of the South Dakota 4-H Shooting Sports program. Hespe has been a positive role model and admired archery coach in the Jones County 4-H program and is known as "Mr. Fix It" and the go-to person when there is a malfunction or a broken piece of archery equipment. He has volunteered countless hours to the local program and State 4-H programs, and has served as the coach for several of the teams that compete at 4-H Nationals.
"4-H members often build cherished relationships with volunteers who offer them guidance throughout their 4-H journey," stated Jenae Hansen-Gross, SDSU Extension 4-H Volunteer Development Field Specialist. "These volunteers have shown great commitment to all aspects of the 4-H program and have been tremendous advocates." 
For more information about the South Dakota 4-H Volunteer Program, contact Jenae Hansen-Gross, SDSU Extension 4-H Volunteer Development Field Specialist, at 605-626-2870 or jenae.hansengross@sdstate.edu.
More about South Dakota 4-H
SDSU Extension's 4-H Youth Development Program is a partnership of federal (USDA), state (Land Grant University) and county resources through youth outreach activities of SDSU Extension. Youth learn and experience Leadership, Health and Wellness, and Science and Agriculture through a network of professional staff and volunteers reaching more than 9,000 enrolled members with yearly programming efforts to an additional 35,000 youth participants.