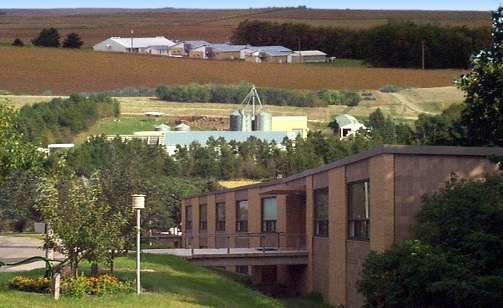 BROOKINGS, S.D. – Cattle producers in the region can learn the benefits of heifer development through a unique research program administered by SDSU Extension and University of Nebraska-Lincoln Extension.
Producers can apply this fall to enroll heifers at the Great Plains Heifer Development Center at the UNL Haskell Beef Lab near Concord, Nebraska. Nebraska and South Dakota producers will receive priority, but producers from bordering states will be accepted if space is available.
The program will provide custom heifer development data to enrolled producers to help them optimize their operations and promote longevity in their cow herds. Heifers are evaluated for disposition, performance and reproductive traits, and their nutrition and weight are tracked. 
Heifers must comply with program criteria to participate, including being in good health, having a known sire and having individual, permanent identification through a brand or tag. Heifers may be commercial or registered. 
For a full list of program requirements, visit beef.unl.edu/great-plains-heifer-development-program-haskell. 
Anyone interested in the program should contact Kiernan Brandt, SDSU Extension Cow/Calf Field Specialist; Connor Biehler, UNL Beef Assistant Extension Educator, at 402-624-8007; Rick Rasby, UNL professor and Extension Beef Specialist, at 402-472-6477; or heiferdev@unl.edu. Cost and registration deadlines will be announced later this fall.