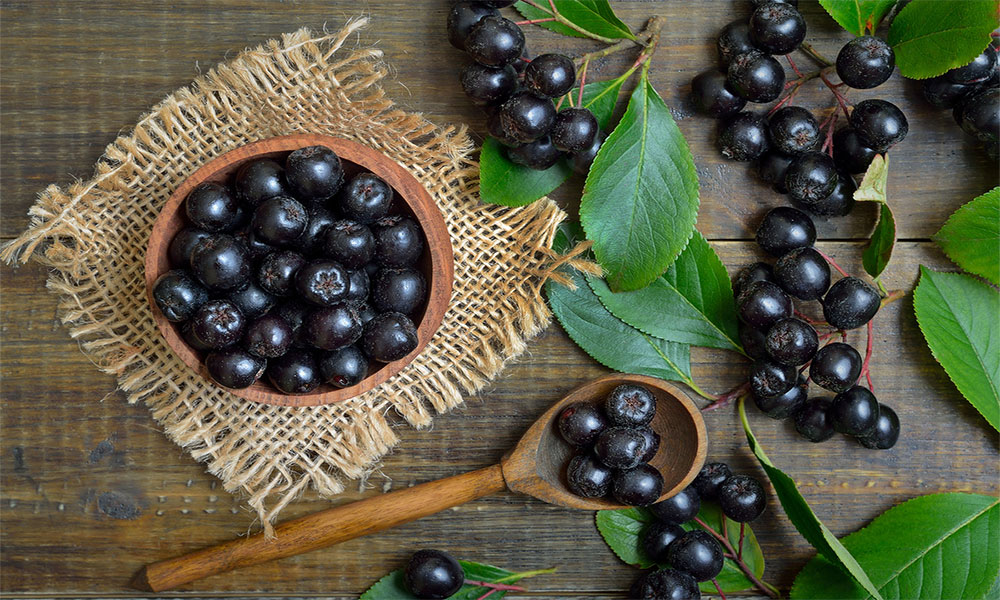 Written by Lily Sanderson under the direction and review of Megan Jacobson.
Berries are delicious versatile fruit and can add flavor and nutrition to many meals and snacks. They contain fiber, vitamins and minerals, and antioxidants. Some common berries include raspberries, strawberries, or blueberries. However, there is one berry that many people have never tasted or seen at their local grocery store but packs a punch when it comes to nutrition. They are called aronia berries or chokeberries. This berry is native to North America and, more specifically, Northeastern United States and the Great Lakes region.
Like other berries they contain lots of antioxidants, which are important because they help reduce or prevent cell damage. In addition to their antioxidant content, they are also a great source of fiber, vitamin C, manganese, zinc, potassium, and more. These super berries not only have lots of nutritional value, but may even help lower cholesterol and provide cardio protective benefits.
While Aronia berries are very nutritious, they have an interesting flavor and are not typically eaten raw. However, they can be incorporated into a diet in delicious ways. One way that is both tasty and healthy, is adding it to animal jerky or snack sticks! Whether it is beef, deer, buffalo, or elk, pureeing Aronia berries and adding it to the mixture before processing, adds an extra boost of nutrition and antioxidants to this tasty, protein-packed treat. Whether you process your own meat or work through a butcher shop, give Aronia berries a try! For more recipes and ideas on how to incorporate more of these super foods into your diet, check out the recipes at the end of this article!
If you're looking for places to buy these berries locally, they are sold at several locations in South Dakota. Sanderson Gardens is one of them and are located outside Aurora, S.D. They grow aronia berries and other produce including strawberries, raspberries, pumpkins, asparagus, rhubarb, and more. For more information, visit their Facebook page or their website. To find additional vendors around the area selling Aronia berries or Aronia berry products, view this interactive map courtesy of Google Maps.
Recipes
Aronia Berry Salsa
Ingredients:
1 medium red onion, chopped
1 14-ounce can whole corn
1 14-ounce can black beans
1 1/2 cups frozen aronia berries
4 cups Roma tomatoes, chopped
3 jalapenos, seeded and chopped
4 limes
1 teaspoon salt
Directions:
Finely chop the onion and place it in a small glass bowl.
Sprinkle with salt and squeeze the juice of one lime over the top.
Mix well and set aside.
Drain and rinse the corn and black beans.
Wash aronia berries.
In a large mixing bowl, combine corn, black beans, and aronia berries
Add chopped tomatoes and jalapeños to the mix.
Squeeze the juice from the remaining limes on the mixture and stir to combine.
Add the chopped onions and stir.
Let chill for 1 hour before eating.
Aronia Berry Spinach Salad With Aronia Dressing
Dressing Ingredients:
2 tablespoons red wine vinegar
2 tablespoons apple juice
2 tablespoons frozen aronia berries
1 teaspoon sugar
1/8 teaspoon salt
1 small garlic clove
1/2 cup extra virgin olive oil
Salad Ingredients:
1 bag spinach leaves (about 1/2 pound)
1/2 cup shredded carrot
1 avocado
1/2 cup diced apple or pear
1/2 cup frozen aronia berries
Directions:
Blend first 6 ingredients (vinegar, apple juice, frozen aronia berries, sugar, salt, garlic) in a food processor or blender.
Continue processing ingredients until berries and garlic are finely chopped.
While the processor is running, slowly pour in olive oil.
Process until smooth and thick.
Combine salad ingredients and toss.
Divide salad into servings and drizzle with dressing.
Fancy Aronia Oatmeal
Ingredients:
1/4 cup steel cut oats (you could use regular oatmeal, just don't cook as long)
3/4 cup water
1 tablespoon flax meal
2 tablespoons walnuts
1 tablespoon raisins
1 tablespoon dried cranberries x Reheat and then add:
1/4 cup frozen (or fresh) aronia berries
1 teaspoon of honey
Directions:
Combine oats and water in a pot.
Bring water to boil, cover, and simmer for 20-25 minutes. (cook according to package if using a different type of oats).
Add flax meal, walnuts, raisins, and dried cranberries.
Reheat then add aronia berries. Do not further cook the mixture, just reheat it.
Add honey and enjoy!
Berry Healthy Smoothie
Ingredients:
2 cups yogurt
1 banana
1 cup water, milk, or milk alternative (soymilk, etc)
1 cup vegetables (carrots, spinach, mixed greens, kale, cucumber, zucchini, summer squash, etc.)
½ cup aronia berries, partially frozen
Directions:
Put all ingredients in a blender.
Blend until smooth.
Drink and enjoy!