Originally Submitted: September 19, 2022
Written collaboratively by Laura Edwards and Bret Lang, SDSU Natural Resource Management.
The first fall frost often marks the end of the growing season. Most users define "frost" as 32 degrees Fahrenheit or colder. A hard freeze, or killing frost, may occur at lower temperatures, such as 28 degrees Fahrenheit. Many garden vegetables, flowers, row crops and other vegetation may not survive freezing temperatures. Other plants and trees will take it as a sign to slow down for the winter season.
With each new decade comes an update of our nation's climate "normal," an updated calculation of long-term averages for temperature and precipitation. In 2021, the most-recent climate normals were released by National Oceanic and Atmospheric Administration, including frost dates for the fall and spring seasons.
South Dakota Frost/Freeze Maps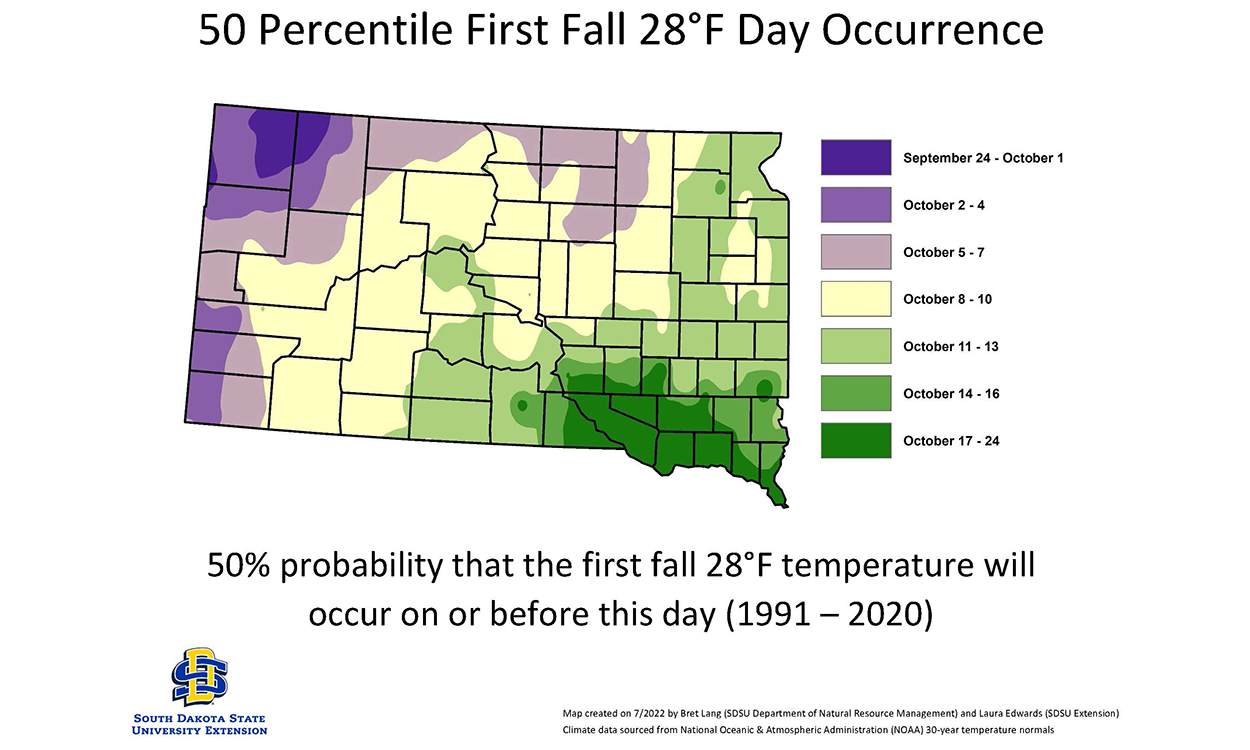 The updated maps for South Dakota can be found at the Mesonet at SDState website. The menu of choices will ask for which season (spring or fall), what temperature threshold you are interested in (options are: 24, 28, 32, 36 degrees Fahrenheit), and what percentile you are interested in.
Percentile refers to the historical distribution of frost dates. For example, the fiftieth percentile date, also known as median, is when half of the first frost dates of the temperature you selected occurred before that date, and half occurred after. This is the recommended and most commonly used percentile for estimating frost dates in agriculture and horticulture. To describe the thirtieth percentile date, 30 percent of the first fall frosts occurred before that date, and 70 percent occurred after, which can indicate a somewhat early frost date. Using different percentiles can give you an idea of when an early frost has historically occurred (tenth or thirtieth percentile), and when a late frost has occurred (seventieth or nintiety percentile).
Note that the data used for these calculations and the maps look only at the daily minimum temperature. There is no way of knowing how many hours the temperature was at or below any threshold. For example, a location may have a minimum temperature of 32 degrees Fahrenheit on a certain date. The data used for the map does not say if the temperature dipped down to 32 degrees Fahrenheit for a few minutes or remained at that temperature for multiple hours. For this reason, it is difficult to say for sure if an area would have any frost damage on vegetation just based on minimum temperature alone, as some plants can tolerate brief periods of freezing temperatures, while others cannot. It may also be for this same reason that a "killing frost" is often defined as 28 degrees Fahrenheit or lower, because the air temperature would likely be below 32 degrees Fahrenheit for a long enough period of time to kill sensitive vegetation.
Keep in mind that the data used to produce the maps are using historical observed temperatures. In South Dakota, our growing season has been lengthening, due to both earlier occurrence of the last spring frost and later occurrence of the first fall frost. This means that these maps are not a forecast or predictor of future frost dates, but can give a good indication of when a frost may occur based on recent history.