Farm to school (F2S) is often understood to be serving local foods in school lunches. In reality, F2S extends far beyond this definition. First, local procurement is just one component of F2S – school gardens and education are others. Second, the opportunities for local procurement go beyond just school lunch. This article focuses on local procurement in F2S to provide an overview of different child nutrition programs (CNPs) and settings that may accept local foods.
Federal Child Nutrition Programs
Understanding Program Organization
The U.S. Department of Agriculture (USDA) Food and Nutrition Service (FNS) administers federal CNPs at the national level. In South Dakota, the Department of Education (DOE) Division of Child and Adult Nutrition Services (CANS) operates the program through agreements with localized food authorities. Questions regarding federal CNP requirements in South Dakota should be directed to DOE CANS.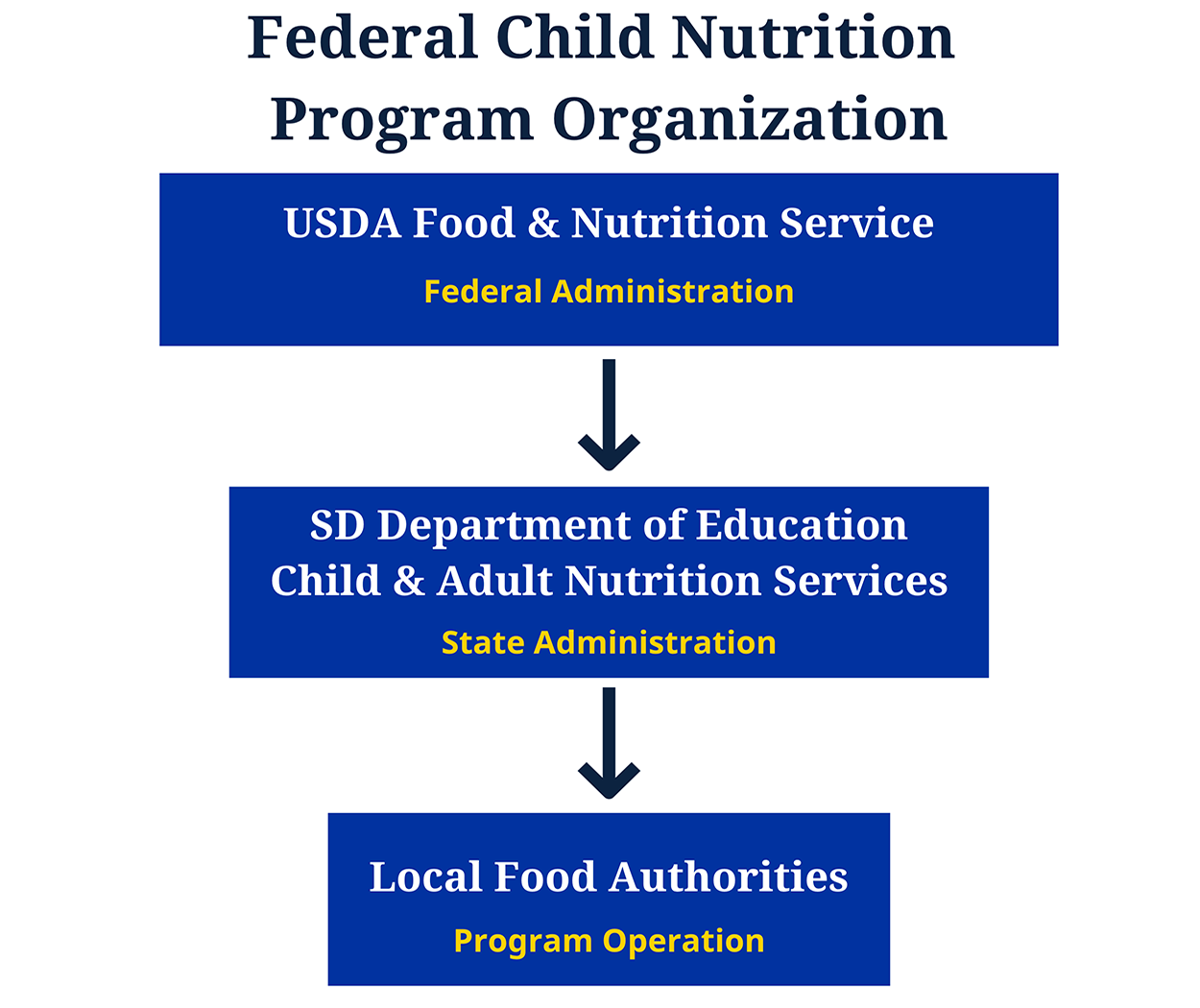 National School Lunch Program
The National School Lunch Program (NSLP) operates in public and nonprofit private schools and residential child care institutions. The program provides reimbursements to schools for providing nutritionally balanced meals to students based on NSLP meal requirements. School lunches contain a meat or meat alternative, grain, milk, vegetable and fruit. As an alternative to the primary lunch menu, many schools will offer salad bars, ala carte, bagged lunches or other creative lunch options.
Farm to School Lunch

Incorporate local foods into the salad bar.
Add local fruits or vegetables as an optional choice for students, such as in bagged lunches or to grab in the main lunch line.
Feature local food options in ala carte.
When thinking of the NSLP, providing 100% locally sourced items on the menu is overwhelming. Think about supplementing regular food shipments with local sources or incorporating local products outside the main menu.
Focus on local meat and root crops during winter months.
Start small. Use local foods in just one meal service (such as the high school lunch period or at one meal site if the district has multiple).
What is a meat alternative?
In federal nutrition programs, the following are considered meat alternatives: cheese, eggs, cooked dry beans or peas, nuts and seeds, and their butters, and yogurt.
— USDA Food & Nutrition Service
School Breakfast Program
Like the NSLP, the School Breakfast Program (SBP) operates in public and non-profit private schools and residential institutions and provides reimbursements when nutritional standards are met. SBP meals include fruit, grain and milk daily, but may optionally include vegetables and meat or meat alternatives.
Farm to School Breakfast

Often, less students are served at breakfast than at lunch, creating a smaller, less-intimidating number of servings to achieve locally.
Fruits are a daily breakfast component. Consider local fruits. Try them dried or juiced for preservation and increased uses.
Fresh Fruit and Vegetable Program
The Fresh Fruit and Vegetable Program (FFVP) operates at eligible elementary schools focusing on areas of greatest financial need. The program provides free fresh fruits and vegetable snacks during the school day. The goal of the FFVP is to increase overall acceptance and consumption of fresh, unprocessed produce among children. The program also promotes nutrition education.
Farm to Fresh Fruit and Vegetable Program

FFVP is a great introduction to farm to school when considering produce, because it focuses on just one fruit or vegetable occasionally (e.g. two times per week), distributed to elementary classes for snack time.
Many fresh fruits and vegetables only need to be cleaned to be included, such as cherry tomatoes, snap peas or apples. Therefore, producers do not need to do processing that would require a commercial kitchen.
Other fruits and vegetables only require cleaning and cutting to be served, such as melons or cucumbers. Kitchen staff can accomplish this easily.
One goal of FFVP is to introduce new flavors to youth, so it is a great time to emphasize less-common or cultural fruits and vegetables.
Child and Adult Care Food Program
The Child and Adult Care Food Program (CACFP) operates at child care centers, day care homes, afterschool care programs, adult day care centers and emergency shelters. Not all these settings will choose to operate CACFP. CACFP reimburses these centers for providing nutritious meals (including breakfast, lunch and supper) and snacks. All meal/snack components are served, including meat or meat alternatives, grain, milk, vegetables and fruit.
Farm to Child and Adult Care

CACFP programs often operate year-round, creating opportunity for summer produce to be utilized while fresh.
The number of youths served by care facilities is typically smaller than schools, creating a more-approachable goal of serving all the youth.
Care settings are often looking for educational activities. This, combined with snack time, creates opportunities to interact with local food products in a snack-based activity.
Summer Meals Program
The Summer Meal Programs provides kids and teens in low-income areas free meals when school is out. Meal program sponsors (such as school food authorities) run the program through safe and supervised youth sites in the community, such as schools, parks, camps, libraries, community centers, apartment complexes, churches or migrant centers. Summer meals include meat or meat alternatives, grain, milk, vegetables and fruit. Breakfast, lunch, supper and snacks may be offered.
Farm to Summer

Many fruits and vegetables are the freshest and most available in the summer months. Finding an organization that operates summer meals opens the door to a full season of fresh produce.
Growing a garden with youth can be a fun way to provide educational programming at summer meal sites. Then, the produce can be used in meals.
Summer meal programs typically serve a smaller number of youth than during school. This can be an advantage for starting small.
Non-Federal Child Nutrition Programs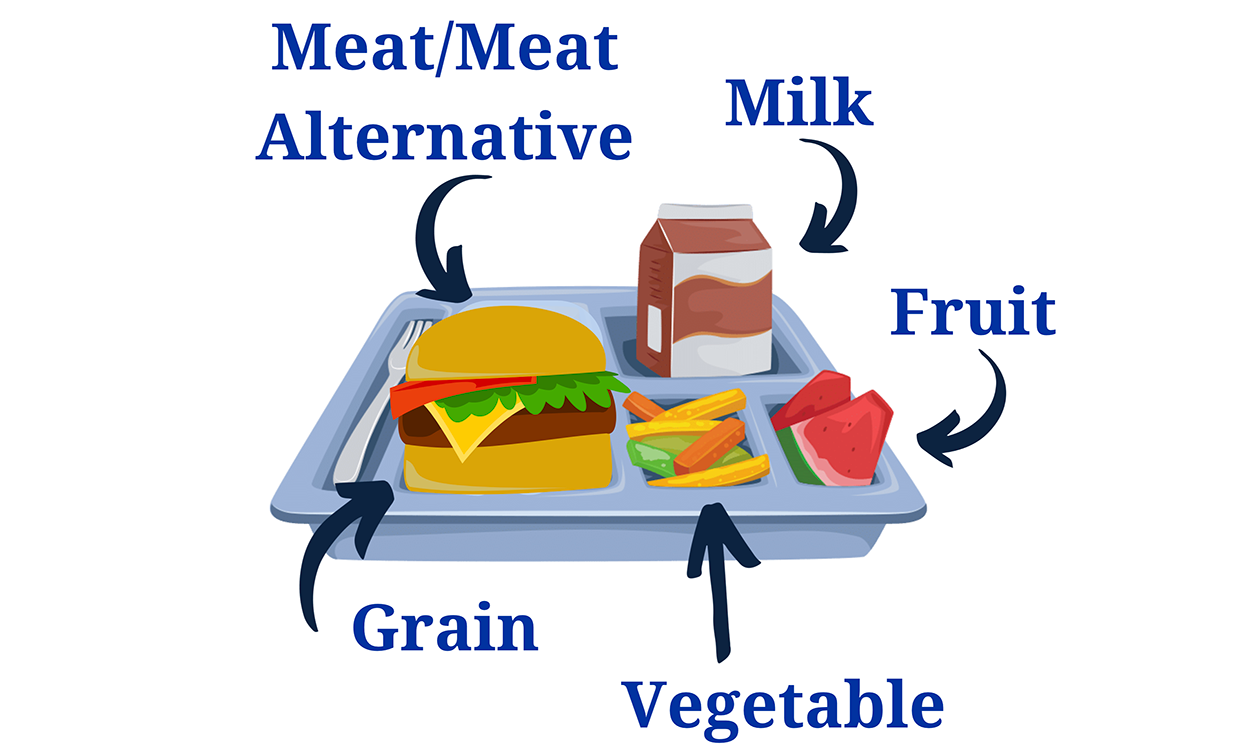 If an institution or organization isn't participating in a federal nutrition program, it is still feeding children and may accept local foods. Consider local private schools, Bureau of Indian Education schools, childcare centers, in-home daycares, Boys and Girls Clubs, YMCA's, family service organizations, headstart, summer programs or camps and after-school programs. Contact the director or foodservice manager to learn about their local food procurement procedures.
Farm to Everything

Wherever youth are present and receiving a meal or snack, there could be an opportunity for local foods!
Remember the possibilities of farm to school with a fun phrase: "Farm to School Spans the Tray and the Day!"
It spans the tray, because local products can be used as meat and meat alternatives, grains, milk, fruits or vegetables. It spans the day, because there are opportunities to incorporate local foods in each meal plus snacks.
— Anna Barr, SDSU Extension Farm to School Nutrition Field Specialist