Originally Published: June 11, 2020
Originally written with contributions by Emmanuel Byamukama, former SDSU Extension Plant Pathologist.
A few oat fields that were recently scouted were found to have barley yellow dwarf virus infected plants. The infected plants were few and scattered throughout the oat fields. Advanced symptoms included leaves that were yellowing from the tips and initial symptoms included parallel yellow and green streaks running the length of the leaves symptoms (Figure 1). Sometimes symptomatic leaves may have reddish purple color, depending on the variety and also the time of infection.
Barley yellow dwarf disease is caused by barley yellow dwarf virus (BYDV) which is transmitted by several aphid species (Figure 2). In South Dakota, the most common aphids that spread BYDV include the bird cherry oat aphids and English grain aphids Aphids acquire BYDV from grassy weeds and volunteer wheat and other cereal crops. Aphids must feed on an infected plant in order to acquire the virus and will transmit the virus when they move and feed on a healthy plant. Aphids can travel long distances in their winged form by using wind currents and they are more active in cool and moist weather.
Management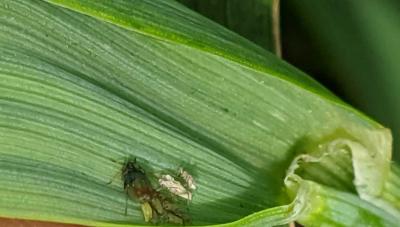 Effective plant virus management starts before planting as there are limited in-season management practices for plant viral diseases. Whereas BYDV can be managed through the control of the aphid vectors, applying insecticides in the field is recommended when aphids reach economic threshold. Usually plants with BYDV are few and scattered and yield loss caused by this disease is often minimal. In years of heavy aphid infestation and high BYDV prevalence, significant yield losses can occur.
Eradication of volunteer wheat, oats, and grassy weeds before planting may help reduce the source of inoculum. Although incoming aphids can be already carrying the virus, within field source of inoculum will increase the risk for the BYDV.
Oat varieties may vary in their susceptibility to BYDV. Although no data is available on oat variety response to BYDV, if a planted variety is showing high incidence of BYDV, a different variety can be selected for the next growing season.