Originally Submitted: September 23, 2022
A black light trap at the SDSU West River Research Farm near Sturgis has started capturing army cutworm moths yet again. This indicates that the moths that migrated west this spring are returning to the South Dakota plains to lay eggs (see Army Cutworms Beginning To Take Flight). The primary concern with army cutworms this time of year is in newly planted winter wheat fields. The eggs can hatch in as quickly as a few days, and the emerging caterpillars will feed on wheat seedlings until the first hard frost.
Profile
Army cutworm moths are noted for having tan-and-brown-colored wings that feature a light-colored circle (dot) that is present above a light-colored boomerang, as seen on the moths collected by our researchers in Figure 1.
Young army cutworm caterpillars are small, and they generally appear in a light green-brown color with relatively few notable markings.
As army cutworm caterpillars mature, they develop a dull-gray or gray-brown body that may have mottling, which appears as spots or smears of varying colors.
Older army cutworm caterpillars will have several pale stripes that run the length of their bodies. Regardless of their age, army cutworm caterpillars have a light-brown head, as seen on the caterpillar shown in Figure 2.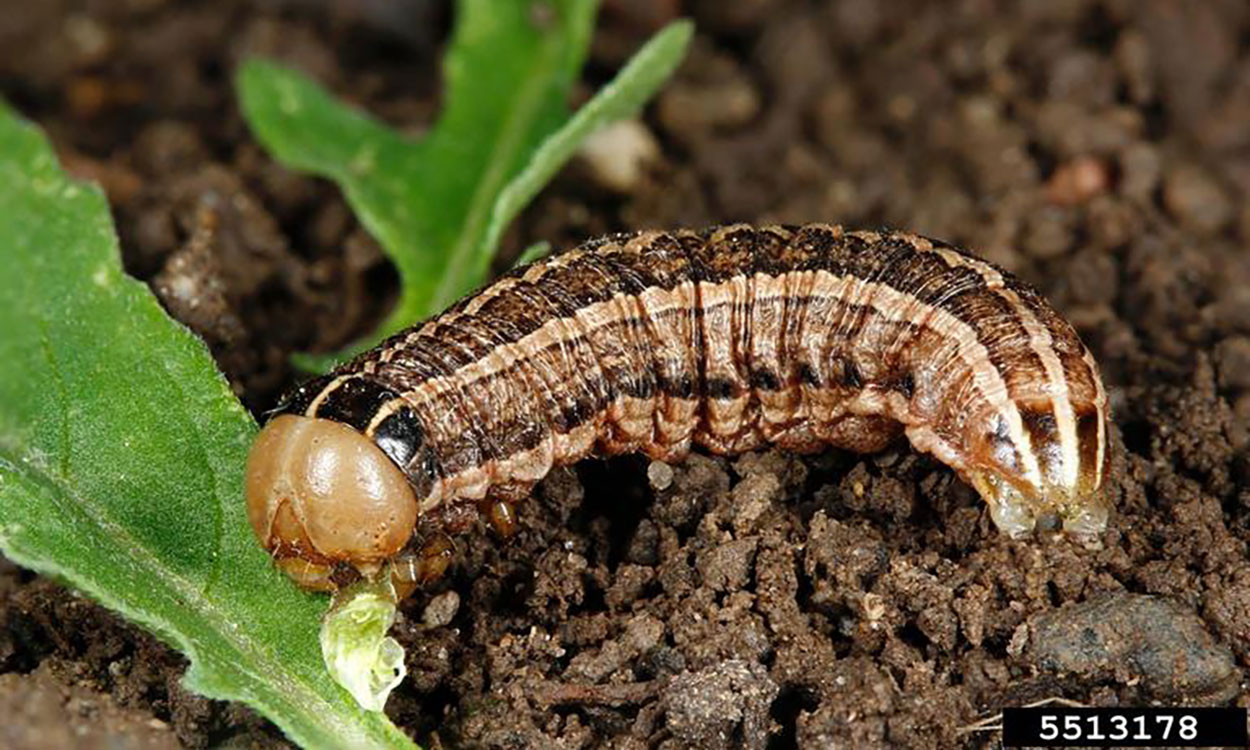 The army cutworm is a migratory insect that travels between the Great Plains and the Rocky Mountains each year. Large populations of army cutworm moths are a common occurrence for several states that fall in their normal migration path (i.e. Kansas, Nebraska, Colorado, Wyoming, New Mexico, Arizona).
South Dakota is on the northern edge of this migration path. Therefore, we typically see populations of army cutworm moths, but they are not as abundant as in states located further south. Each spring, army cutworm moths migrate west from the Great Plains, where the caterpillars feed on crops and other vegetation. The moths move to the Rocky Mountains, where they oversummer and feed on nectar from wildflowers in the high elevations.
In late August through October, the moths leave the mountains and fly back to the plains. They lay eggs in freshly cultivated weedy fields or in recently seeded winter wheat fields. The eggs hatch and the caterpillars will feed on the hosts until they are forced into the soil due to colder temperatures. The caterpillars emerge again in the spring and will feed on available vegetation until they pupate in the soil. The moths begin emerging in late May or early June depending on the weather.
Scouting and Management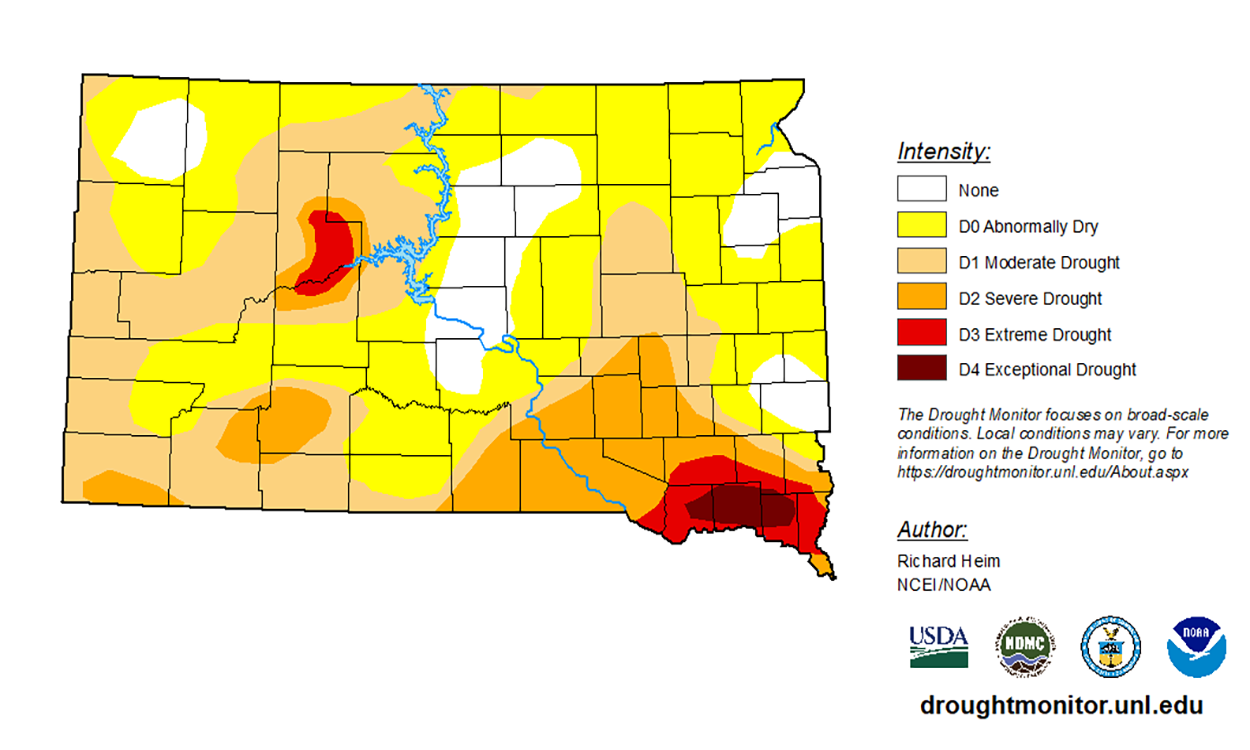 The good news for many wheat producers is that the current drought conditions in much of South Dakota can be detrimental to army cutworm survival (Figure 3). Dry conditions can reduce the overwintering population, due to delayed egg hatch and desiccation of freshly emerged caterpillars. However, it remains important to scout for army cutworms until colder weather sets in.
Army cutworm caterpillars feed at night, and they typically hide just below the soil surface during the daytime. Scouting for the caterpillars can be time-intensive, due to sampling soil, thus management decisions based on detection and characteristic plant injury are recommended.
The feeding is characterized as "clipping," where the caterpillars feed on the plant near the soil surface. This type of feeding can result in patches of plants that appear to be cut or clipped (Figure 4).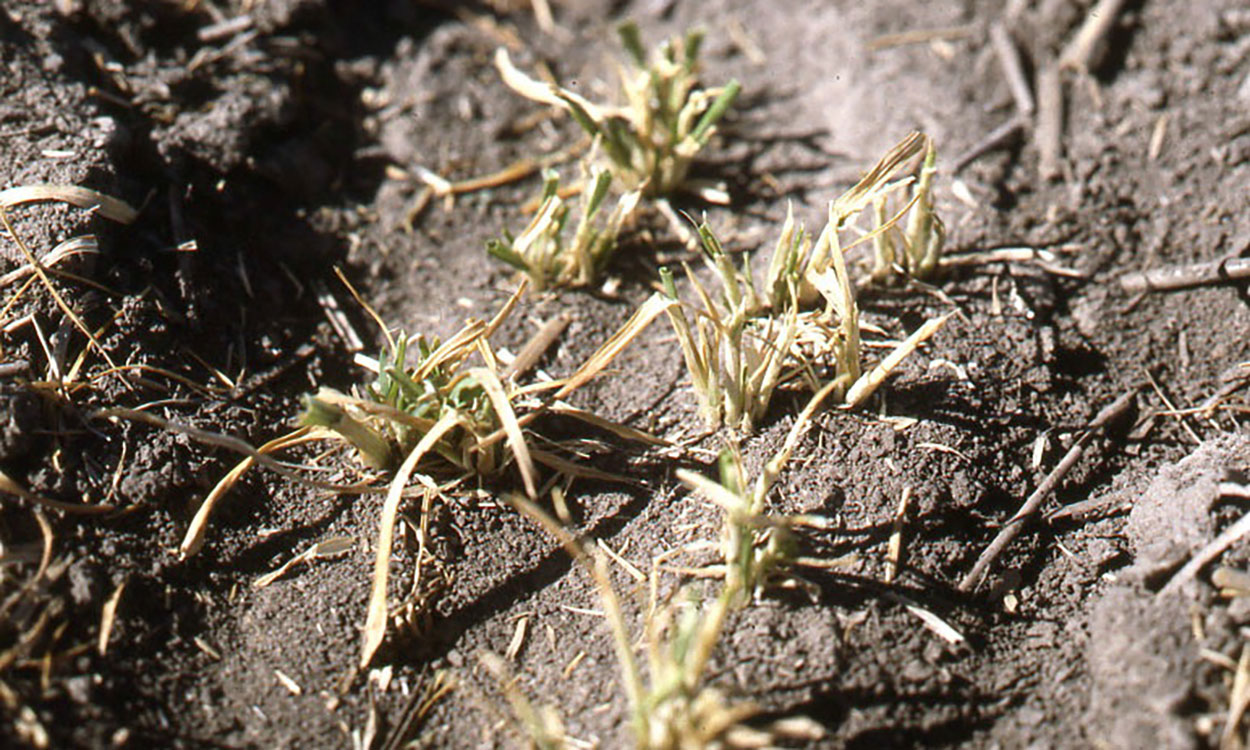 For winter wheat, the caterpillars tend to feed on the tender blades. Army cutworms generally do not feed on the stem, crown or meristematic tissues, which allows plant regrowth to occur.
In areas where caterpillars are abundant, they will move from food-source to food-source in mass, or "army style." Management is recommended if patches of the field have been defoliated, or if 2 to 4 army cutworm caterpillars are observed per square foot. As winter approaches, the caterpillars will eventually go into dormancy. However, scouting will need to continue next spring, as the caterpillars will reemerge once the soil warms up and begin actively feeding again. If management of army cutworm is necessary, an insecticide application is recommended. Please refer to the latest South Dakota Pest Management Guide - Wheat for a list of products labeled for cutworm management.