The South Dakota 4-H Volunteer Hall of Fame was established in 2002 as part of the 100th birthday celebration of 4-H. Its purpose is to recognize and celebrate adult volunteers in South Dakota who have dedicated themselves to making significant contributions to the development of the South Dakota State University (SDSU) Extension 4-H Youth Development Program in the areas of:
Character
Citizenship
Leadership
Career accomplishment
Nominations are accepted all year. Nominees who are current, former, living or non-living are eligible to be admitted into the South Dakota 4-H Volunteer Hall of Fame. The new class will be selected after July 1 each year. SDSU Extension 4-H Youth Development celebrates 4-H Volunteer Hall of Fame recipients Sunday evening during the South Dakota State Fair in Huron.
If you have questions about the South Dakota 4-H Volunteer Hall of Fame Award, please send an email to the State 4-H Office.
2022 Honorees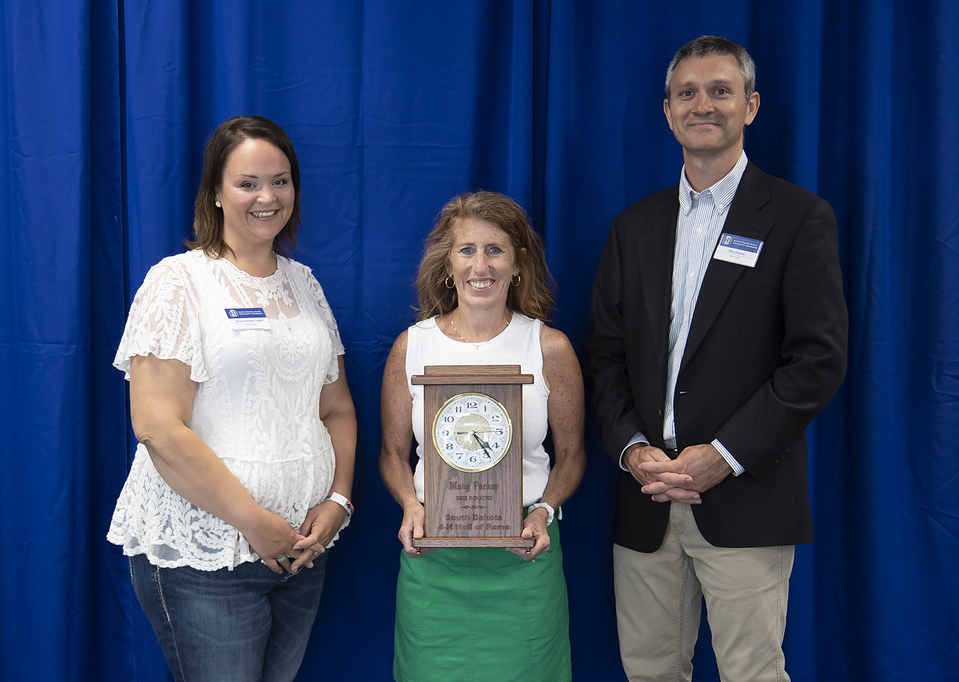 Mary Pochop, Lawrence County
Mary Pochop is the type of leader who was born into 4-H. She has been raised and in turn has raised others, from her own children to those within the community for her whole adult life. In her younger 4-H years, Mary participated in a vast variety of project areas. She was a club leader for Lawrence County's largest 4-H Club, the Crow Peak Valley Rangers, for over 13 years. From that club, she assisted in producing the highest number of 4-H youth ever in that county to achieve and receive their 4-H Key awards. Mary has also headed up the Static and Award Committees for many years and recently worked to raise up new leaders in these committees. Mary is respected for her ability to pass the baton on to others with distinct detail and the utmost excellence. She treats all youth as she would her own in a non-bias, fair, and consistent way, allowing them the opportunity to succeed as she would for her own family. She is one of those leaders who has proven her high level of commitment and loyalty to youth and the program. Mary is one of those leaders who has invented timely and trusted ways to run a 4-H club with ease, excellence, and enjoyment! Furthermore, she has freely shared of those timely treasures and techniques with others in the community so they can glean from her hard work and help with other 4-H club formats.
Jeff and Beth Vanderwal, Spink County
In their 11 years of experience, Jeff and Beth Vanderwal have aided in the growth, expansion, and improvement of the 4-H program in both Spink County and across the state, particularly in the livestock project areas. Under their leadership, the Spink County livestock project as a whole has grown and strengthened, not just one species, but all. Jeff was instrumental in getting a new covered show ring built, and barns upgraded with new penning and electricity. Beth has served on the livestock and awards committees, overseeing many of those tasks and always bringing new ideas to the table. Both have also taken leadership by serving as the Treasurer for the Leaders Association and have promoted changes in how the county ran its premium fund. As a family, they have organized numerous livestock judging schools and taught many 4-H youth how to judge livestock and give oral reasons. Beth often taught project days and jumped in wherever needed. Jeff was tremendous in helping teach livestock judging, but also teaching kids how to evaluate their own livestock, pick out livestock, and even how to feed livestock to prepare it for Achievement Days. They have impacted many lives of Spink County 4-H youth and families by helping those new to 4-H get started and answering many questions along the way. 
Cathy Mickelson, Campbell County
Cathy Mickelson is a selfless volunteer who is always ready to offer her services to help 4-H members, whether it is teaching a workshop or bringing her own sewing equipment for 4-H members to use at a sewing workshop. Cathy's devotion and passion for 4-H comes from her own experience growing up. After Cathy graduated from the 4-H program, she continued to come home during the summer and help with the Codington County 4-H program. After marriage, she moved to Campbell County where she has served as a parent and Leader for 24 years. Cathy was a long-time President of the Campbell County 4-H Leaders Association and currently serves as the Vice President. In 2003, Cathy started volunteering with the South Dakota 4-H Performing Arts Camp in Aberdeen. She devoted countless hours to helping make costumes and served as the camp nurse until 2018. Cathy is always ready to give 4-H a hand and donate her knowledge, her time, and many times her own equipment to help youth learn important life skills. She has organized sewing classes, special foods contests workshops, and was instrumental in starting the dog project in Campbell County. With her dedication, the Campbell County program has grown over time and seen increased participation in areas of 4-H. Cathy has carried over her dedication to the 4-H program through her four children and now her grandchildren.
Bill Poppen, Kingsbury County
Bill loved everything about 4-H and fairs, any fair he could attend. He especially loved encouraging young people. He could be found every day of the local achievement days, perched on a very particular bleacher with a great view of the show ring, but more importantly, close to the door where he could jump up and speak with fellow fair attendees or congratulate youth who had just come from the ring. Each year, he looked forward to serving the lamb for the 4-H barbeque on the last night of achievement days. For over 48 years he managed the lamb feed sponsored by De Smet Farm Mutual. He was also instrumental in bringing the 4-H Volunteer Appreciation lunch held each year by De Smet Farm Mutual at the South Dakota State Fair. Bill served locally as a 4-H leader and a Kinsbury County Fairboard member until his passing in 2021. One of his favorite 4-H meetings of the year was when he had members tour each other's farms to show off their animals, gardens, and other fair projects they were working on. This meeting was, of course, always followed up with a good ol' potluck, one of Bill's favorites. Bill is remembered for thoroughly enjoying agricultural life, which included raising and showing sheep for sixty years, visiting with farmers and ranchers, gardening and attending fairs and rodeos.
Past Honorees
Aurora
Ehlers, Joyce (2005)
Clyde Olsen (2016)
Beadle
Hansen, Tom & Marge (2002)
Olson, Oscar (2002)
Olson, Robert & Maxine (2002)
Walter, LaVonne (2002)
Hofer, Pam (2004)
Barton, Warren (2005)
Schoenfelder, Amy (2007)
Magness, Gordon Jr "Cobbie" & Vi (2008)
Mattke, Larry D (2008)
Bennett
Nies, Gary (2002)
Runner, Redella (2003)
Bon Homme
Varnell, Irene (2002)
Sutera, Florence (2004)
Flamming-Grimme, Martha (2008)
Brookings
Barnett, Hugh (2002)
Miller, Gordon (2002)
Slocum, Chuck (2002)
Vick, Archie (2002)
Potas, Milo (2004)
Swartos, Jeanne (2006)
Knutsen, Betty (2018)
Brown
Hornaman, Mary (2002)
Munger, Allen (2002)
Sperry, James (2002)
Dayton, Fae (2006)
Karlen, Dorothy (2006)
Brule
Geppert, Don (2002)
Glaus, John & Florine (2002)
Butte/Lawrence
Dobesh, Frank & Marilyn (2009)
Tetrault, Roxie (2018)
Reich, Ree (2021)
Riley, Cindy (2021)
Pochop, Mary (2022)
Campbell
Deibert, Darlain (2002)
Knable, James (2014)
Kanable, Elaine (2017)
Mickelson, Cathy (2022)
Charles Mix
Gant, Patrick (2002)
Pavel, Rudy (2005)
Larson, Theodore (2006)
Clark
Birkholtz, Lucille (2002)
Fuller, Bill (2002)
Grimes, Dolores (2002)
Clay
Kennedy, Bill & Beverly (2010)
Jensen, Sharron (2015)
Williams, Margaret (2020)
Codington
Chilson, Elsie (2002)
Halajian, Lori (2005)
Reichling, Mary Lois (2005)
Thyen, Clarice (2014)
Corson
Custer
Johnson, Betty (2001)
McColley, Marge (2002)
Davison
Deuel
Goens, Joan (2002)
Hanson, Lee (2002)
Wilson, Doris M (2004)
Dewey
Douglas
Goehring, Edgar (2002)
Kaufman, Fred S (2002)
Werkmeister, Evelyn (2019)
Edmunds
Eisenbeisz, Allene (2002)
Ochsner, Ruben (2002)
Pettigrew, Alvinia (2002)
Curtis, Dale (2017)
Curtis, Carole (2021)
Fall River
Cope, Wilbert & Jean (2010)
Eldridge, Dave & Noreen (2011)
Petty, Alberta (2011)
Paul, Jean (2011)
Bowman, Joyce (2018)
Faulk
Clifford, Inez Shaw (2002)
Schilder, Joyce (2002)
Cuppy, Bernice (2003)
Wood, Delano (2005)
Larson, Maxine (2006)
Schilder, William (2007)
Grant
McKernan, Sandra (2004)
Bohn, Mary (2005)
Boe, Julie & Lowell (2015)
Gregory
Indahl, Debora (2006)
Jons, Diana (2019)
Haakon/Jackson
Jorgensen, Marilyn (2002)
Staben, Donna (2002)
Hudson, Gene (2004)
Piroutek, Gayla (2007)
Hamlin
Miller, Vane (2002)
Peterson, Joy (2004)
Thyen, Diane (2017)
Hand
Cahalan, Faith (2002)
Duxbury, Robert (2002)
Fawcett, Robert (2002)
Johnson, Wallace (2002)
Gerard, Phil (2015)
Howard, Marsha (2017)
Hanson
Jarding, Gary & Sharon (2010)
Hutchinson
Hyde
Wanless, Ken (2002)
Zilverberg, Dorothy (2003)
Haiwick, Gary & Gloria (2008)
Schuette, Jim & Judy (2014)
Jerauld
Mentzer, Blanche (2002)
Horsley, Darlene (2006)
Jones
Kingsbury
Christensen, Marlys (2002)
Poppen, William A (2002)
Clendening, Marlin & Jeanette (2009)
Poppen, Bill (2022)
Lake
Acheson, Earl & Mildred (2002)
Lidel, Donna (2002)
Mauf, Dorothy (2002)
Lincoln
Edwards, Anna Mae (2002)
Hanson, James M. (2002)
Nothdurft, Dorothy (2002)
Plucker, Marlene (2002)
Marshall
Symens, Julie (2018)
Kraft, Mike and Rose (2018)
McPherson
Betty & Gordon Mack (2016)
Meade
Howie, Georgia (2002)
Lemmel, Bernice (2002)
Snyder, Janice Blair (2003)
Casteel, Patricia (2020)
Miner
Behm, Gilbert (2002)
Lambert, Clair (2002)
Wettlaufer, Dick (2007)
Minnehaha
Alberty, Curt (2002)
Lingo, Frank (2002)
Witkop, Evelyn (2002)
Wright, Warren & Eldora (2002)
Zweep, Flora May (2003)
Kringen, Sharon Kay (2006)
Nussbaum, Richard & Leona (2008)
TerMeer, Keith & Janice (2010)
Steve Munk (2016)
Grace, Gerald (Jerry) & Carmen (2017)
Wenzlaff, James (2019)
Moody
Koester, Wally (2002)
Reed, Roger & Joan (2002)
Jaycox, Eugene (2007)
Pennington
Rovere, Joe (2002)
Szakacs, Sylvia (2002)
Willuweit, Nellie (2002)
Helms, Ernest (2003)
Taylor, Dick (2005)
Maude, Marvin & Mae (2011)
Petersen, Lyndell (2018)
Bowman, Joyce (2018)
Williams, Mary (2019)
Brunner, Patty (2020)
Elwood, Ardyce (2021)
Perkins
Hansen, Christine (2002)
Kolb, Patricia (2002)
Lyon, Darrell (2002)
Potter
Keller, Gyda (2002)
Nagel, Stella (2014)
Roberts
Heinje, Howard & Marcia (2003)
Finnesand, Calvin (2020)
Sanborn
Clarmbeau, Lois (2002)
Zimmerman, Grace (2002)
Ruml, Lawrence & Karen (2005)
Moore, Melvin M (2007)
Nelson, Robert "Gus" (2008)
Maeschen, Janet (2018)
SDSU
Aamot, Mary Ellen (2002)
Bearid, Roy (2002)
Crisman, Ima (2002)
Gohring, Henrietta (2002)
Hansen, Lloyd (2002)
Heitland, Frank (2002)
Howard, Rich (2002)
Kortan, La Verne (2002)
Lyle, Mary Frances (2002)
Nelson, Ken (2002)
Ollenburg, Ella (2002)
Sudlow, Lee (2002)
Younger, John & Beryl (2002)
Shannon
Spink
Kettering, Keith (2002)
Wright, Beverly (2002)
Braun, Joy (2019)
Vanderwal, Jeff & Beth (2022)
Stanley/Hughes
Cowan, Willie (2002)
Hoeppner, Sine (2002)
Jennings, Mary (2002)
Webb, Arnold & Dorothy (2002)
Young, T.H. Harold (2002)
Sully
Tripp
Dreyer, Dola (2004)
Gebhart, Keith (2007)
Kubik, Donna (2011)
Condon, John & Marie (2014)
Brian Burnham (2016)
Turner
Merrill, Joyce (2002)
Schmeichel, Betty (2002)
Treloar, Karen (2002)
Nelson, Lowell (2003)
Schnose, Dorothy (2006)
Union
Chicione, Roland & Evelyn (2002)
Ericson, Audrey (2002)
Kratochvil, May (2002)
Kratochvil, Richard (2002)
Vanderham, Paulette (2007)
Hanson, Jeanne (2009)
Walworth
Allerdings, Barbara (2002)
Glaser, Louise (2004)
Schanzenbach, Tami (2014)
Schumacher, Rosalie (2018)
Steiger, Mike (2020)
Ziebach
Lemke, Mercedes (2002)
Donovan, Yvonne (2003)