Riparian areas can be described as the transitional zone between terrestrial and aquatic ecosystems. Healthy riparian areas are critically important to water quality, as they will reduce sediment, nutrients, pesticides, and other contaminants from entering a waterbody. Restoring and/or maintaining a healthy riparian area is the most effective method to address many of the common water resource concerns in South Dakota, and it plays a key role in improving water quality in associated streams, rivers, and lakes. Examples of riparian areas include floodplains, streambanks, lakeshores, and wetlands.
About the Program
The Seasonal Riparian Area Management (abbreviated as SRAM) Program, administered and implemented through the Big Sioux River Project, began as a pilot program in 2013 along Skunk Creek, a tributary to the Big Sioux River north of Sioux Falls. The Big Sioux River Project provides technical and financial assistance to implement best management practices and works to increase public awareness through educational outreach for the purpose of improving water quality within the Big Sioux River watershed.
At the time, Skunk Creek did not fully support its "Beneficial Use" designation for "Limited-Contact Recreation," due to fecal coliform bacteria and its designation as a "Warmwater Marginal Fish Life Propagation Waters" because of total suspended solid issues. The SRAM program was different from other buffer initiatives, such as the Conservation Reserve Program, in that landowners were still able to utilize enrolled acres through deferred grazing or haying. For instance, enrolled acres can be hayed after June 15 or grazed after September 30. While still listed as impaired for fecal coliform bacteria, Skunk Creek was taken off the impaired list for total suspended solids in 2016, mainly credited through landowner participation in the SRAM Program.
Landowners can choose a 10-or-15-year contract and will receive a one-time, up-front payment on enrolled acres. The SRAM Program is available to landowners who own or rent riparian pastureland immediately adjacent to the Big Sioux River and its tributaries in the Big Sioux River watershed as outlined in Figure 1. Funding for the SRAM program comes from the EPA 319 Grant Program, as well as the cities of Sioux Falls and Dell Rapids through the Clean Water State Revolving Fund Program.
Since its inception in 2013, the Big Sioux River Project has enrolled nearly 3,600 acres into the SRAM or other riparian buffer programs, totaling almost 746,000 linear feet (89 miles) of stream protection. For more information on the SRAM Program, contact the Big Sioux River Project by calling 605-759-2650.
Before SRAM (2013)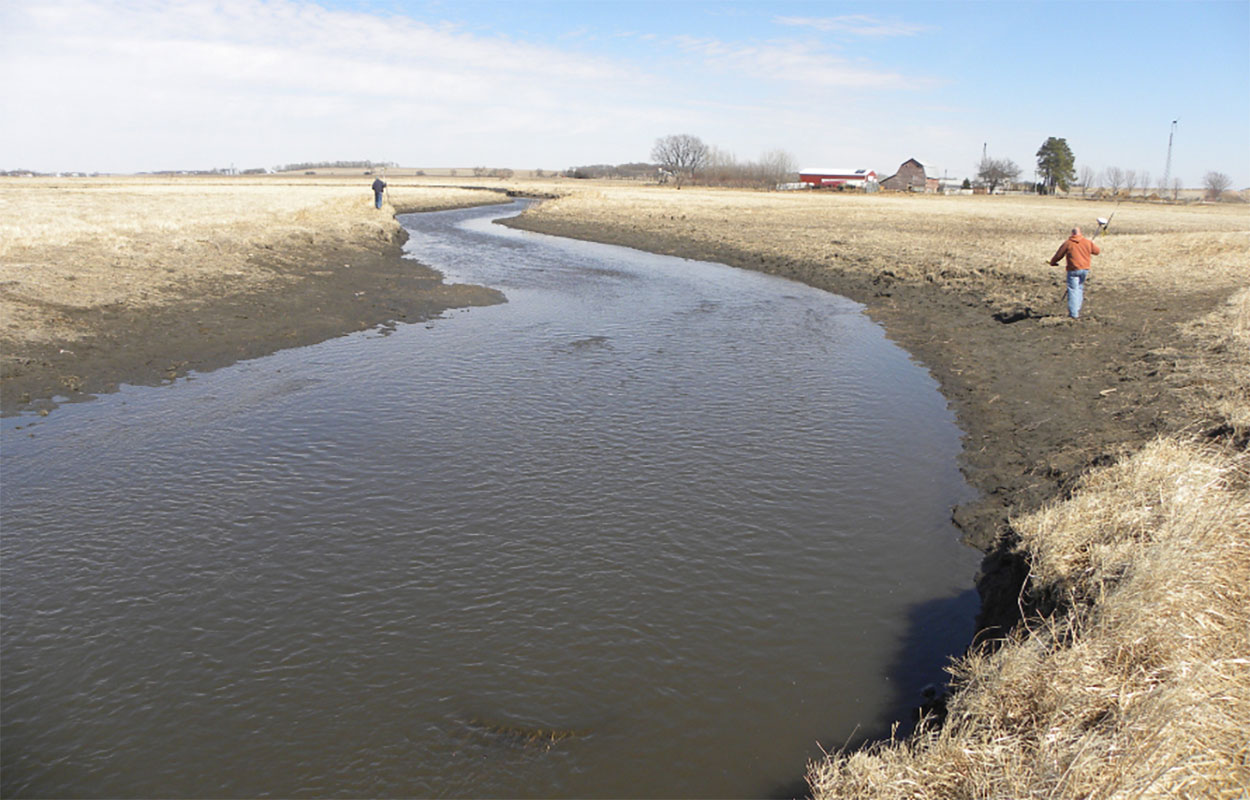 After SRAM (2023)