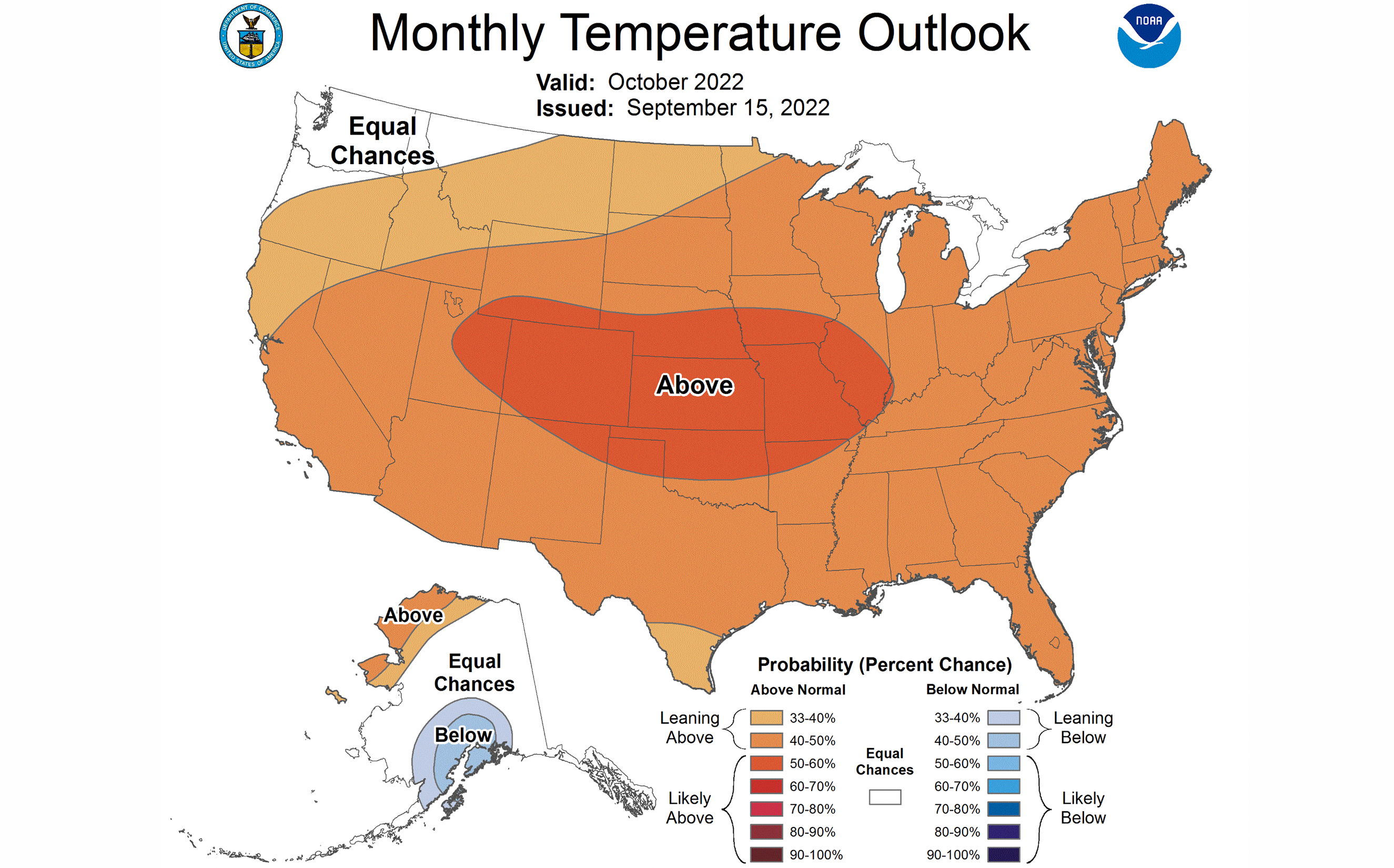 Originally Submitted: September 19, 2022
The warmth of September is likely to continue into October in South Dakota, according to the latest climate outlook released on September 15.
The climate outlook, issued by NOAA's Climate Prediction Center, also indicates odds leaning towards drier than average conditions in October.
Together, these predictions point towards lingering or developing drought in the month ahead, even as the growing season comes to an end. In the last several weeks, South Dakota has been drier than average and warmer than average. Even though crops, gardens, yards and pastures are in need of less moisture in September than in peak summer season, the landscape is drying out quickly this fall. The decades-long climate trend in South Dakota is towards wetter fall seasons, but this fall has been an anomaly so far. Fall moisture often does not contribute much (if anything) to yields of our warm-season crops, hay or vegetable gardens, but it can replenish our soil moisture for next year's growing season and refill our stock ponds for livestock.
Three-Month Outlook
Looking ahead to the final three months of 2022, the climate pattern across the United States starts to take on a strong La Niña flavor. The likelihood of warmer than average temperatures decreases as early winter approaches, with late winter favoring colder than average temperatures over the Dakotas. October through December also bring uncertainty in the precipitation outlook, with equal chances of wetter, drier or near average precipitation in the three-month period. This uncertainty continues through the winter, as La Niña does not have a strong connection to winter season precipitation in South Dakota.
While the dry and warm conditions in October could help to dry down corn and soybeans in the field to avoid propane and other post-harvest drying costs, it is also a challenge for winter wheat planting conditions and for cover crop growth. These climate conditions may also bring increased risk for wildfire on the prairie and in the Black Hills, especially for those areas that have now experienced a couple of consecutive years of drought.