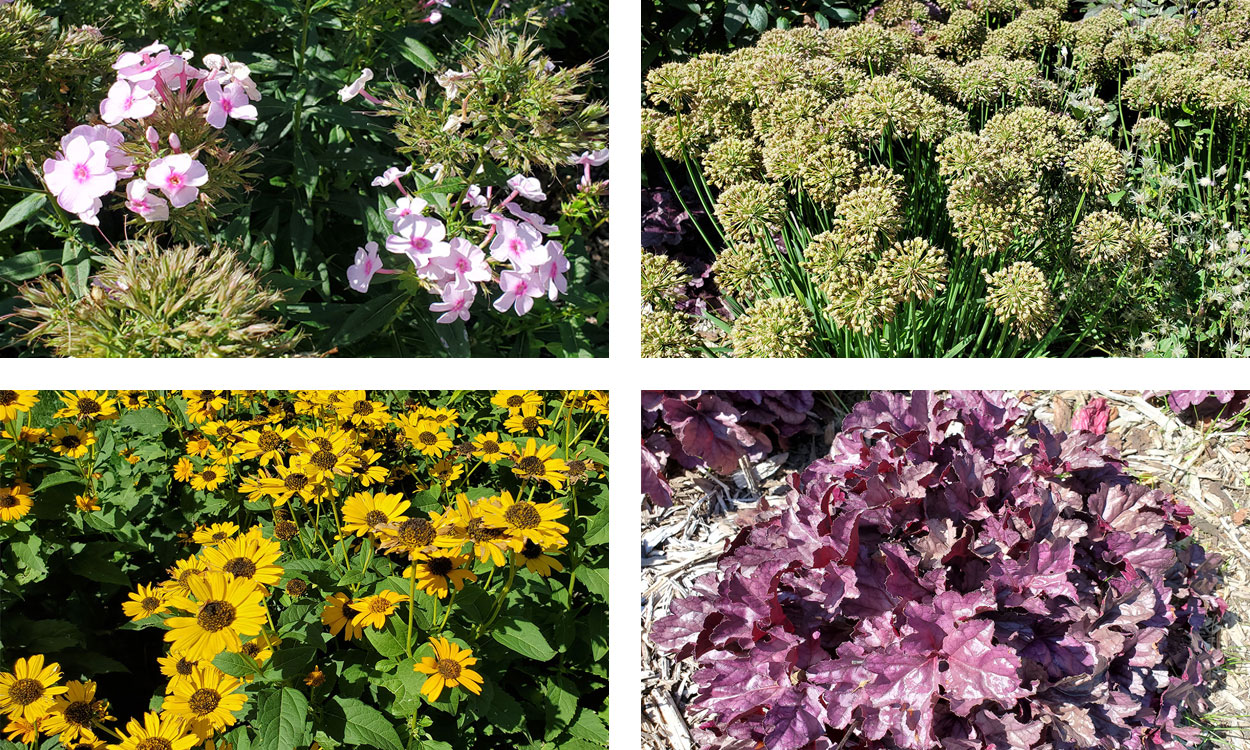 Written collaboratively by Kristine Lang, Assistant Professor and SDSU Extension Consumer Horticulture Specialist, and Chris Schlenker, McCrory Gardens Horticulture and Grounds Manager.
Are you looking for new ideas of what to grow in your garden? Let's take a look at the six top-performing perennials as judged during the 2021 growing season at McCrory Gardens! These plants are commercially available at many local garden centers.
Trial Summary
Perennials are grown in the trial gardens for three years, to allow for two seasons of overwintering survival to be assessed. McCrory Gardens is in USDA Hardiness zone 4b, and all perennials were grown in full-sun conditions. The top-performers listed below only include plants that were established in 2019 or 2020 which had demonstrated strong winter survival. Perennial plant evaluations were collected monthly and assessed for health, vigor, growth habit, uniformity, bloom performance and overall appearance. The top-performing plants had evaluation scores greater than four based on a five-point scale in the 2021 trials. Plant height and width were measured on Sept. 17, 2021 and all photos included in this article were taken in late August, courtesy of Kristine Lang.
Top-Performing Perennials
Phlox 'Opening Act Pink-a-Dot'
This phlox had bright-green stems that remained sturdy and upright all season long with leaves that were noticeably thinner than many other phlox. This gave the plant an attractive, airy appearance. By late June the plant was covered in blooms, which is earlier than some garden phlox. Even after petals had dropped, the plant remained attractive without deadheading.
Bloom Time: June-August
Flower Color: White with light pink centers
Height: 28.5 inches
Spread: 25 inches
Establishment Year: 2019
Ornamental Oregano 'Drops of Jupiter'
This ornamental oregano has foliage that is lime green to creamy yellow in appearance and provides contrasts to deeper greens within the garden. The foliage provides a backdrop to the purple blooms that cover the plant. Even after petals drop, the deep-purple calyces remain very attractive. This ornamental oregano grew together as a carpet in the garden for an excellent mass planting.
Bloom Time: July-September
Flower Color: Lavender to deep purple
Height: 22 inches
Spread: 34 inches
Establishment Year: 2020
Phlox 'Luminary™ Ultraviolet'
This phlox had bright-green upright stems with spread more contained than some other phlox, which may be due to only one season of prior establishment. In July the plants were covered in blooms with additional blooms that followed to extend the show into early September.
Bloom Time: July-September
Flower Color: Fuschia
Height: 30 inches
Spread: 18 inches
Establishment Year: 2020
Ornamental Onion 'Serendipity'
Like many alliums, this plant was covered in bright purple one-to-two-inch circular blooms at the height of summer. The plants were incredibly uniform, with leaves that had a slight twist as they grew. New foliage continued to grow throughout the summer, and even the dried allium seedheads added texture to the garden in September.
Bloom Time: July
Flower Color: Bright purple
Height: 24.5 inches
Spread: 20.5 inches
Establishment Year: 2019
False Sunflower 'Tuscan Sun'
This heat-loving perennial thrived in 2021. The stems were sturdy and upright, and the plants were very uniform. There was minimal insect damage noted on these plants, while other false sunflowers suffered more damage. The bright two-to-three-inch diameter blooms covered the foliage at peak bloom.
Bloom Time: July-September
Flower Color: Bright-yellow with golden-orange centers
Height: 30 inches
Spread: 23 inches
Establishment Year: 2019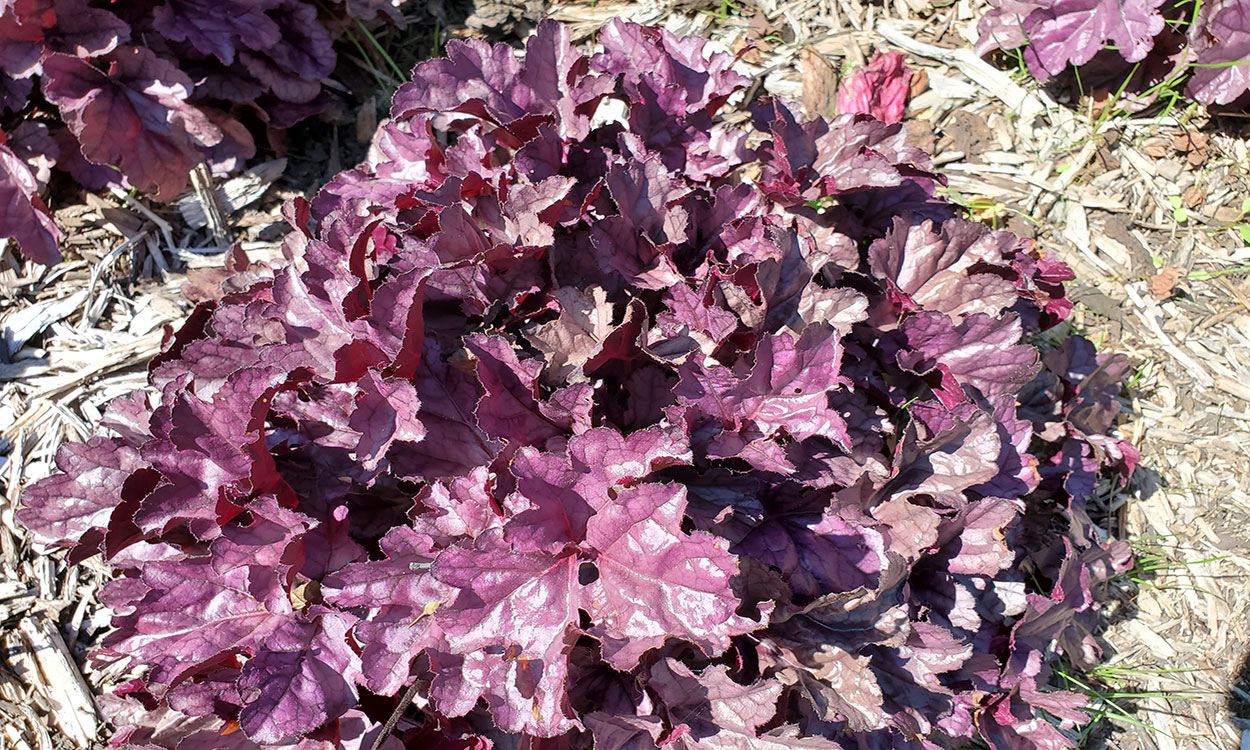 Coral bells 'Dolce® Wildberry'
As with many coral bells, the foliage outshines the flowers. The flower spikes provided some interest, but it was the multi-tone purple foliage ranging from a deep wine-red to light purple that made this plant so attractive. Throughout the season there was no signs of foliage drying up or becoming damaged, which was seen with other coral bells. The slightly ruffled foliage remained full and uniform all season long.
Bloom Time: May-July
Flower Color: Red to Purple
Height: 8.5 inches
Spread: 19 inches
Establishment Year: 2019
Additional Cultural Information
In 2021 the trial beds at McCrory Gardens were utilized to showcase and evaluate 42 perennial varieties from Proven Winners planted in a 500 square-foot trial bed. In 2019 and 2020, perennials were transplanted into the trial garden from one-gallon pots. In 2021 rainfall was 1.96 inches below average for the month of May and 3.14 inches below average for the month of June, accompanied by average to above-average temperatures. Weather in July and August turned hotter and dryer with above-average temperatures and 1.15 inches less than average rainfall in July and 1.82 inches less than average rainfall in August. Supplemental irrigating was provided at a rate of approximately 1 inch per week during the growing season. McCrory Gardens also serves as a trial site for annuals and serves as a collaborating site for national trials coordinated by All-American Selections and the American Rose Trial for Sustainability. Visit McCrory Gardens this season to see the current trials in-person!
Special thanks to Walters Gardens for providing perennial plants for this trial. Extreme gratitude to the McCrory Gardens staff, under the direction of Chris Schlenker, for caring for these plants and aiding in evaluations and data collection.