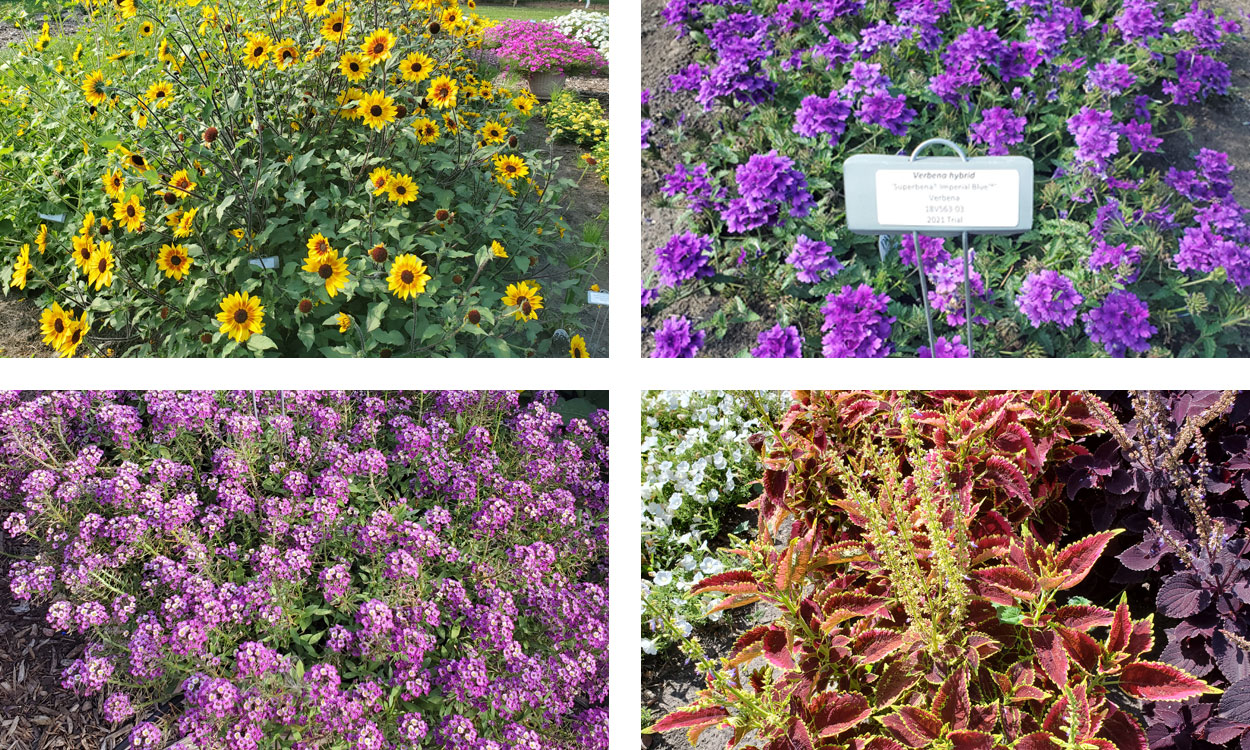 Written collaboratively by Kristine Lang, Assistant Professor and SDSU Extension Consumer Horticulture Specialist, and Chris Schlenker, McCrory Gardens Horticulture & Grounds Manager.
Are you looking for new ideas of what to grow in your garden? Let's take a look at the ten top-performing annuals as judged during the 2021 growing season at McCrory Gardens. Results feature the top six in-ground annuals and the top four container grown annuals. These plants are commercially available at many local garden centers.
Trial Summary
In 2021 the trial beds at McCrory Gardens were utilized to showcase and evaluate 48 annual varieties. Annuals were planted the last week of May in a 1,160 square-foot, full-sun trial bed with 6 plants per single row of each variety. Additionally, 16-inch diameter containers filled with soilless potting mix were planted with two annuals per pot. Prior to planting, annuals were grown from plugs in the South Dakota State University (SDSU) Greenhouse Facility. Annual plant evaluations were collected monthly and assessed health, vigor, growth habit, uniformity, bloom performance and overall appearance. The top-performing in-ground and container plants had evaluation scores equal to, or greater than 4.5 and 4.25, respectively, based on a five-point scale in the 2021 trials. Plant height and width measurements are from July 22and September 17, 2021 for containers and in-ground plants, respectively. Photos in this article were taken June-August, courtesy of Kristine Lang. Note: Container plant width measurements were measured as the spread across the entire container.
Top-Performing Annuals Grown In-ground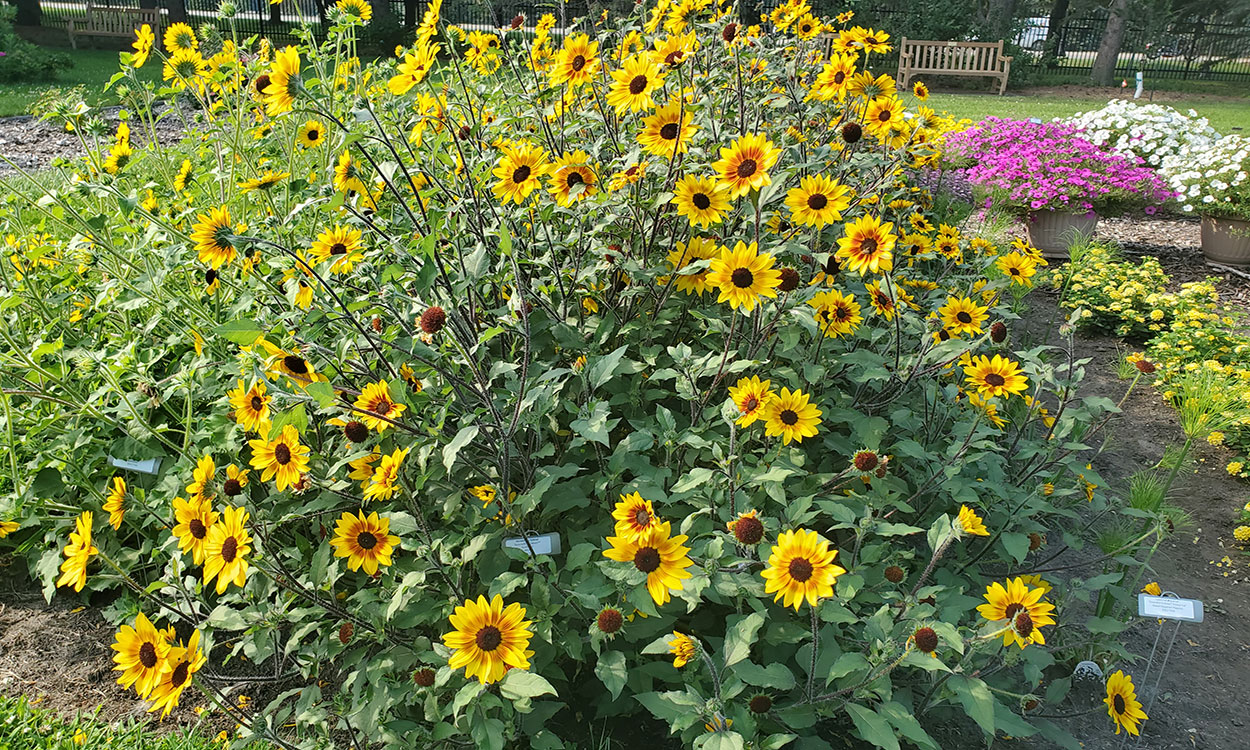 Sunflower 'Suncredible® Saturn™'
This sunflower became a beautiful mass planting, completely filling the garden space by the middle of summer. The foliage was an attractive deep-green to nearly purple, which offset the bright yellow petals that were rimmed with orange. In September, the dried seedheads remained attractive on the plant; these flowers were popular with birds and pollinators alike.
Bloom Time: June-August
Flower Color: Bright yellow and orange
Height: 50 inches
Spread: 52 inches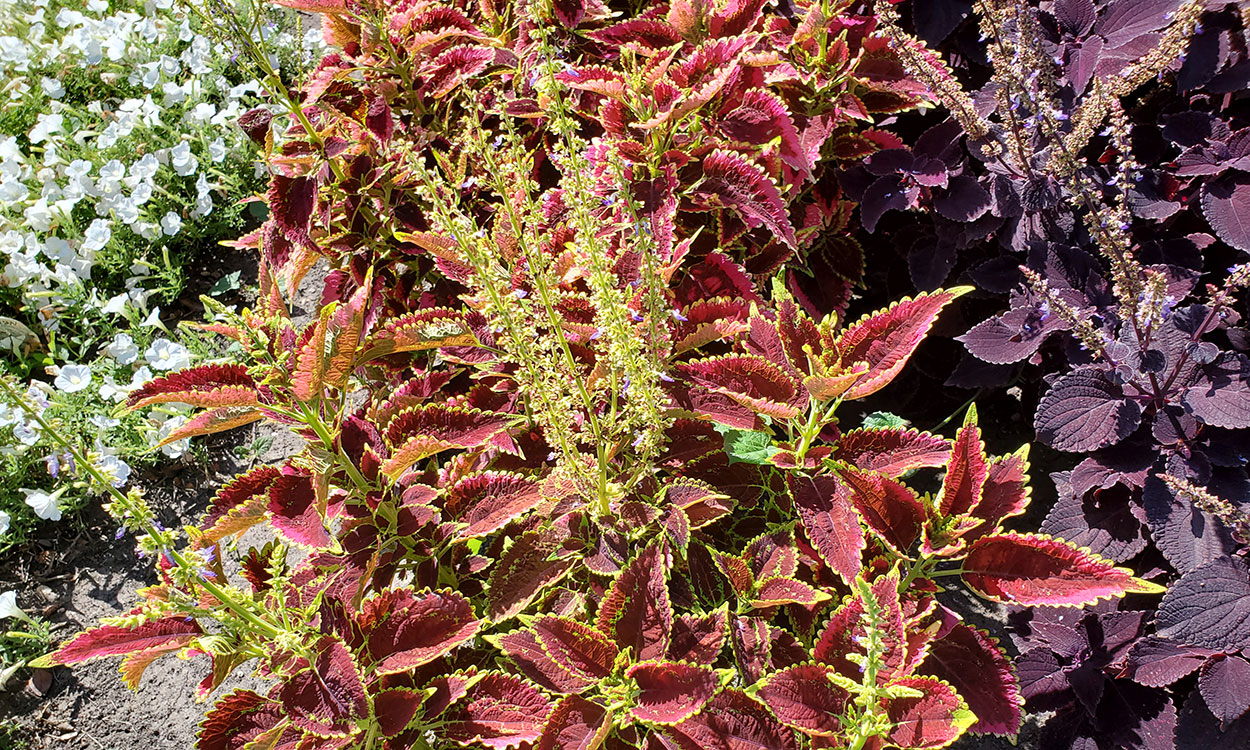 Coleus 'ColorBlaze® El Brighto'
This variegated coleus provided striking contrast in the garden all season long. The upright foliage branched readily, filling the garden space. Bright-red foliage with yellow margins softened to deeper reds, purples and lime greens later in the season as plants matured. Flowers were visible in the season, but were not the stars of the show.
Bloom Time: July-September
Flower Color: Purple
Height: 30 inches
Spread: 28 inches
Coleus 'ColorBlaze® Torchlight®'
This coleus had sturdy branching that developed through the season with noticeably larger leaves than other coleus in the trial. Deep-purple leaves were accented by bright reds and greens that held their color throughout the season. Flowers were not noticeable during the season. Both coleus top-performers were great options for a hot growing season.
Bloom Time: N/A
Flower Color: N/A
Height: 27.5 inches
Spread: 37 inches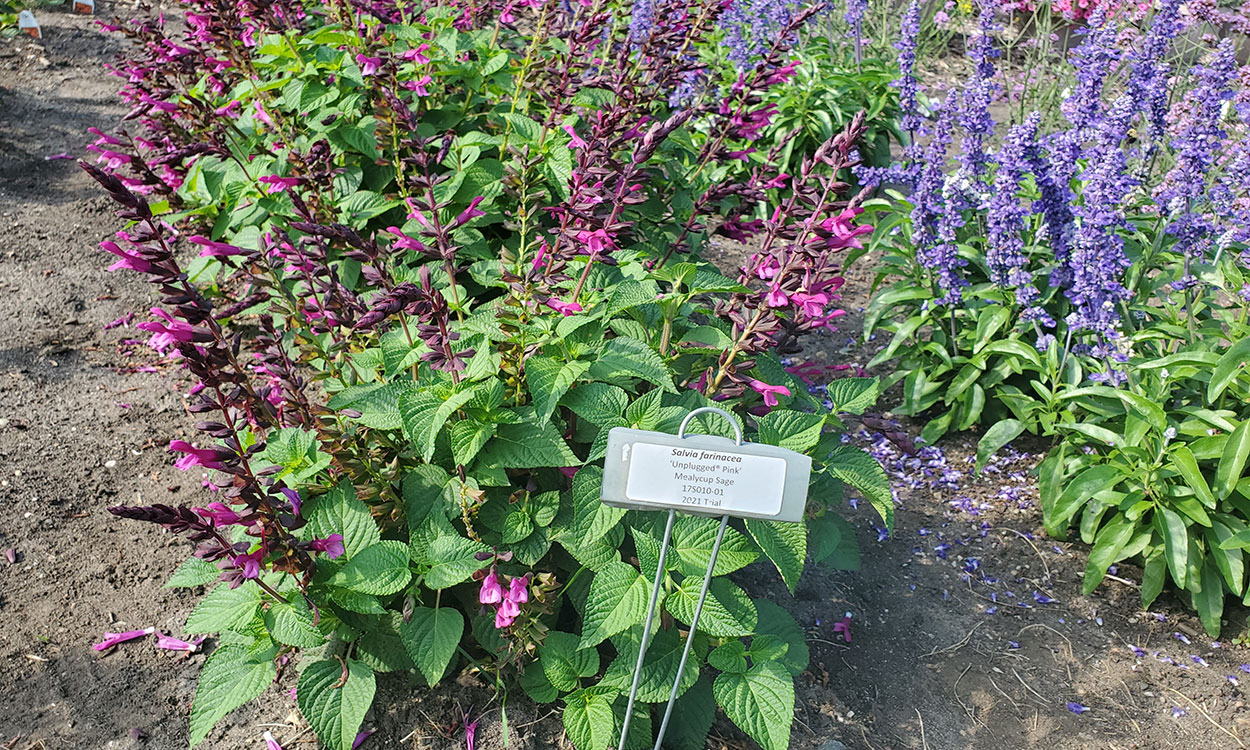 Salvia 'Unplugged® Pink'
This salvia was beloved by evaluators and pollinators alike throughout the season. The bright-pink bell-shaped flowers filled each flower stalk, and after petals dropped, deep purple calyces remained on the plant, extending the display of color. Blooms were complimented by dense foliage that had a nice, mounding growth habit.
Bloom Time: May-August
Flower Color: Bright pink
Height: 25.5 inches
Spread: 26 inches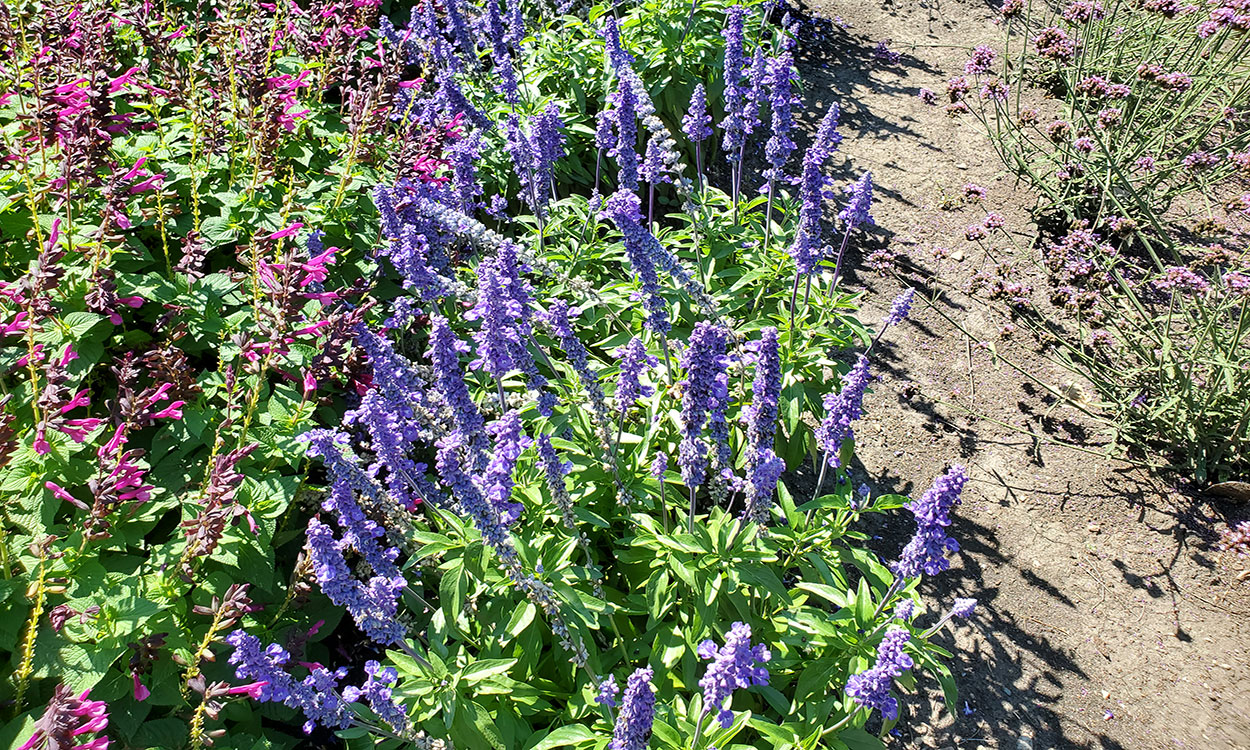 Salvia 'Unplugged® So Blue™'
Similar to its pink counterpart, this salvia was a showstopper all season long, reaching peak bloom slightly later in the growing season. Light-blue flower buds opened to reveal beautiful purple blooms from the bottom to the tip of each flower stalk. The foliage was bright-green and glossy, with sturdy upright growth that wasn't slightly less full than the other saliva.
Bloom Time: June-September
Flower Color: Lavender-Indigo
Height: 24.5 inches
Spread: 23 inches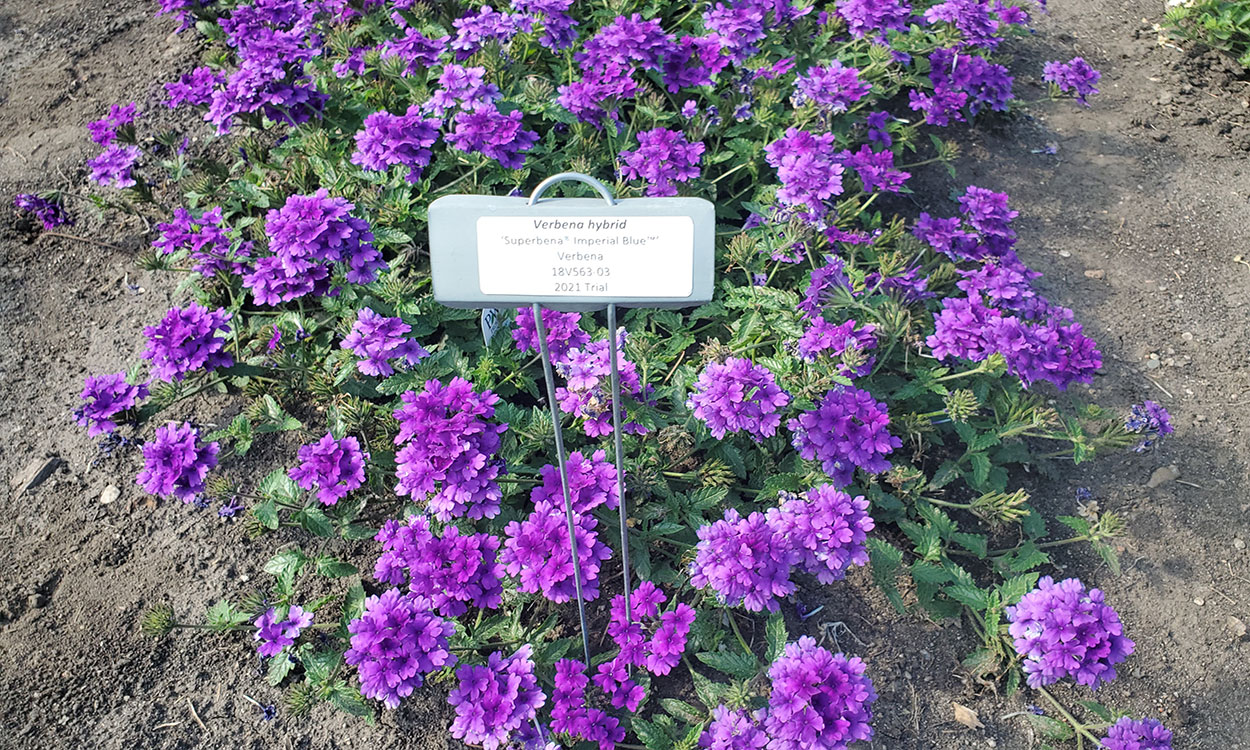 Verbena 'Superbena® Imperial Blue™'
The in-ground performance of this verbena was impressive, especially as these plants have become more popular for containers and hanging baskets. By June this plant was giving many petunias a run for their money in terms of spread and soil coverage. Deep-purple blues in multiple shades completely covered the plant by July. If you've got room to fill in the garden, this could be an excellent choice.
Bloom Time: May-August
Flower Color: Purple
Height: 10.5 inches
Spread: 44.5 inches
Top-Performing Annuals Grown in Containers
Sweet Alyssum 'Violet Knight™'
This sweet alyssum performed well in spite of an exceptionally hot summer, demonstrating the improved heat tolerance over other alyssums. By late-July, the containers were completely filled with foliage, and by end of season, the foliage was starting to gently spill over the edges. Bright blooms performed well early in the summer and a second full flush of blooms emerged again in September during cooler temperatures.
Bloom Time: May-July, September
Flower Color: Bright Violet
Height: 8.5 inches
Spread: 25 inches
Petunia 'Supertunia Vista® Bubblegum®'
This petunia demonstrated its vigorous growth by spreading quickly to fill the container, and by July the container was no longer visible under all of the leaves. This petunia had the most foliage of any container plantings. The large, bubblegum-colored flowers reached peak performance in July with ongoing secondary shows through September.
Bloom Time: May-September
Flower Color: Light pink
Height: 12.5 inches
Spread: 44 inches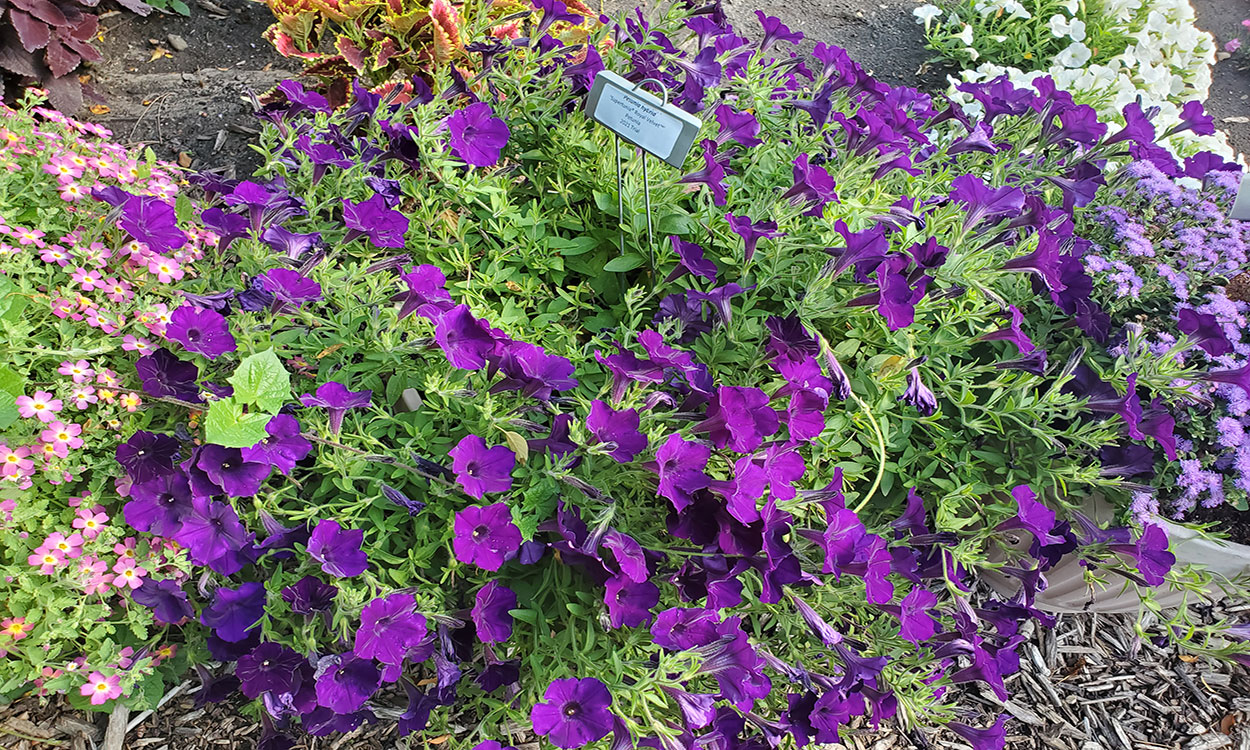 Petunia 'Supertunia® Royal Velvet'
This petunia had deep-green, attractive foliage that filled the container by June in the season, with trailing continuing throughout the season. The deep purple flowers masked the foliage almost entirely several times throughout the season. This would be a great stand-alone container planting or do well mixed with lighter-colored blooms.
Bloom Time: May-September
Flower Color: Dark purple
Height: 10.5 inches
Spread: 36 inches
Black-eyed Susan Vine 'Tangerine Slice A-Peel®'
If you're looking for a showstopper in a container and have plenty of room in your garden, this Black-eyed Susan Vine is up for the task. With a trellis in the container, the vines quickly grew up, out and all over the garden. While this plant did not play well with others, it certainly made an impression! The bright-orange blooms rimmed with yellow margins were offset by deep-green leaves throughout the entire summer.
Bloom Time: May-August
Flower Color: Orange and yellow
Height: 120 inches
Spread: 24 inches
Additional Cultural Information
In 2021 rainfall was 1.96 inches below average for the month of May and 3.14 inches below average for the month of June, accompanied by average to above-average temperatures. Weather in July and August turned hotter and dryer, with above average temperatures and 1.15 inches less than average rainfall in July and 1.82 inches less than average rainfall in August. Supplemental irrigating was provided at a rate of approximately 1 inch per week during the growing season. McCrory Gardens also serves as a trial site for perennials and serves as a collaborating site for national trials coordinated by All American Selections and the American Rose Trial for Sustainability. Visit McCrory Gardens this season to see the current trials in-person!
Special thanks to Proven Winners for providing annual plants for this trial. Extreme gratitude to the McCrory Gardens staff, under the direction of Chris Schlenker, for caring for these plants and aiding in evaluations and data collection.