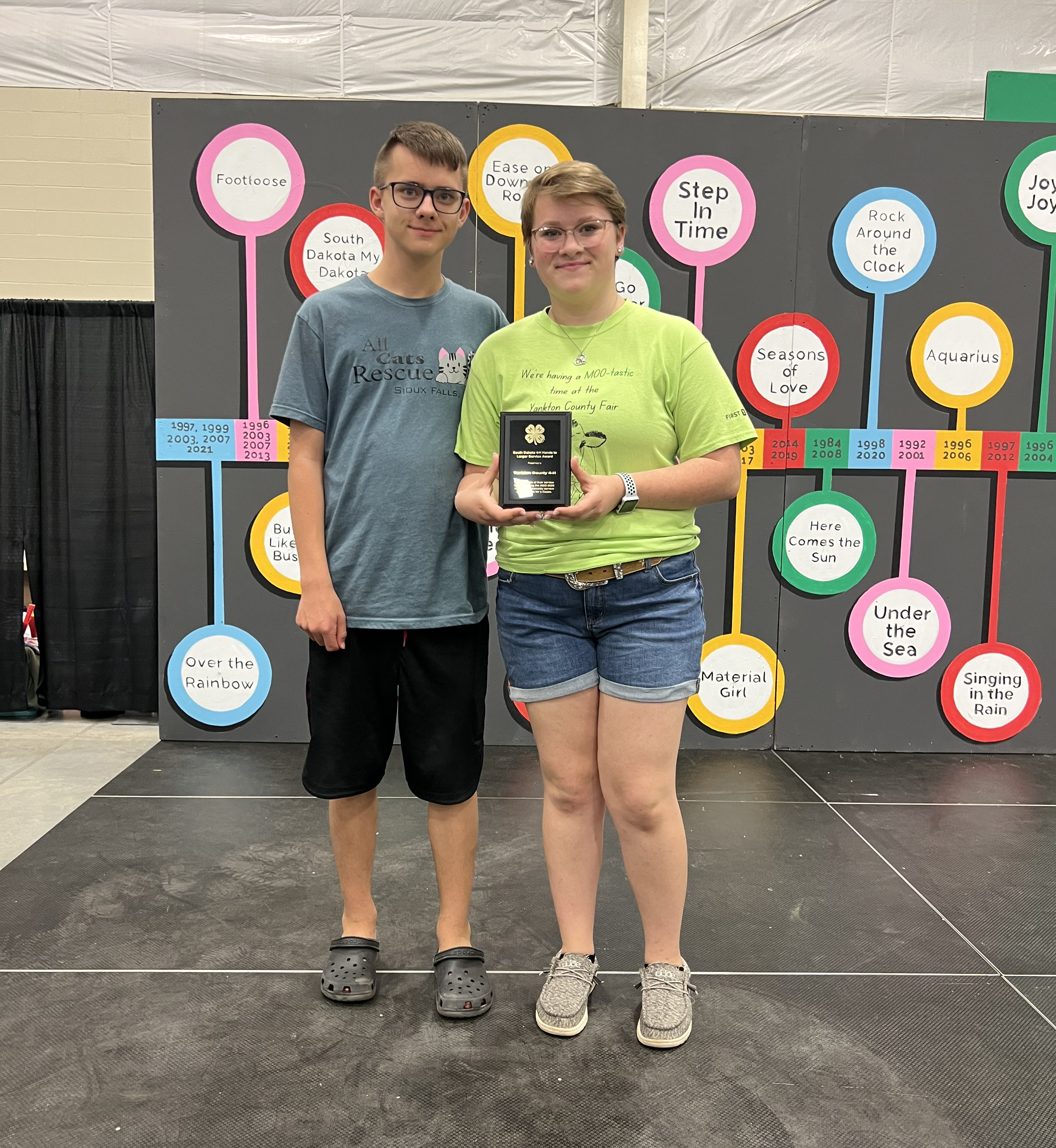 BROOKINGS, S.D. – Yankton County 4-H received the 2022-2023 SDSU Extension 4-H Youth Development Program Hands to Larger Service award based on their contributions to the statewide Paws for a Cause community service effort. 
Paws for a Cause sought to provide service and relief to South Dakota's pet shelters and care facilities. County 4-H programs competed throughout the year to receive the most service points. Each supply donated and hour served was worth one point. Each animal fostered was worth 50 points. 
SDSU Extension's 4-H program collectively provided 8,869 service points to pet shelters and care facilities across the state through supply donations, service hours at local shelters and fostering animals. The county with the largest impact receives the Hands to Larger Service award, which was presented on Sept. 3 during the 4-H Recognition Ceremony in Nordby Exhibit Hall as part of the 2023 South Dakota State Fair in Huron. 
Yankton County 4-H tallied 6,474 service points, accounting for 73% of the project impact across the state. Yankton County 4-H members Ellie and Jaxson Wagner participated in Paws for a Cause, which gave them an opportunity to continue their family's passion for animal rescues. 
Members of the Mission Hill Hillers 4-H Club and longtime supporters of the Sioux Falls Humane Society and AllCatsRescue, the Wagner family specializes in fostering and caring for feral, sick and newborn kittens. 
When they learned the statewide community service project was Paws for a Cause, they challenged themselves to do even more. They expanded their support to other shelters through making toys, donating supplies and volunteering in person. 
They work together throughout the year to provide around-the-clock care, bottle feeding and raising kittens that come to them sometimes weighing less than a pound. After eight to 10 weeks, the kittens are ready for their forever home. Ellie said working with the kittens no one else can take is one of the most rewarding parts.
"We saved that little life and now he's got a great forever family," Ellie said. "I love giving them a chance at life and knowing we did everything we could. We believe all kittens and cats should be given a chance for a loving indoor home."
Jaxson's favorites to foster are the feral kittens. He works carefully to gain their trust until they are comfortable around people. Once the kittens are ready for adoption, the Wagners work with AllCatsRescue to find the right home. 
"The kittens go from living in horrible conditions, terrified of humans, and now into loving forever homes," he said. "It's rewarding and I love when the families send us updates as the kittens grow."
Community service is a crucial life skill young people gain from being involved in 4-H. Not only does the organization teach youth how to conduct community service efforts, it also explains the impact of the service project. 
SDSU Extension 4-H implements a statewide community service project each year. The project is chosen by participants of Teen Leadership Conference, which will become SkillsX by 4-H in 2024. The idea that receives the most votes at the event is the statewide community service project for the following 4-H year. 
"If you took part in this project, take a moment to pat yourself on the back," said Hilary Risner, SDSU Extension Program Manager and Regional Youth Educator. "South Dakota 4-H youth are truly making a difference in their communities."
The 2023-'24 South Dakota 4-H statewide community service project will be announced this fall.
For more information, contact Hilary Risner, SDSU Extension Program Manager and Regional Youth Educator.