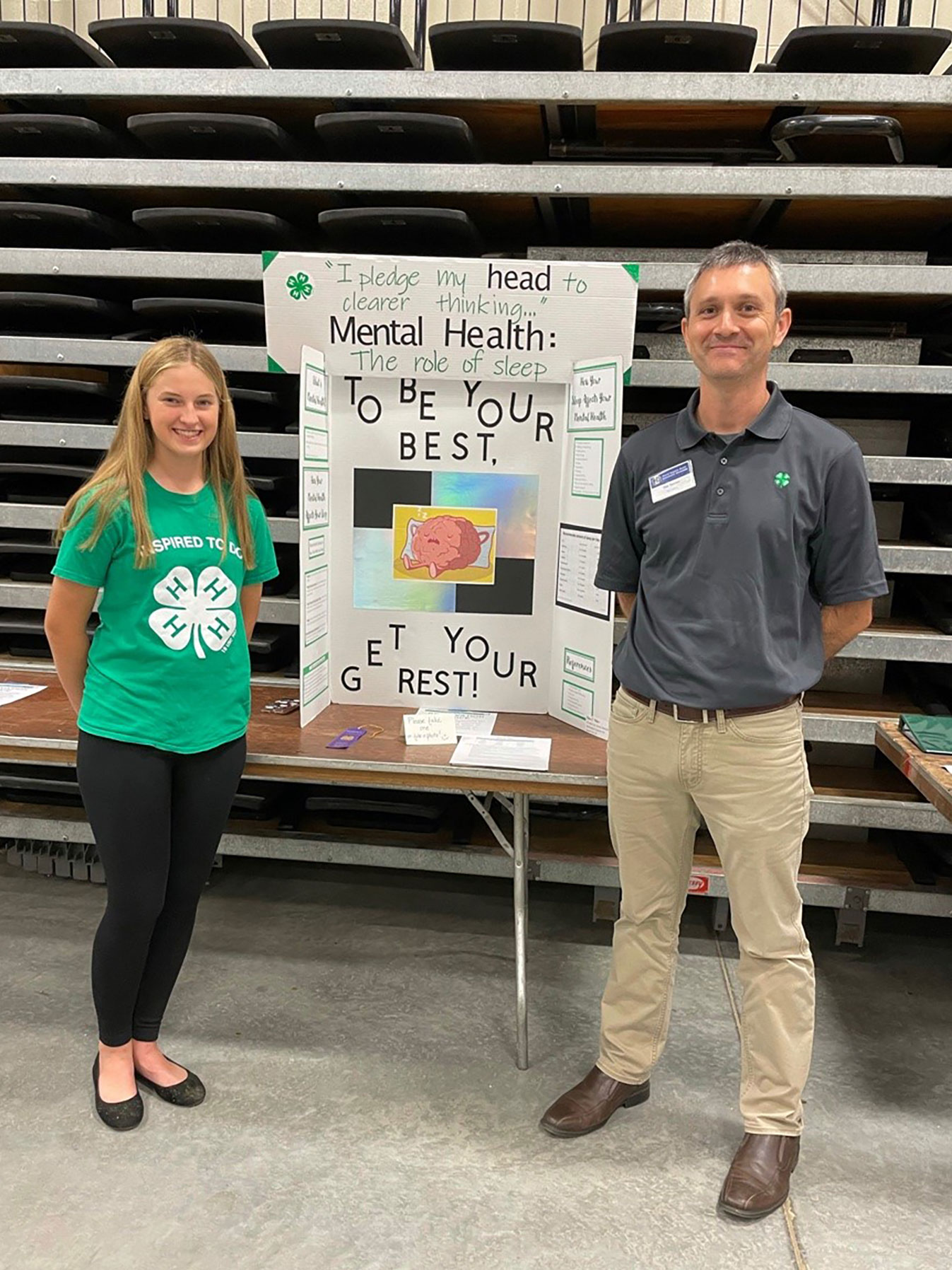 Olivia Miller now notices when her peers are struggling emotionally and physically.
"Observing the people around me, I realized just how many signs of low mental health were being shown," says the Rapid City Stevens High School freshman and eight-year South Dakota 4-H member based out of Pennington County. "Many signs are very obvious, and most people don't know they are signs of poor mental health, so people just think it is teenagers acting like teenagers."
Allison Fischer now knows how to better self-care for her own mental health. A former Codington County 4-H member and currently a freshman at Black Hills State University, Fischer says she has learned to think and look at situations more openly.
"Also, I have learned ways to calm myself when situations get stressful," she says.
Hailie Stuck has now made it her mission to stop the stigma surrounding mental health. A 10-year member of the Prairie Lassies and Clippers 4-H Club in Spink County, she credits a 4-H trip to Washington, D.C. in 2019 for igniting her efforts.
"I met like-minded youth that also struggled at times with mental health, and I made friendships with 4-H'ers across the country that were not afraid to be authentic and proudly walk as themselves," says Stuck, who is also bipolar and suffers from severe anxiety. "I learned about why there are so many stigmas about mental health disorders, and I learned how to do my part to stop those stigmas."
Stuck, Fischer and Miller have certainly done their part in raising mental health awareness across the state over the last year, as each received a purple ribbon for their Mastery Showcase exhibits at the 2021 State Fair. New this year, the Mastery Showcase is a premiere exhibit experience for non-livestock-project-oriented 4-H youth. It highlights the ability of 4-H youth to meet South Dakota's timely challenges and offers customized projects of significant merit.
According to South Dakota 4-H Program Director Tim Tanner, South Dakota 4-H has made significant strides in recent years to enhance 'youth voice' opportunities for older youth, with the 4-H Ambassadors and Legislature programs. The next statewide initiative is to strengthen 'youth mastery' opportunities so youth are challenged throughout the entirety of their 4-H careers.
"Who do teens learn from? Parents, 4-H supporters, teachers? Certainly. But as the subject matter grows more difficult or stigmatized, research tells us teens prefer to learn from their peers," Tanner says. "Today, seven in 10 teens are struggling with their mental health. In their local communities, these young ladies are helping peers navigate this ever-present disease with simple messaging, such as get good sleep, be mindful each day and seek holistic, long-term solutions rather than quick fixes. It is a privilege to see these timely messages shared more broadly thanks to the State Fair's 4-H Mastery Showcase."
Miller says she decided to enter the new contest to challenge herself.
"I have been in 4-H for a long time, and I wanted to try something new and set an example for other kids who didn't want to be the first," she says. "I decided to do a project in mental health awareness because a lot of teenagers in my generation struggle with mental health, and I know several teens who struggle a lot with various mental health challenges."
Her project focused on how sleep affects mental health and vice versa, and it involved many hours researching and observing people at her school and in the community.
"I learned a lot about how mental health is affected by sleep, but also how your mental health is affected by life in general," Miller says. "My biggest challenge during this project was finding information that was completely accurate. So many people think they know everything there is to know about themselves, but most don't realize how many things can affect their mental health, or how seriously. I really had to search for sources that agreed on everything so that I knew it was true."
Fischer's project was dedicated to mindfulness and the importance of being mindful in modern times. Nervous at first about the project because there are so many topics within mental health, Fischer says by the end, she realized no matter the specific subject matter, mental health is just as important as physical health.
"I learned a lot about myself and how to be mindful in my own life, as well as how to help others when they are struggling," Fischer says. "Because of this project, I was able to help others learn about having an open mind to help with stress and anxiety."
 
"I am successful and well-rounded due largely to the South Dakota 4-H program."
— Hailie Stuck, Spink County 4-H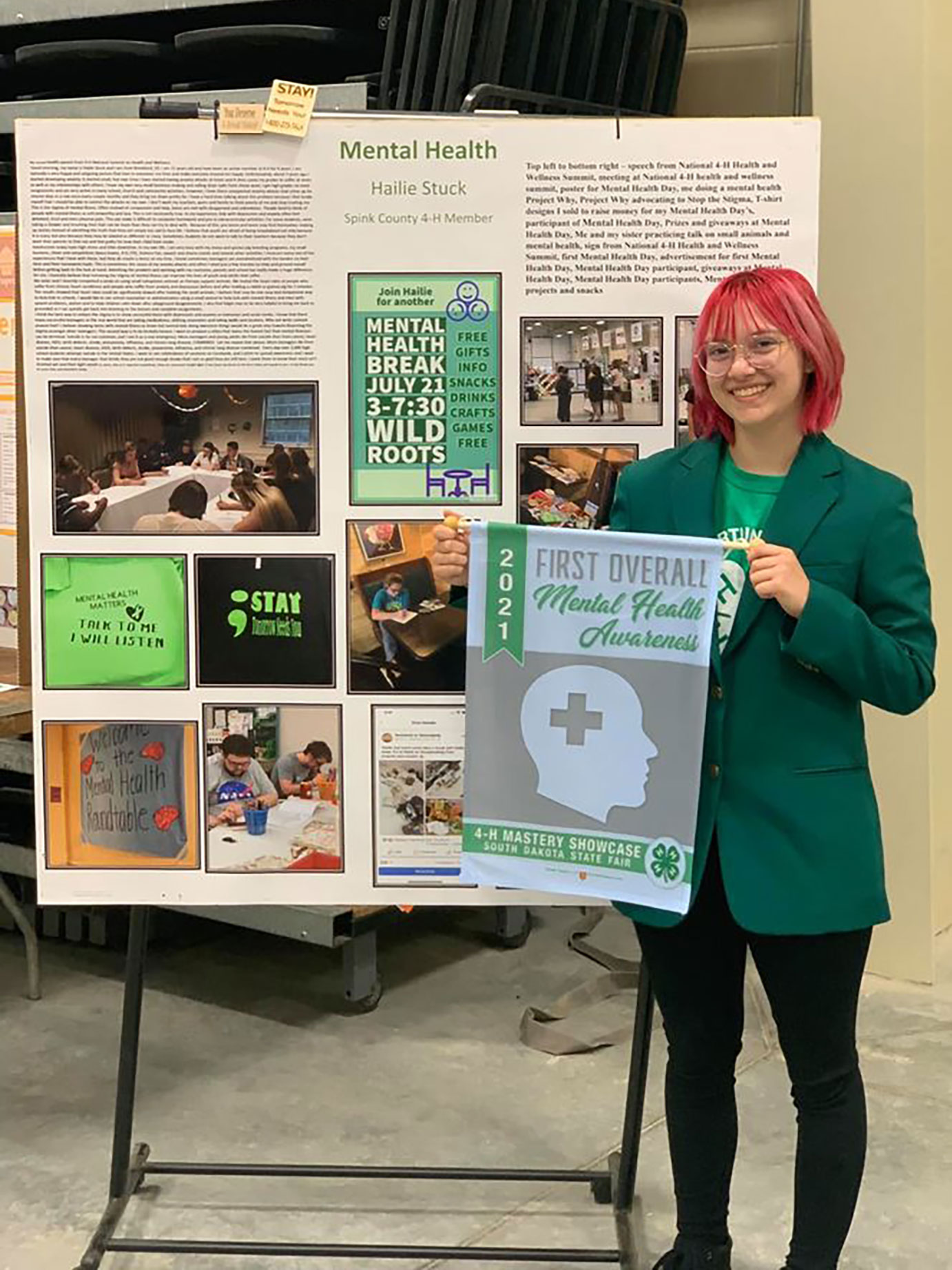 After Stuck returned from D.C., she immediately set out to do something for Mental Health Awareness month in May. She designed three t-shirts, which her mom helped make, and then sold them for $12. From the $5 profit from each order, Stuck then made shirts, journals and bags to donate to Avera St. Luke's Mental Health Unit in Aberdeen. She also designed kudos cards and bags to give to counselors, pastors, school staff and therapists that work with mental health awareness.
"I was so happy to have distributed over 100 shirts and as many free bags, cups, journals and shirts as I could afford. Over time, people would tell me how they were wearing the shirt they bought from me, and someone came up to them to talk about mental health or thank them for bringing awareness to a tough topic," Stuck says. "We had mothers of suicide losses, teenagers that needed someone to talk to, and many survivors that commented on the shirts. Over two years later, I still hear back from people once in a while about how the shirts made a difference to someone."
After that, Stuck made mental health a theme in her 4-H ambassadorship. She attended the National 4-H Health and Wellness Summit and came back and wrote a grant request to start hosting Mental Health Break Days. While Stuck provided the venue, snacks, drinks, prizes, crafts and information about counseling, crisis plans and other mental health resources, she says it really is a day for people to "come and spend time just hanging out without stress or worry and enjoy a non-judgmental environment."
All three 4-H'ers say they are glad they took the challenge and entered the Mastery Showcase competition to present on a very important topic.
"I would encourage people who already do public presentations in 4-H to enter the Master Showcase competition, and also youth who are interested in learning more and making a difference about a topic to enter," Fischer says. "This competition opened my eyes to a new and more-challenging way to express myself."
While Miller's key takeaway — get plenty of sleep — from the project was short and sweet, she hopes it resonated with the South Dakotans that passed by her exhibit at the state fair.
"The title on my board said it all so that even if someone just passed by my board, they got the message – to do your best, get your rest!" Miller says. "In the immediate future I plan to present my project to youth in my community and in 4-H, and hopefully the word will spread outside of just who I present to. I hope to share it on social media at some point, too, so it gets out to more teens, specifically."
Stuck says she is currently taking Integrative Behavioral Health Certificate classes through Western Dakota Tech because of 4-H.
"During the COVID shutdowns, I was a certified nursing assistant (CNA) at the Eastern Star Home in Redfield. I did school virtually during the worst times at the home so I could focus my time on the residents," Stuck says. "Losing so many residents during November of 2020 proved too much for my own mental health. Because of my work with stopping the stigma, I knew that I needed to find another way to help people outside of a residential setting. I am now pursuing holistic wellness and behavioral health."
Stuck credits leaders at the local and state 4-H level for helping her overcome her fears and supporting her through her own mental health challenges.
"I am successful and well-rounded due largely to the South Dakota 4-H program," Stuck says. "I have helped build the companion animal project area, because I care so much about kids getting to show an animal, and also about all different kinds of animals being emotional support animals for mental health. I will continue to hold Mental Health Breaks at least twice every year, and I will continue to hand out information and items that will stop the stigma."