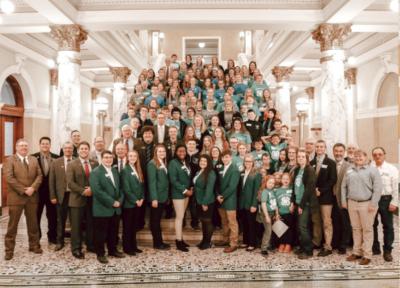 BROOKINGS, S.D. - More than 160 4-H members and supporters from across South Dakota joined together for the inaugural South Dakota 4-H Capitol Day in Pierre on January 15. The civic engagement event provided a unique experiential learning opportunity for 4-H members to build skills as young leaders, as well as learn about the state government. 
"South Dakota 4-H Capitol Day allowed youth to learn about civic engagement and governmental processes by giving them an inside look," said Hannah Frost, State 4-H Leadership Ambassador from Minnehaha County. "I truly believe that most people do not understand what goes on in the Capitol until they see it for themselves. 4-H experiences like these teach youth about how our state government functions and what it can do for the people of South Dakota."
Attendees participated in round-table discussions with legislators, allowing them to gain a better understanding of the work done by elected officials. Other experiences included Capitol building tours, House and Senate floor observations, scavenger hunts, 4-H promotion and more.
The State 4-H Ambassadors were also provided the opportunity to shadow State Legislators for the day, allowing them to gain additional context about the important role that state government officials fulfill.
"The generosity shown by our legislative officials was incredible. By embodying a servant leadership ethic, they connected the dots between citizenship and leadership for our aspiring 4-H leaders."
— Timothy Tanner, State 4-H Program Director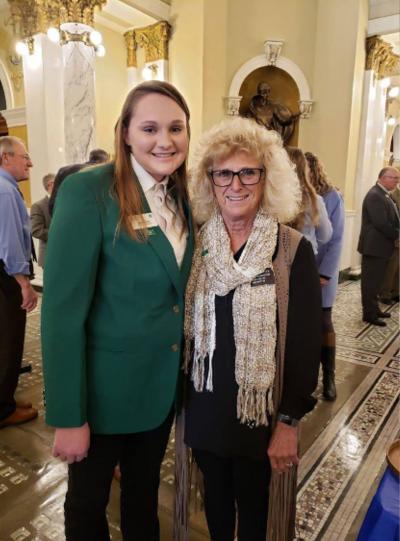 According to a 2019 National 4-H Alumni Survey conducted by Edge Research, 4-H alumni are 20% more comfortable in a leadership role and 25% more active in their communities than their non-4-H peers.
"Events like the 4-H Capitol Day play a large role in developing these life-long attributes among 4-H members," Tanner said.
Coordinators of the 4-H Capitol Day were: Caroline Hansen, SDSU Extension 4-H Youth Program Advisor in Hanson and Davison Counties; Jenae Hansen, SDSU Extension 4-H Volunteer Field Specialist; Amber Erickson, SDSU Extension 4-H Youth Development Field Operations Coordinator; and Hilary Risner, SDSU Extension Regional 4-H Youth Program Advisor.
To learn more about this event or if interested in participating in the future, contact Amber Erickson at 605.688.4167 or by email.
About South Dakota 4-H
SDSU Extension's 4-H Youth Development Program is a partnership of federal (USDA), state land-grant university and county resources through youth outreach activities. Youth learn about and experience leadership, health and wellness, science and agriculture through a network of professional staff and volunteers reaching more than 9,000 enrolled members with yearly programming efforts extended to an additional 35,000 youth participants.