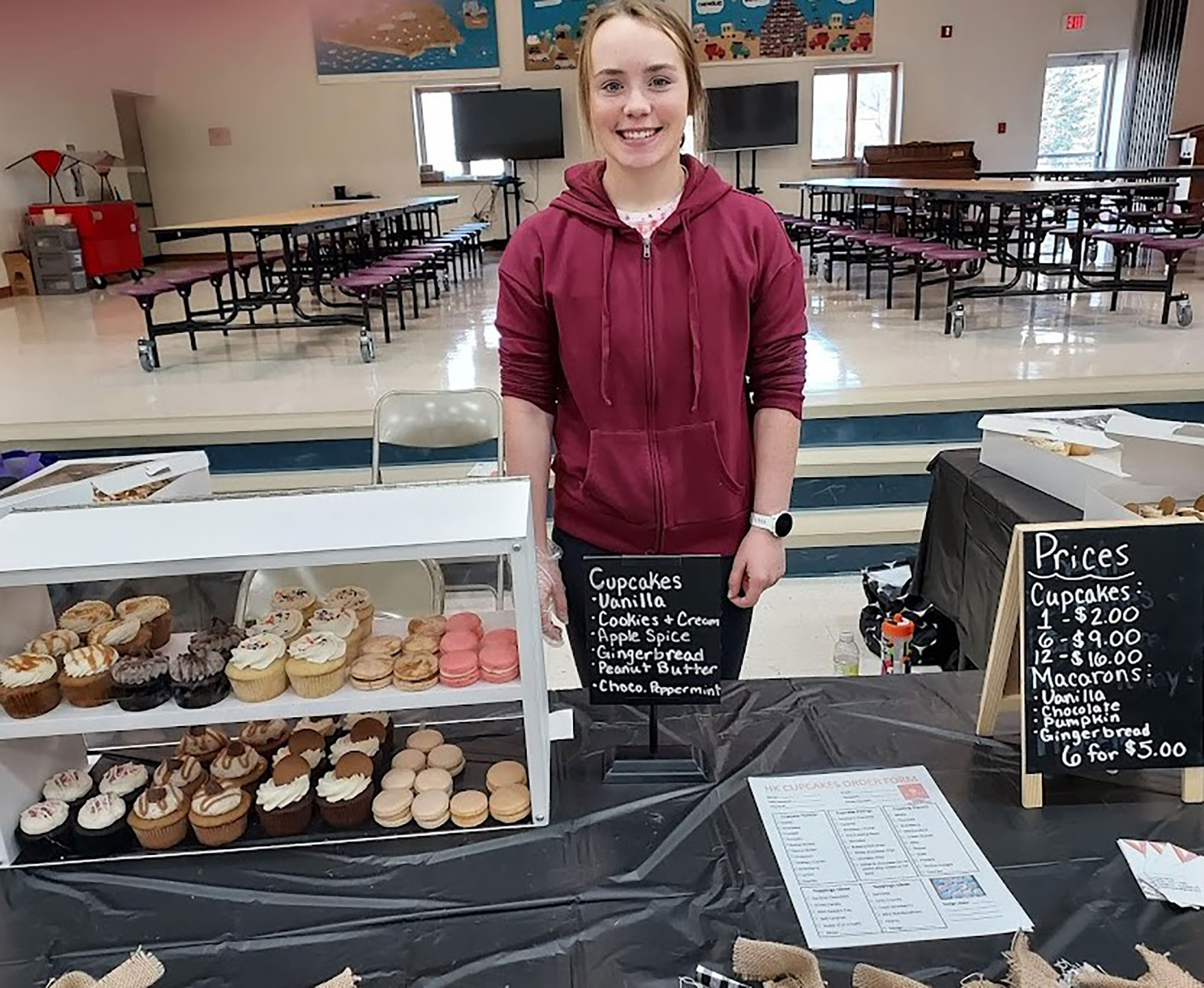 BROOKINGS, S.D. - Baking and binge-watching baking shows has always been a hobby for Hope Karels. It wasn't until two years ago that the Grant County 4-H'er felt the urge to perfect her cupcake confectionary skills.
"I always loved to watch baking shows when I was younger, and I suddenly just wanted to frost cupcakes," says Karels. "I was surprised to find out that baking was a lot of science. I was challenged by temperatures during the summer. Frosting is very picky, and I had to always be cautious of it."
Cautiousness turned to cleverness as Karels not only mastered her hobby, but also decided to build a business out of it.
"The community has been very supportive to buy my cupcakes at the weekly farmer's market in Milbank," Karels says. "Just recently I have started a Facebook page, HK Cupcakes."
That ingenuity also led Karels to a purple ribbon for her Mastery Showcase exhibit at the 2021 State Fair. New this year, the Mastery Showcase is a premiere exhibit experience for non-livestock-project-oriented 4-H youth. It highlights the ability of 4-H youth to meet South Dakota's timely challenges and offers customized projects of significant merit.
According to South Dakota 4-H Program Director Tim Tanner, while South Dakota 4-H has made significant strides in recent years to enhance 'youth voice' opportunities for older youth, this initiative strengthens 'youth mastery' opportunities and challenges them throughout the entirety of their 4-H careers.
"Hope is growing a small business that fills a (tasty!) need in her community, while building important workforce skills."
— Tim Tanner, South Dakota 4-H Program Director
"I love watching 4-H youth take their project interests to the next level," says Tanner. "In this case, Hope is growing a small business that fills a (tasty!) need in her community, while building important workforce skills."
Currently a sophomore at Milbank High School, Karels has been involved in 4-H since the age of 5 as a Cloverbud. Her activities include showing dairy, participating in the Special Foods Contest, Consumer Decision Making Judging and Fashion Revue. In school, she is actively involved in band, choir, theater, track, tennis and the swim team, and in her free time, she enjoys cooking, crafting and painting.
While the young entrepreneur is involved in many extracurricular activities, she gives credit to the Mastery Showcase project for narrowing down her future career aspirations. She encourages 4-H'ers across the state to consider entering the Master Showcase competition.
"This project is a great way to share about a career you are interested in. I learned information about pricing items and business expenses just by researching online," Karels says. "I would encourage South Dakota 4-H youth to enter in this competition, because I learned a lot from the person I interviewed. I was surprised to hear that, even though she is a partial owner in the bakery, she never went to college for business or culinary school. My plans for the future are to first go to college for business, and then I would like to own a bakery following college."
For more information on how to get youth involved in next year's Mastery Showcase competition, please contact your county 4-H office or the state 4-H office at sdsu.4h@sdstate.edu.