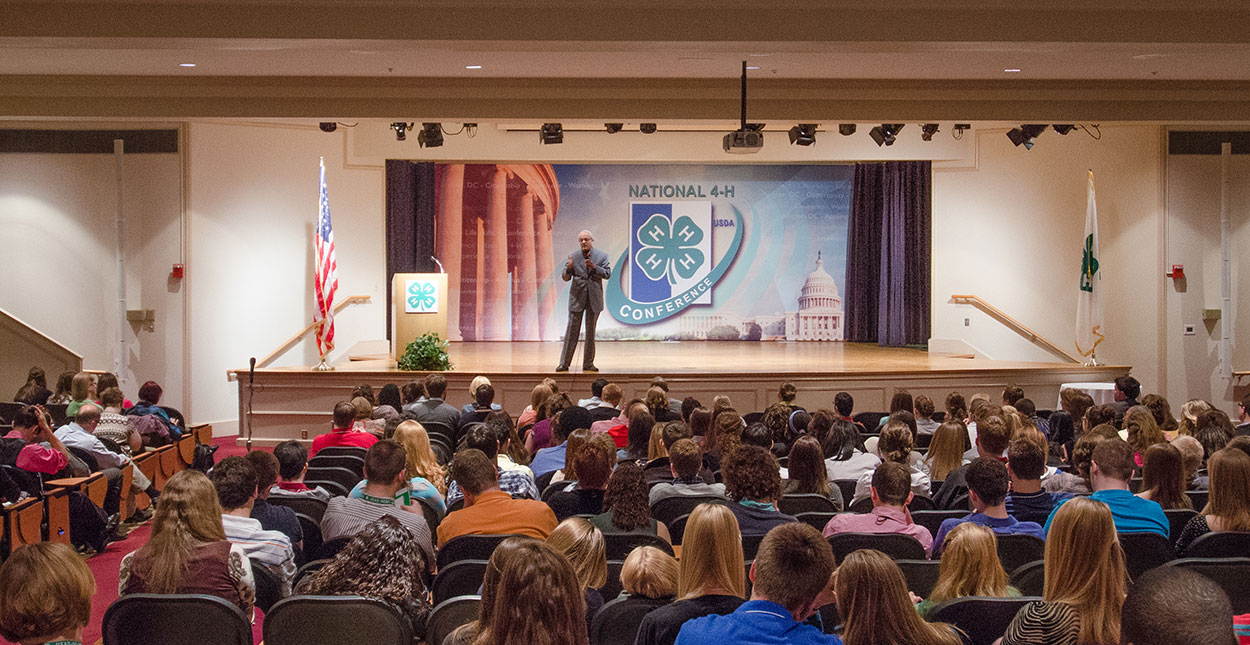 Members of the South Dakota 4-H Youth Program have the opportunity to apply for the National 4-H Conference scheduled for April 14-19, 2023, at the Hyatt Regency Crystal City in Arlington, Virginia. 
The National 4 H Conference is the pinnacle experience in 4 H civic engagement, providing the opportunity for young people to connect, learn, engage, lead and impact their communities, nation and world. At the conference, delegates will have the opportunity to have round table discussions and present to federal partner agencies. In addition, youth will take part in Youth Career Fair exhibitions, live "cool job" panels, community service, special events, assemblies and much more.
This experience has been a tradition for 4-H members since 1927. In 1958, the event name, formerly known as the National 4-H Club Camp, was changed to the National 4-H Conference. Prior to 1959, delegates slept in tents on the grounds of the National Mall in front of the U.S. Department of Agriculture (USDA) in Washington, D.C. In 1959, the meeting moved from the National Mall to the newly founded National 4-H Center in Chevy Chase, MD (right outside of Washington, D.C.).
Who can apply?
4-H youth who are 16 to 18 years old by the date of the event may apply. Applicants should complete the trip application and return it to their local 4-H youth program advisor. Upon approval, the 4-H youth program advisor will submit the signed application, via email or USPS mail, to the State 4-H Office by February 24, 2023. A designated committee of 4-H Youth Development professionals and/or previous trip participants will review applications and notify the youth who are selected to attend the conference as a delegate. Use the button below to view the application and apply today!
What does it cost?
The price to attend National 4-H Conference will be determined when the registration fee has been announced and the number of youth attending from South Dakota has been determined. The potential cost for four youth to attend is $3,300 per youth. Participants are responsible for the entire cost of the trip.
Additional information, including registration information, federal briefing topics and the code of conduct forms are forthcoming. More information can be found on the National 4-H Conference website.
2023 Roundtable Topics
National Service – AmeriCorps 
Paying for College – Consumer Financial Protection Bureau 
Campaign to Prevent Food Waste – Environmental Protection Agency 
Intergenerational Collaboration for Environmental Justice – Council on Environmental Quality 
4-H – House of Representatives 
Accurate and Inclusive History Education – National Museum of American History 
4-H – Senate 
Inclusive Internships – Smithsonian Institution 
Youth Leadership – U.S. Agency for International Development 
ASCEND for Better Health – U.S. Department of Agriculture
Military-Connected Youth – U.S. Department of Defense 
Ensuring Access and Success in Career Pathways – U.S. Department of Education 
Public Engagement – U.S. Department of Energy 
Social Media, Connectedness, and Health Impact – Substance Abuse and Mental Health Services Administration 
Economic Justice and Asset Building – U.S. Department of Housing and Urban Development 
Safe Communities – U.S. Department of Justice 
Reentry and Youth – U.S. Department of Labor 
International Exchanges – U.S. Department of State 
Mobility Safety Across the Country – U.S. Department of Transportation