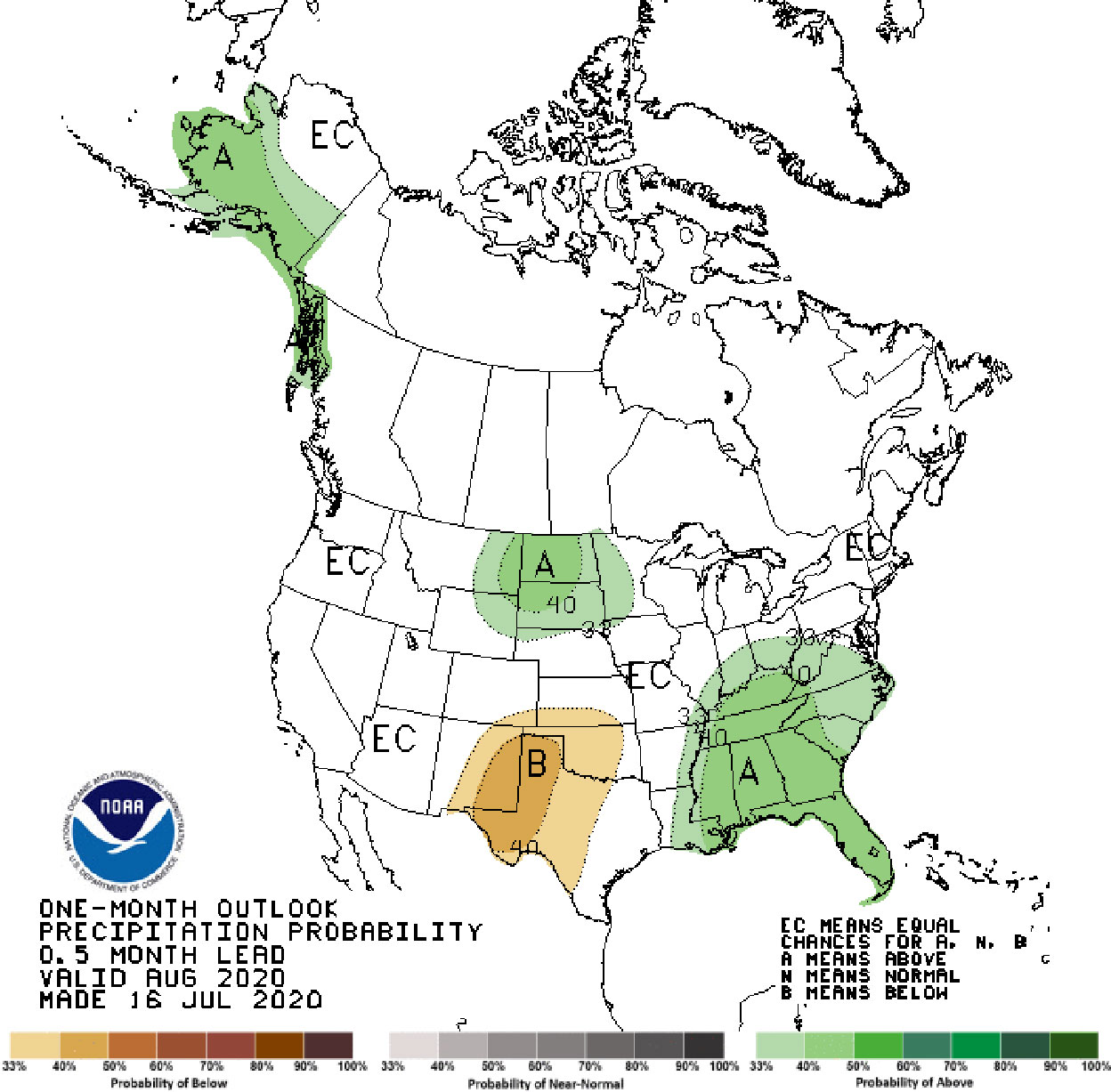 Drought concerns in South Dakota may be relieved later this summer, according to the NOAA Climate Prediction Center's seasonal outlook released this week.
Climate computer models are showing that wetter than average conditions are more likely than drier or near average rainfall in August. This could help improve dry and drought areas across the Northern Plains region as we approach late summer season.
The outlook for temperature in the month ahead is less certain. There is high confidence that the end of July will be warmer than average, but afterwards there are mixed signals in the climate models for the month of August. Looking further ahead into early fall, there is a possibility that warmer temperatures could return to the region.
Emerging drought has risen in the corners of the state. Initially, the northwest area was the first to experience drought conditions, but recent rains have improved the fields and water supply in the region. The southwest, however has been holding on to moderate drought conditions, according to the U.S. Drought Monitor. Local range conditions have been worse than typical for this time of year, and precipitation has been spotty in the last month.
The eastern part of the state has enjoyed favorable climate so far this season, as compared to the last couple of very wet years. Despite borderline dry and drought concerns currently, the precipitation outlook favors wetter than average in August and into early fall, and soybeans could especially benefit during the flowering and pod-filling stage.
In pastures and hay areas, drought has had uneven impacts. Some areas had large reductions in yield in their first cutting. Recent rains have helped with short term green-up and have improved quality in areas that were dry earlier in the season. The southwest appears to be the hardest hit so far, with continued dry conditions that will likely affect yields and quality in non-irrigated areas.
Since July 1, there has been a relatively active period of severe weather. For the season overall, however, severe weather (hail, tornadoes and high winds) has occurred less often than average. For example, only 13 tornadoes have been reported in 2020, compared to an average of over 20 by this time of year.
Keep in mind, however, July and August can still bring severe weather. Large hail is one of those concerns, as we approach the 10th anniversary of the record-setting Vivian hail stone on July 23. That hail stone measured eight inches across and weighed almost two pounds by the time it was measured for the official record books. It is advised to continue to watch daily weather forecasts for the possibility of severe weather as we round out this summer season.