A rare, third consecutive year with La Niña conditions is coming to an end soon, but not without bringing its trademark cold temperatures in early February.
This winter's climate has been different than the last two winter seasons, even though La Niña has been active throughout the last three years. One common factor, however, has been colder-than-average temperatures in the month of February in both 2021 and 2022. The long-term outlook points to a repeat again in 2023.
Seasonal Outlook
The temperature and precipitation outlooks for February through April were released by NOAA's Climate Prediction Center on January 19.
Temperature
For South Dakota and the northwestern states, chances are increased for a colder than average February and early spring season. This is consistent with La Niña winter events of the past, which have often been colder than average in this region.
February is the month of the winter with the strongest correlation between La Niña and colder temperatures than average.
Precipitation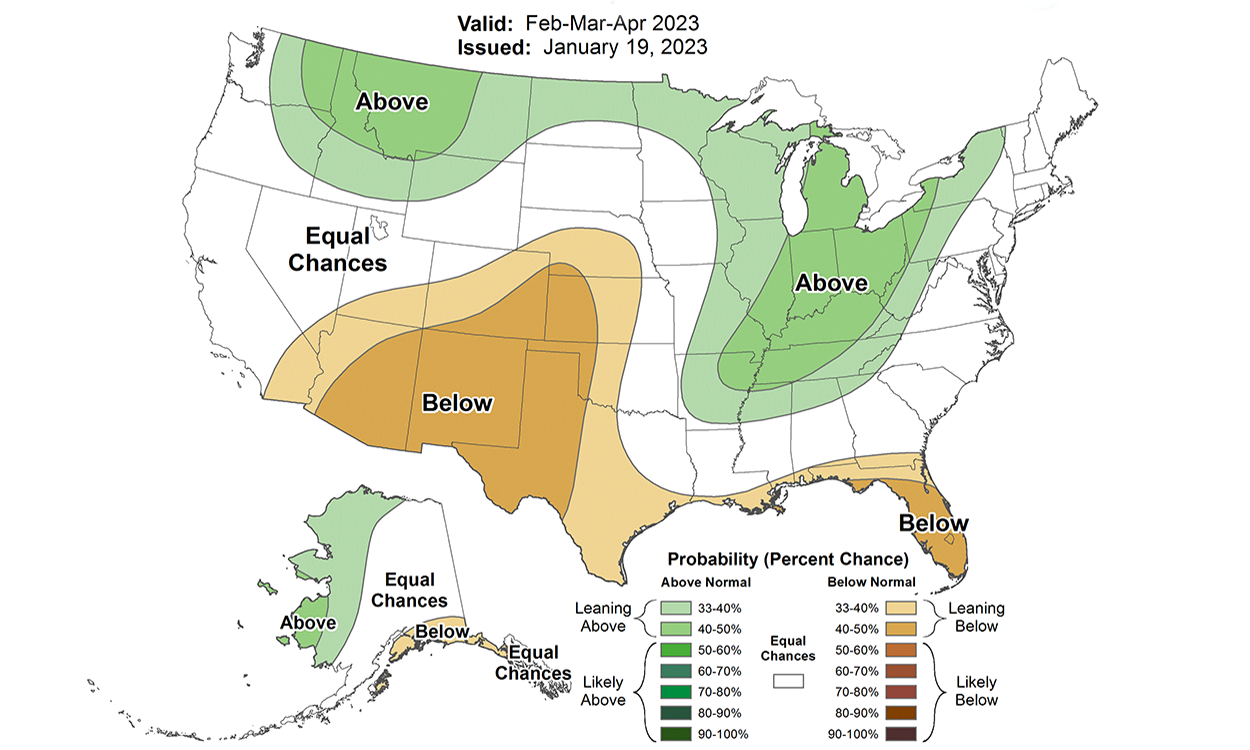 Precipitation, both snowfall and total moisture, are not well correlated to La Niña, nor El Niño for that matter. The last two winters with La Niña conditions have been dry and contributed to a multi-year drought across the Northern Plains. This winter has seen dry conditions re-develop in western South Dakota, northeastern Wyoming and the plains of Montana. The eastern Dakotas and northern Nebraska, however, have been much wetter than average, both in snowfall and total moisture.
The outlook for the next three months does not show a clear pattern towards either wet or dry conditions for some parts of our region, yet follows in line with historical late-winter La Niña patterns for the country overall. The northern Rockies and Ohio River valley are favored to be wetter than average over the next few months. Much of the United States southwest, southern plains and Gulf Coast are favored to be drier than average. In the middle lies South Dakota, and much of neighboring Wyoming, Minnesota and Iowa, with equal chances of wetter, drier or near-normal precipitation in the next three months.
Northern Plains Snowpack
Good news lies in the snowpack across the region. Across North Dakota, central and eastern South Dakota, and central to northeastern Nebraska sits many inches of snow, more than twice as much as normal, and two to six inches of water in the snowpack. For an area that has suffered through drought for the much of the last two to three years, this snowpack will bring much-needed moisture to the soils and runoff for our next growing season. This moisture will help get row crops, alfalfa, hay and pastures off to a good start when soils thaw and snow melts.
For livestock operations in the areas with deep snow cover, this could mean muddy pens and substantial amounts of snow that need to be moved. Spring calving, lambing and kidding could be muddy and messy. Spring snowmelt could lead to some standing water in fields and yards and flooding as well. A rain-on-snow event could generate rapid melt and flooding conditions, even with underlying dry soils.
Beyond April
In late spring and summer there is much uncertainty in the precipitation outlook. As La Nina fades in March and April, there remains little in the global climate pattern to help us with a seasonal outlook. The transition from wintertime cold fronts to summertime thunderstorms is one of most-difficult seasons for climate forecasters.
One trend that has been noted in the summer outlooks is a movement towards warmer-than-average temperatures. The months of May through July are favored to be warmer-than-average for nearly all of the lower 48 states, with the exception of the northern states from Montana to the upper peninsula of Michigan. This points to a little warmth to make up for the early-season cooler temperatures that could slow down the start to our growing season.
Short-term forecast
No matter where you are in the region, some extreme cold temperatures are forecast for early February, so it is advised to consider preparations for livestock health during this time. The National Weather Service's Cold Advisory for Newborn Livestock and the South Dakota Mesonet's Livestock Stress Tool are two examples of resources that can assist with weather forecast details for days in advance of cold weather conditions.