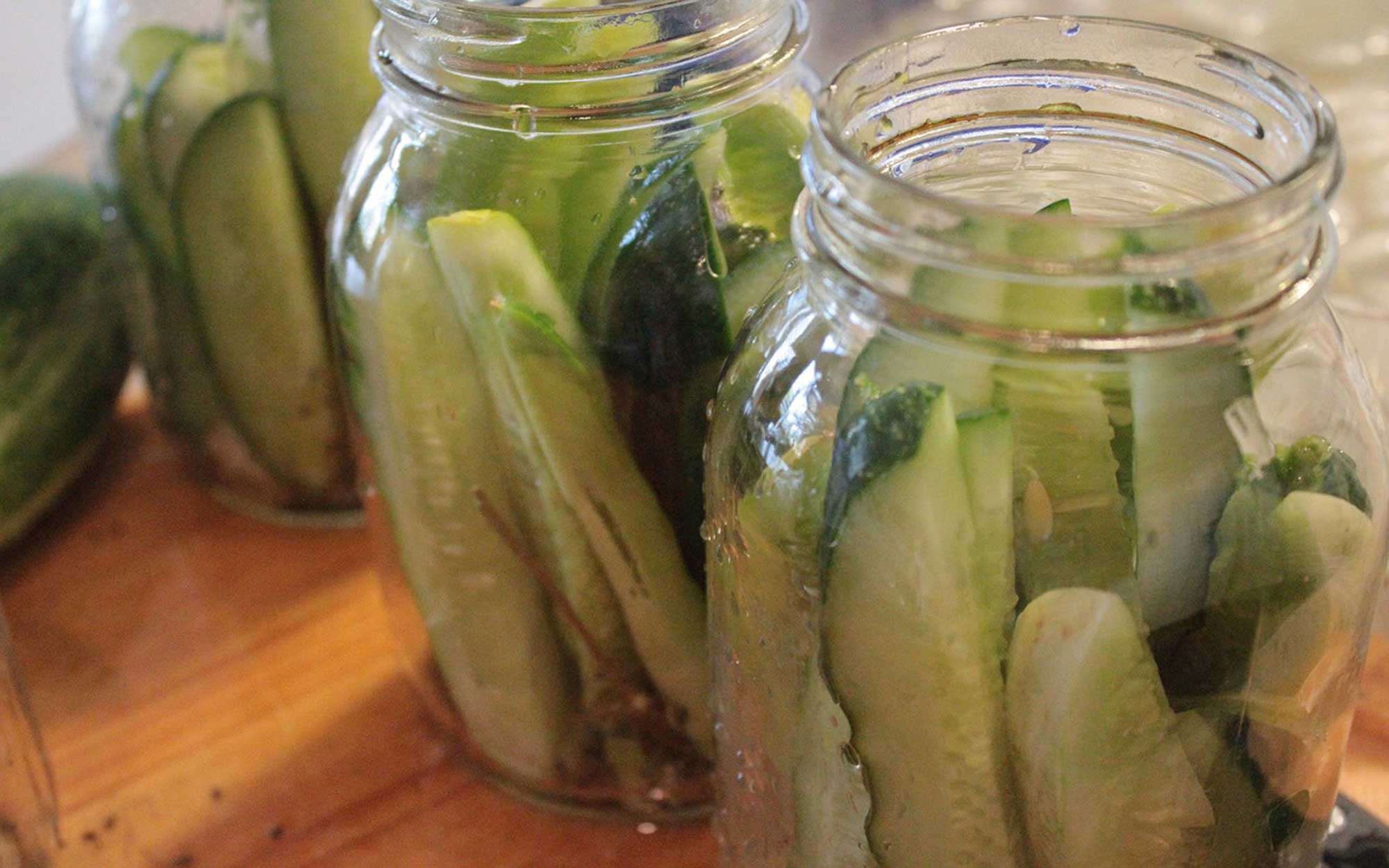 Originally shared by Megan Erickson, former SDSU Extension Nutrition Field Specialist.
Try this research-tested recipe for homemade dill pickles courtesy of the National Center for Home Food Preservation.
Ingredients
8 pounds, Pickling cucumbers (3-to-5 inch)
2 gallons, Water
1 ¼ cups, Canning or pickling salt
1 ½ quarts, Vinegar (5%)
¼ cup, Sugar
2 quarts, Water
2 tablespoons, Whole mixed pickling spice
3 tablespoons, Whole mustard spice
14 heads, Fresh dill
4 ½ tablespoons, Dill seed
Yield: Makes about 7 to 9 pints.
Directions
To Prepare
Wash cucumbers.
Cut 1/16-inch slice off blossom end and discard, but leave ¼-inch of stem attached.
Dissolve ¾ cup salt in 2 gallons water.
Pour over cucumbers, let stand 12 hours, then drain.
Pickles
Combine vinegar, ½ cup salt, sugar and 2 quarts water. Add mixed pickling spices tied in a clean white cloth. Heat to boiling.
Fill jars with cucumbers. Add 1 teaspoon of mustard seed and 1 ½ heads fresh dill to each pint. Cover with boiling pickling solution, leaving ½-inch headspace.
Secure lids and process in a water bath canner for 10 minutes (Altitudes above 1,000 ft require an increase in processing time).
Canning Tips
Preparation
Temperatures higher than 185 degrees may cause unnecessary softening of pickles.
If a firmer textured is desired, follow a low-temperature pasteurization treatment.
Instructions on water bath canning can be found in this resource.
Adjusting for Altitude

Altitude (feet)

Water Bath (minutes added)

1,001-2,000

5 minutes

2,001-4,000

5 minutes

4,001-6,000

5 minutes

6,001-8,000

10 minutes

8,001-10,000

10 minutes
SDSU Extension recommends using evidence-based recipes when engaging in food preservation at home. The recipe above has been research-tested and provided by the National Center for Home Food Preservation. Do not modify ingredients.