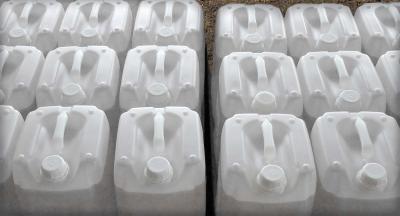 The South Dakota Department of Agriculture is again offering pesticide container recycling services across the state. The list of 2020 dates and locations is available now, with the first collection events on July 13, 2020 in Herreid and Selby, S.D. The recycling roadshow concludes on September 10 with events in Rapid City and Wall. The South Dakota Department of Agriculture offers the pesticide container recycling services at no cost.
Containers accepted for recycling:
Must be triple rinsed.
Be high density polyethylene plastic of 2.5 gallon capacity or less.
Contain no visible pesticide residue inside or outside the container.
Contain no more than 0.5 fluid ounces of clear water.
When possible, be delivered with labels on the container.
Containers collected on site are ground up and sent to a facility which utilizes the plastic to make other agricultural products such as fence posts. Container recycling not only cleans up pesticide storage areas but also keeps the plastic out of municipal landfills. Remember, in South Dakota it is illegal to burn pesticide containers.
If you are unable to make it to one of the scheduled dates you may contact Missouri Valley Recycling Center in Vermillion at (605) 677-7076 or the South Dakota Department of Agriculture at (605) 773-4432 during regular business hours to make arrangements.
Resources