In 2018, South Dakota saw the typical weather extremes of all kinds. New Year's Day 2018 started out with record cold temperatures and wind chills; the year ended with a blizzard on December 31, with a lot of extremes in between.
Overall this year, the wettest areas of the state, as compared to average, were the Black Hills and surrounding area and the southeast. Record or near-record precipitation was reported at several locations. Drier than average conditions held in the central and north central regions, especially in the spring and summer seasons. Figure 1 shows a map of annual precipitation compared to average. For the year, temperature was cooler than average for almost all locations in the state. Figure 2 shows how average temperatures compare to the long-term average for 2018.
Winter
January and February began very cold, turned warm and then very cold again. The cold temperatures observed in February are consistent with historical La Niña years. Dry conditions in the central, north central and northeast dominated early in the year. Precipitation was near zero in the north central and northeast in January, with less than 25 percent of average for most locations north of US Highway 14 and east of the Missouri River. Wetter conditions brought in the new year during these months in the Black Hills and far west, which eventually was a common pattern for much of the rest of the year.
Spring
Despite some very strong thunderstorms that dropped 10 or more inches of rain, the spring season months of March through May in SD continued drier than average conditions in the northeast. Drier than average conditions also prevailed for a time in south central SD. Areas in Charles Mix county and north to the North Dakota border were 25 to 70 percent of average for that three month period. Some areas in the far west were still 30 to 50 percent above average for the spring season, which brought welcome relief to drought-stricken pastures and grasses.
Average temperature was cooler than average as well, which reduced heat stress during the early growing season. One exception was Memorial Day weekend, which brought 100+ temperatures to some locations.
Summer
June through August brought a more intense drought to the central and north central regions of South Dakota. This was a combination of below average rainfall over several months and warmer than average temperatures in the summer season. This three-month period also brought more challenges with excess rainfall in the southeast and south central regions. Flash flooding with intense rainfall events of several inches on top of saturated fields stressed farmers and inundated roads.
Severe weather was common again in 2018. There were several memorable hail events that cut across the state. Some were visible from satellite imagery. Many wind and hail events tore through crop fields in June and July.
In the far west, the summer season was marked with cooler than average temperatures. Through the central region, from north to south, temperatures were near average. The northern and central Black Hills were 150 to 200 percent of average rainfall. Many other locations were slightly wetter than average, except for the area roughly between Faith and Pierre. This central region had a very dry June, being among the driest on record.
Fall
The fall season brought even more rain to the southeast which was already drenched from the summer season. In 120 years of measurements, runoff in September and October in the Big Sioux, Vermilion and James Rivers was record or near record into the Missouri River. These rivers in the area maintained high levels for the remainder of the growing season.
During September through November, the far west finally saw some drier conditions with rainfall around 50 to 90 percent of average. There were some small fires during this typical busy wildfire season, but no extremely large fires as had occurred in the previous two years.
The north central area that had been in drought finally saw some moisture in the fall, although it came at a challenging time during fall corn and soybean harvest.
Average temperature in the fall season was cooler than average, especially in October and November. For the three-month period, average temperatures were one to six degrees below average for most locations. Unfortunately for many, there was no "Indian Summer" to bring a last reminder of summer this year.
December
To end the year, December was quite a roller coaster. For over a week, temperatures were 10 to 15 degrees above average in the middle of the month, primarily in the north and east. The southwest region was closer to average for the month overall, with fewer exceptional warm days. The end of the month was quite cool, with winter weather and blizzards dominating the headlines.
The last month of 2018 also brought rain, snow, and freezing rain across the state. The first two days of December were very snowy in the south. Nearly all areas of the state reported wetter than average conditions for the month overall. By month's end, as much as two to four times average precipitation fell in the Black Hills, south central, and eastern third of the state.
In 2019, El Nino will likely begin our new year warmer than average. There is a lot of moisture in soil reserves to start the spring season. Snowmelt and runoff flooding will likely be a concern for many in the southeast again this year. As is typical for South Dakota, there are bound to be extremes in precipitation and temperature in our Northern Plains climate.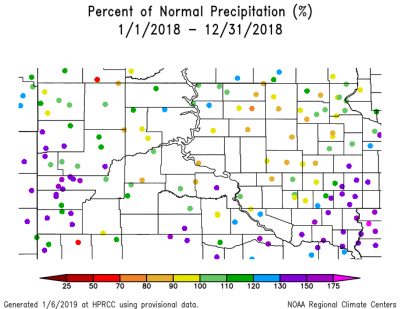 Figure 1. Total precipitation for 2018 was wetter than average in the Black Hills and far west and the southeast. Central and north central locations were drier than average. Red, orange and yellow dots indicate drier than average for the year. Green, blue and purple were wetter than average.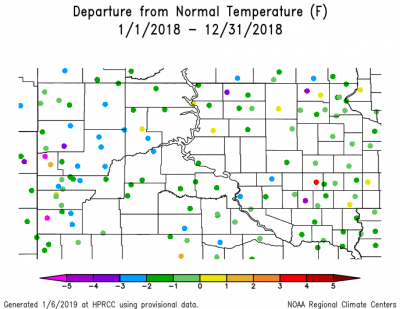 Figure 2. Average temperatures in South Dakota were cooler than average in most locations in 2018. Purple, blue and green colors show locations that were cooler than average. Yellow dots indicate locations that were just slightly warmer than average for the year.