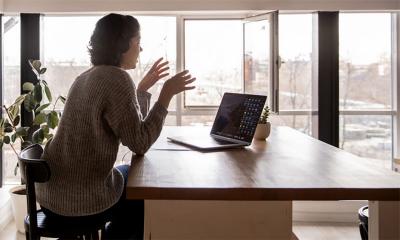 Originally written by Joshua Hofer, SDSU Extension Community Vitality Field Specialist.
With the launch of the South Dakota Remote Works program and the launch of our initial class in January, SDSU Extension reaffirms its role in preparing communities and residents alike as the nature of the workforce changes. As we encounter the shifting landscape of the modern workplace, we find synergy in the importance of place and an increasing empowerment of the worker to logistically arrange their lives – a potential continuing boon for South Dakota and rural states across the nation.
Change is Upon Us
COVID-19 has changed the nature of work, and some of those changes will be permanent. In June 2019, Stanford Economist Nicholas Bloom estimated that an incredible 42% of the U.S. labor force is working from home full-time (Stanford, 2020) With an estimated 33% not working and the remaining 26% working on their business premises, he estimates that this group now accounts for more than 2/3 of US economic activity.
It was a stark change. While the times are certainly unique, the pandemic's environment belies a larger trend. Research from the University of Chicago indicates 37% of jobs can "plausibly be done at home", with significant variation across cities and industries (Dingel and Neiman, 2020). Their analysis indicates these jobs typically pay more than jobs that cannot be done at home, and account for 46% of all US wages.
Place Matters
As the nature of the workplace changes, so too has the focus of many economic development organizations across the country. Traditionally, the model has been workforce attraction. Economic development entities would attract a business, they would create jobs, development ensues.
Now, an increasingly mobile millennial generation coupled with increasing technological accessibility is opening a door for rural regions across the country. Intelligent rural communities can make a quality-of-life based argument, understanding that talent can evermore choose its own destination.
And indeed, Americans are seeking rural places. The Washington Post noted in a July 9 article that American are in search of privacy and security, a change "enabled by the rapid adoption of work-from-home arrangements that a number of companies have said would last beyond the pandemic" (Williams, 2020).
"What we are seeing now is a huge uptick [in interest] in properties that are more rural and away from Aspen," said Raifie Bass, real estate agent with Douglas Elliman. "So a farm or a ranch or a gentleman's ranch properties that have a little bit more space. That market is stronger than it's ever been. We're seeing full-price offers on properties that have been on the market for a long time."
Placemaking
As these disparate factors come together, South Dakota State University Extension looks towards a renewed focus on placemaking in 2021. We see placemaking as an integral tool in South Dakota community leaders' toolbox for and look forward to rolling out programming in 2021. Creating vibrant places as increasingly crucial in the rural sphere. The way that rural communities understand, strategize, and pursue tactics focused on this crucial synergy between remote work and place could be an important predictor of viability moving into an increasingly remote and technologically reliant future.
For further information regarding the Remote Work Certification program and to register for our January class, visit the program page. To follow the development of our placemaking programming, subscribe to our newsletter or visit the SDSU Extension Community Vitality website today.
Citations