Originally written by Paul Thares, former SDSU Extension Community Vitality Field Specialist.
Cool, rainy weather in Lemmon, S.D., didn't dampen community spirit on April 30 and May 1, 2019, when the North-Central community hosted the state's Energize! Conference with facilitation by SDSU Extension's Community Vitality Team. In fact, over 120 community leaders from South Dakota, North Dakota, and even participants from Michigan and Kansas, gathered for the conference to gain new perspectives and share ideas in revitalizing rural communities. Topics discussed ranged from providing housing and healthcare to establishing a business in a rural community and involving youth on community boards.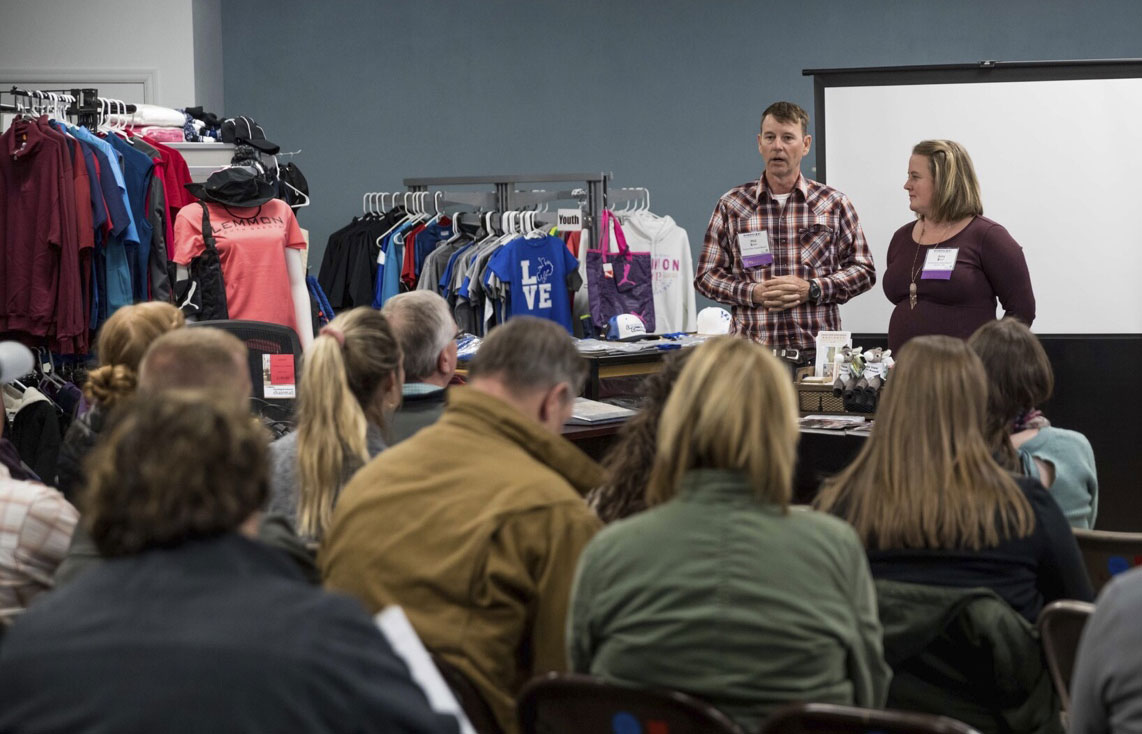 This was the second year that SDSU Extension has held the Energize! Conference in the state, and Lemmon community members were eager to welcome conference attendees. The unique conference aims to re-energize rural communities with populations smaller than 5,000, and the format is unique in that breakout sessions are held at various businesses within walking distance of one another along Main Street. This provides attendees an opportunity to visit the businesses and also involves business owners and community members with the conference, explains SDSU Community Vitality Program Director Kenneth Sherin.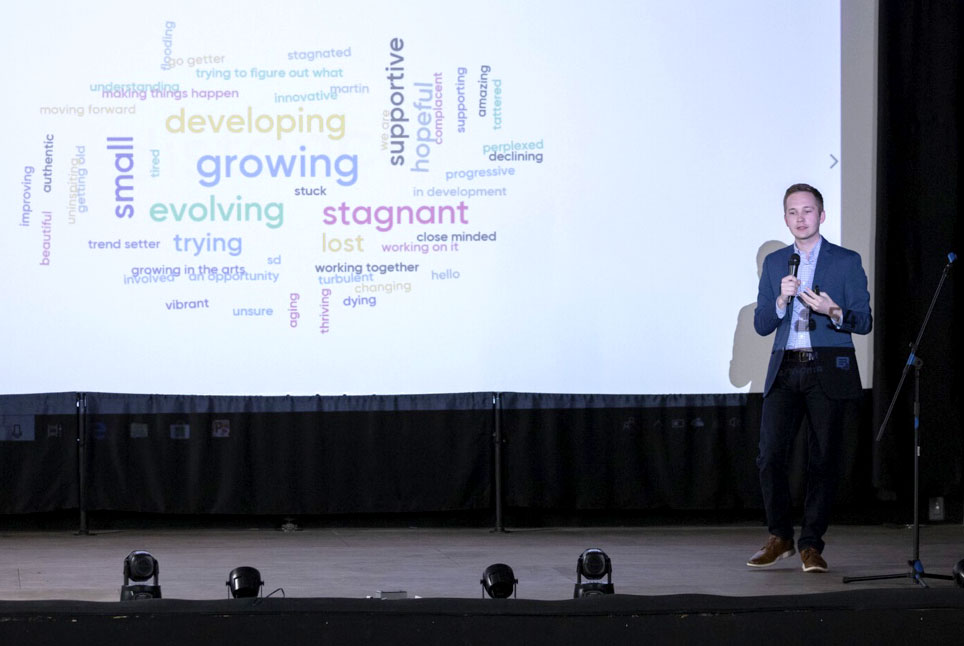 The conference kicked off with keynote speaker Brett Comstock, a rural entrepreneur from Nebraska, and was followed with breakout sessions featuring more than a dozen different speakers from small communities across the state. Sherin notes, "Attendees hear from successful community leaders and/or business owners…there's a lot of practical wisdom shared."
New Perspective
Of the two-day event, Judy Larson, who farms with her family near Lemmon, expressed, "It was a good chance to showcase the many things happening in Lemmon. We have several young entrepreneurs as well as a strong group of artists and creators in our community." Additionally, Larson notes that Lemmon's Petrified Wood Park has long brought tourists to town, and the community is working to develop additional attractions from businesses and art venues – such as John Lopez's art gallery – to annual events.
Larson is also the current president of the Placemakers Co-op, which helped coordinate and host the conference. The group of creative community members has spearheaded hosting various art classes and community events within Lemmon. Prior to dinner on the first evening of the conference, Placemakers members hosted 30-minute mini-classes allowing participants a creative outlet of their choice – from photography tips for social media to making a wire dreamcatcher or their own kombucha.
Cathy Evans, executive director of the Lemmon Housing Authority, says the Placemakers Co-op was a key reason she believed Lemmon could host this conference. Evans explains that she attended the inaugural Energize! Conference in DeSmet last year because her friend from that community, Rita Anderson, was involved. Of that experience, Evans says, "I was thoroughly impressed; it was among the top three conferences I have ever attended. A lot of people I know [from community development] from across the state were there. After it was over, I just felt we needed to bring this conference to Lemmon, and I knew the Placemakers Co-op would help make it happen. Without that group, I wouldn't even have tried to have Lemmon host the conference."
Evans visited with Larson and the Placemakers Co-op who were excited to be on board, and then they applied through SDSU Extension to host the conference – and the rest as they say is history.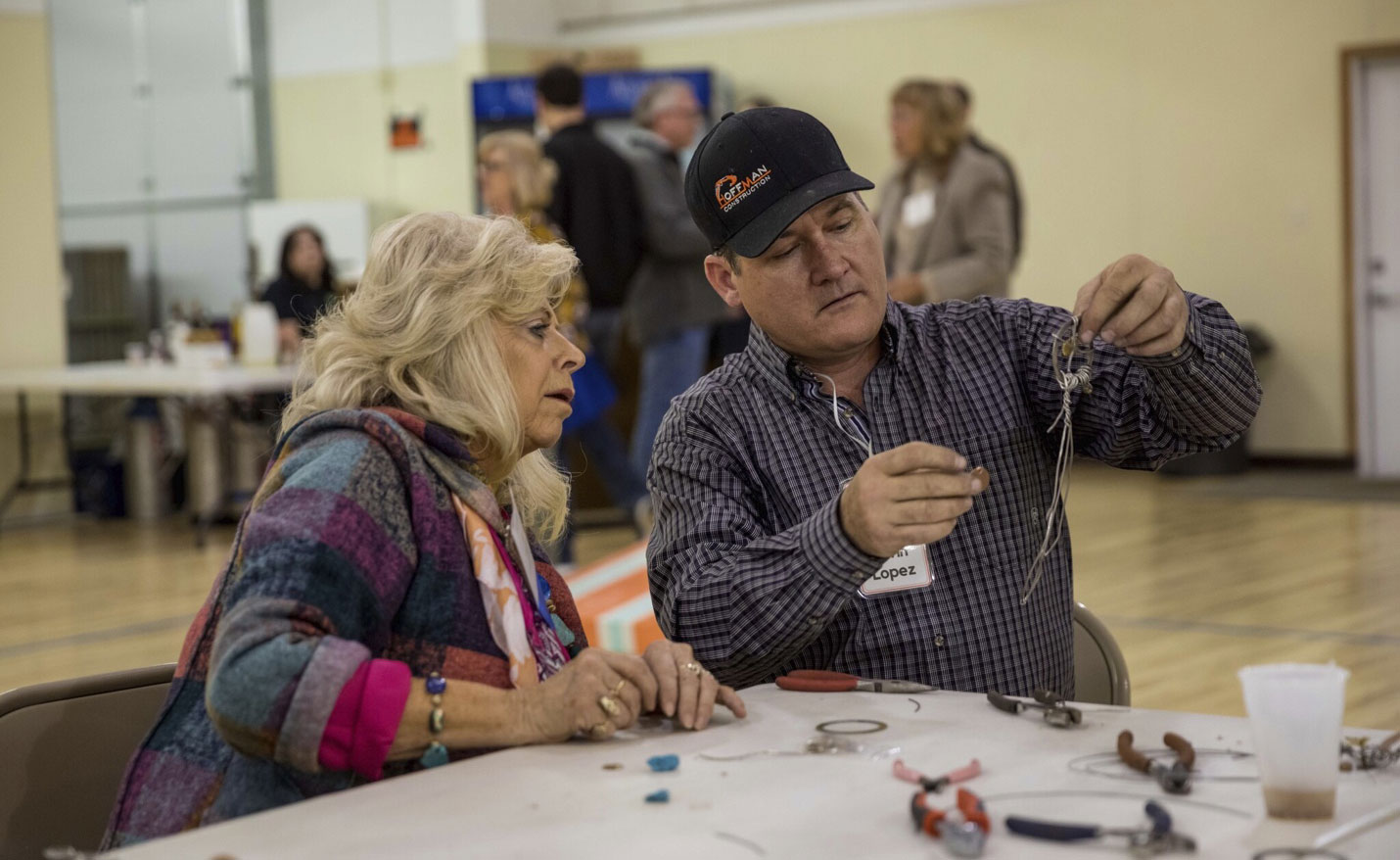 Most importantly, Larson believes the conference brought new confidence to the community. She explains, "Bringing people from outside Lemmon to our community helped many of us see ourselves differently…I think it helped Lemmon business owners and community members realize the intrinsic value they bring and how exceptional they are."
Additionally, as a result of successfully hosting the conference she says Lemmon community members recognize there may be more opportunities to host small conferences and events. "We proved that we can host something like this. We have the resources of a nice hotel, a theatre and the Beeler Community Center…We can work together and have a vibrant community," she concluded.
Similar Sentiments
Dave Bonde, Executive Director of Fort Pierre Development Corporation, has attended the conference for two consecutive years and continues to be energized by the ideas shared by presenters and participants. He notes, "When you get a group of small communities together, it's amazing how many are working on the same issues."
At this year's conference, Bonde was especially interested in the presentations related to helping secure financing for housing development in communities. He cites the session titled "Tips on TIF's – Using Tax Increment Financing Housing" presented by Volga City Administrator, Jameson Berreth, as particularly helpful. Bonde says, "A residential TIF is something Fort Pierre needs to consider if we are ever going to expand our buildable lots and construction opportunities."
Additionally, Bonde appreciated the many sessions that featured young adults who have gotten involved in local leadership roles on boards or started their own businesses in their rural communities.
Kate Westphal shared her story of returning to Lemmon after college. Today, she works as a nurse, and recently opened a clothing and jewelry boutique with her mother, while also operating a custom leather business. Westphal shared that she was that high school graduate who couldn't wait to leave her rural town, but eventually realized she missed home and community and returned. The 22-year-old acknowledged to conference attendees, "I'm young to be doing all this…but there is no perfect time to start anything. The key is you have to start."
Her advice to others is to "let young people know they can be successful in your community."
In Fort Pierre, Bonde is so excited about the Energize! Conference he would like to bring it to his community and has applied for Fort Pierre to be considered as the host community for 2020. Additionally, the Kansas and Michigan individuals attending this year's conference aim to initiate similar conferences in their states in the future.
The inaugural Energize! Conference was hosted by SDSU Extension in DeSmet in 2018. If your community is interested in applying to host a future conference, contact Kenneth Sherin at 605-995-7378.