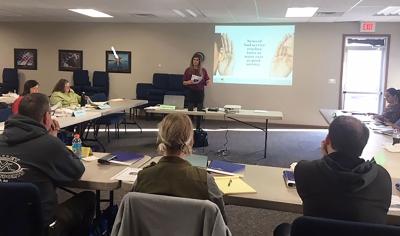 "This class will inspire you no matter where you are in life's journey…You will leave with a binder and a head full of resources." That's the enthusiastic endorsement Gina Karlstad gives after participating in the Small Business Basics course offered by SDSU Extension this winter in her community of Volga, S.D.
Karlstad and her husband Wendell, who own and operate Valley Motorsports, participated in the six-week program along with their employee Melanie Hageman, as well as about a dozen other local business owners and entrepreneurs.
Coordinated by SDSU Extension Community Vitality Specialist Peggy Schlechter, the Small Business Basics program covers an extensive list of topics including writing or updating business plans, tax and licensing, employee relations, pricing and marketing, customer service, social media, and aspects of financing. Additionally, throughout the program different entrepreneurs shared their real-world experiences with participants.
"I was inspired by the 'Entrepreneur Spotlights,'" says Gina, "It was real people talking about real businesses."
Even though the Karlstads have been business owners for nearly 20 years, they found value from each session featured in the Small Business Basics course. They started Valley Motorsports in 2001 as an after-hours business in their home garage, and by 2008 pursued the business full-time. In 2015, they transitioned into a new 8,820 square foot building divided into three sections: showroom, shop, and long-term storage. But Gina says, "Neither one of us has a business background. Now [because of participating in the course], we not only understand the need for having a written vision, mission statement, business goals, and objectives, but also have the tools to create our business plan."
"This class will inspire you no matter where you are in life's journey… You will leave with a binder and a head full of resources."
— Gina Karlstad, Valley Motorsports Owner
The couple also valued a session titled "Creating a Culture of Service" presented by SDSU's Schlechter. Gina found learning about personality themes fascinating, and as a result, she says, "I immediately changed the way I process interactions with others, whether a customer, an employee or a family member! I realize the importance of approaching others with an awareness of their personality theme versus my own."
She adds, "I was intrigued to learn that when hiring employees, you tend to hire someone like yourself." But Gina says she gained perspective that it may be more effective to consider employees who bring different skills to balance your own.
In total, Gina says it would be difficult to pick one favorite presenter from the program because they all shared valuable insights. "Every single person who spoke to our class was extremely passionate and knowledgeable about what they shared," she expresses.
The six week program began in late January with the first four classes held in person in Volga. The final two sessions on March 16 and March 23 had to be held online via Zoom due to the coronavirus.
In spite of that, Schlechter says the group viewed the online format as an opportunity. "For several participants moving online was a means to learn a new technology that they may now be able to use within their small business to serve clients in the future," she explains.
Additionally, Schlechter, who has facilitated Small Business Basics in several communities across South Dakota over the past five years, says a common outcome from the program is that business owners make time to work on business planning or new ideas for their business that they otherwise may not make time to address. She explains, "Often people are so busy working in the business they don't make time to work on the business. But with the six-week format of the Small Business Basics course, they make time for learning and new thinking."
As a result of their six-week investment in Small Business Basics, the Karlstads report they have now worked on their business plan, have established budgets for marketing and charitable donations, are exploring their online presence and social media marketing, have reviewed their record-keeping, and plan to work with an attorney to revise their legal business entity structure.
Schlechter says another benefit from the course tends to be community building. "Business owners are not only together learning, they are their networking with each other, which builds relationships within the community for the future."
Gina concurs, saying, "Many relationships and support systems were built during this class."
South Dakota communities interested in hosting a Small Business Basics course in the future should contact SDSU Extension Community Vitality Specialist Peggy Schlechter.