BROOKINGS, S.D. - More than 80 fourth-grade students from Milbank area schools spent the day gaining hands-on knowledge of the state's number one industry of agriculture during SDSU Extension's Urban Ag Day held May 3, 2018 at the Grant County 4-H grounds.
The event was hosted by the team at the SDSU Extension 4-H Office-Grant County with a grant from South Dakota Farm Bureau.
"Urban Ag Day was designed to help educate students about agriculture, and expand their knowledge about food, fuel and fiber," said Sara Koepke, SDSU Extension 4-H Youth Program Advisor-Grant County.
Seventy percent of the students who participated in the Urban Ag Day event do not live on farms.
"Grant County is a large agriculture community and we have a passion for educating youth about farm-to-table concepts," said Koepke. "This event allowed the students to have a hands-on opportunity with agriculture and still meet their life science education standards."
During the day, each student had the opportunity to interact with presenters at 12 stations.
4-H alumni and members led stations featuring live animals where youth learned about beef, dairy, goat, poultry, sheep and swine.
"These livestock experts explained to students how they care for their animals, proper terminology, and how we utilize agriculture in various consumer byproducts," Koepke said.
The remaining sessions were activity-based sessions, including:
Let's Make Butter - where youth learned about the dairy industry while making butter in a film canister.
The Amazing Soybean - this lesson highlighted the process of growing crops for human consumption, feed for animals and consumer byproducts.
Feed the Cow - students learned about healthy diet choices, according to the U.S. Department of Agriculture MyPlate guidelines, while at the same time learning about a cow's diet.
What's in Your Cheeseburger? - farmers grow every part of a cheeseburger and the students learned about the process.
Ready, Set, Grow - students learned the process of how a seed germinates and made a plant pal necklace to showcase the germination process.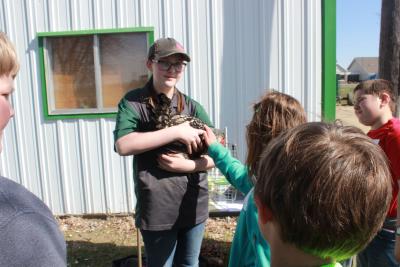 These activity-based sessions were led by Kelly Brandlee, Riverview LLP Community Relations; Jonathan Kleinjan, SDSU Extension Crop Production Associate; Tracey Erickson, SDSU Extension Dairy Field Specialist; Chanda Engel, former SDSU Extension Cow/Calf Field Specialist and Hannah Barthel, Wilbur-Eillis Sales Agronomist.
Students also had the opportunity to tour farm equipment, including a grain chopper, combine, tractor and grain cart provided by Kibble Equipment.
Each youth received a bag filled with educational items from many of our state's commodity groups, including: South Dakota Soybean Council, South Dakota Corn, South Dakota Beef Council, South Dakota Pork Council, South Dakota Sheep Growers Associations, Midwest Dairy Association, Valley Queen Cheese, Wilbur-Ellis and POET Biorefining.
More about South Dakota 4-H
SDSU Extension's 4-H Youth Development Program is a partnership of federal (USDA), state (Land Grant University), and county resources through youth outreach activities of SDSU Extension. Youth learn and experience Leadership, Health and Wellness, Science and Ag-Vocacy through a network of professional staff and volunteers reaching more than 9,000 enrolled members with yearly programming efforts to an additional 35,000 youth participants.
To learn more, contact your local SDSU Extension 4-H Youth Program Advisor.