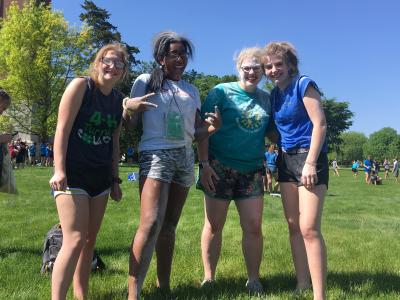 BROOKINGS, S.D. - The SDSU Extension 4-H Youth Development program held the annual Teen Leadership Conference on June 3-7 in Brookings. The conference theme was "Mastering Life's Circus."
South Dakota State University hosted 92 teens with diverse backgrounds to grow their leadership and life skills. Throughout the year, the State 4-H Ambassador Teen Leadership Conference Committee worked to plan and implement the conference that provided teens with the tools to make a tangible impact in their communities. 
"At Teen Leadership Conference, teens can expect to meet many new people, expand on their leadership abilities, attend educational tracts and workshops, and participate in various outdoor activities. My favorite part of teen leadership conference was having the opportunity to work with all the youth there and bring out their true personality that allowed them to have a memorable and exciting week."
— Kayla Fischer, 2018-19 State 4-H Health & Wellness Ambassador and Teen Leadership Conference committee member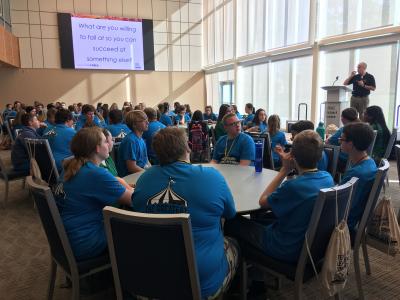 Teens, both 4-H members and non-members, in attendance had opportunities to participate in workshops with both career and life skill focuses, including livestock artificial insemination, nutrition for athletes, Clifton StrengthFinders assessment, weight lifting and cardio, performing arts and more. Additionally, attendees experienced university facility tours and networked with professionals at a college and career networking event. 
Another highlight of this year's conference was a keynote workshop presented by nationally-recognized facilitator Jones Loflin. Loflin is the author of "Juggling Elephants," a comedic, yet meaningful book that assists the reader in navigating time management. During his presentation, Loflin inspired teens to consider the time and effort they spend in their self, professional/activity and relationship areas of their life.
"Teen Leadership Conference is a superb leadership and life skills development experience for teens of all ages and backgrounds," said Hilary Risner, Regional 4-H Youth Program Advisor and Co-Advisor to the State 4-H Ambassador team. "We have some teens that are just approaching the subject of leadership, while other teens have attended national-level leadership conferences, yet still make a point to add this conference to their busy summer schedules."
To learn more about Teen Leadership Conference, visit the 4-H community page, follow the SDSU Extension 4-H Teen Leadership Conference page on Facebook or the SD Teen Leadership Conference page on Instagram. 
About South Dakota 4-H:
SDSU Extension's 4-H Youth Development Program is a partnership of federal (USDA), state land-grant university and county resources through youth outreach activities. Youth learn about and experience leadership, health and wellness, science and agriculture through a network of professional staff and volunteers reaching more than 9,000 enrolled members with yearly programming efforts extended to an additional 35,000 youth participants.